How To Get New Homeowners To Line Up
And Beg You To Take Their Money!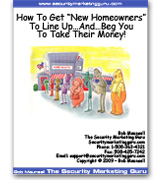 Who's looking for a way to market to new homeowners that's cheap, easy and effective, without needing any special marketing skills, lots of coin or know-how to employ?
Here's why: For the first time ever, I'm revealing the secrets to how I get "new mover" security installations without breaking a sweat. So, why should you follow my lead and go after new homeowners? Well, these nomads are worth on average, $1400 per installation – plus years of RMR (re-occurring monthly revenue from monitored accounts). And I only spend a few bucks to get them!
My complete New Homeowners Marketing System is guaranteed to bring you in a boat-load of security leads. I created and implemented this system in my own security business (see, you get FREE R&D here because I've done all the testing and tweaking for you!) and, over the past 16 months, have increased my residential security installations by 92% using it!
My complete approach beats the pants off of every other approach currently out there!
This system is so unconventional that none of your competition is doing it and won't even see you coming until after the damage is done and you've reaped all the hay from the harvest!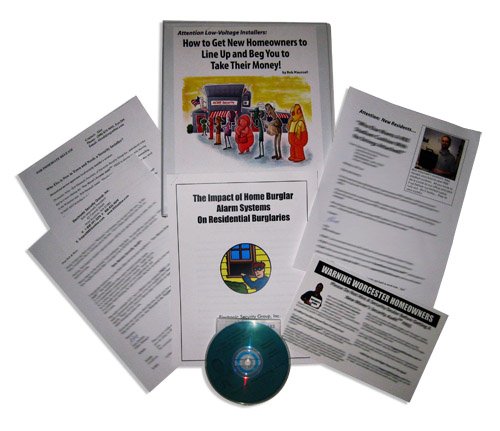 Here's Just A Few Juicy Tidbits You'll Discover in this Marketing System for New Residents!
My complete "New Homeowner Marketing System" that beats the pants off of every other approach currently out there!

My secret direct cheap sources of finding New Resident names. Frankly, this alone is worth 10x's the investment. (Page 23)

Do you know what every New Resident REALLY wants out of a new security installer? This is "make or break" stuff! (Pages 2-4)

What to say and how to handle the new resident so that they breath a sigh of relief when they get your marketing pieces! (captured in text throughout the marketing pieces)

You'll also learn how many marketing contacts it REALLY takes to get a stream of new clients ... and... I show you and provide you the exact pieces I use in each step of my marketing campaigns! (throughout the book)

Would it shock you to learn that... just two or three sentences is enough to get the new homeowners attention? Wait till you see this trick up my sleeve! (Page 9-11)

I've found that Gift Certificates can work powerfully well, but only when used THIS special way! (13-18)

How to use a simple postcard to sift, sort, select and snag new movers without being an annoying pest! (Page 27)

How I easily do a weekly mailing of 100 letters and still stay on schedule with clients. This lesson is worth its weight in gold! (Page 9)

Discover the best day to mail your letters! (Page 23)

How long to make your expiration date - and yes, you need an expiration date/ deadline date for them to take action! (Page 17, Page 19)

Ok, I've saved the best for last. How I use a dirt cheap "irresistible gift" to magnetically draw these new residents to my office like moths to a flame. (This gift is something totally out of the ordinary and unexpected! Which is why it works so well!) (Page 19-20)
1) The first mistake being made is using "Me Too" advertising.
span style="font-size: medium;">It shouldn't shock you to learn that you won't be the only security installer trying to solicit the new homeowners!
Yet I'd say 95% of the letters, postcards, and offers received by the new resident looks...
Identical!
If your competitor says he installed XXX systems, then you put that in your ad, too. If he says he gives a FREE ESTIMATES, then you put that in your ad, too. Whatever he does, you cry out: "Me Too."
Here's the problem: Do what everyone else does, and you'll get the same poor results. What I'm suggesting is a totally, radically different, bold, new and a unique approach... that makes YOU stand out from all the other people sending them security offers.
The bottom line is that I have discovered several ways, a system actually, for "leap-frogging" over your competition and leaving them in the dust when dealing with new residents.
2) The second mistake being made by virtually everyone...
...is that they're only contacting a new resident ONCE instead of viewing this as a multiple step, multi-pronged marketing sequence.
95% of those security businesses chasing new homeowners never send a follow up after the first letter! Do you realize the opportunity this creates for us?
Let's put it this way. We would all like to send one piece of mail and get a new client every time. However, it doesn't work like that. There's something called a Sine Wave. This is a wave that goes up and down.
Some days your prospects are going up the sine wave and they think they don't need a security system right now. Other days, they are heading down the wave and your letter arrives at "the perfect time."
You never know where they are on the sine wave. This is why you must, I repeat MUST, think in terms of a multiple step campaign vs. a one step. It will mean the difference between pathetic results vs. spectacular results. Guaranteed!
3) The third mistake security installers make getting new movers...
...is by not realizing that some of these clients had a security system in their previous home and they are LOOKING for a new one.
You need to make it easy and enjoyable for them to find a new security company - that they can trust!
So, how do you go about doing all this? Easily…believe me. It's all outlined for you in my New Homeowners Marketing System
If you want big success with New Homeowners then you must do things completely DIFFERENT from the way everyone other installer is chasing these folks. I have created a breakthrough approach that is DIFFERENT, NEW, and that is very ATTRACTIVE to the New Residents.
What Kind of Money Can Be Made from new Homeowners?
For me a new resident is worth about $1,400 plus monitoring and future referrals. The marketing cost to implement my New Homeowners System is not even 10% of that! So the R.O.I. on New Homeowner marketing is absolutely...
If you can't make at least 10:1 ROI from my system, then you must be doing something wrong! But this brings up another question you might have which is...
With an ROI this big, what are you charging to get my hands on Your "Outrageous New Mover Marketing System"?
A lot less than we should that's for sure! We'll rush deliver my New Mover Marketing system for the low price of only $497.00. Folks, this is a bloody steal and you better take me up on this great low price before I change my mind!
**If we cannot verify your company information and security business ownership, we will not ship your order and we will refund your purchase.**
*Secure Online Checkout*
I personally invite you to order this today. You won't be disappointed! Your investment for this kit is $497 (with FREE Shipping).
Click on the order button below and submit your order using our secure store - we will get your order out promptly.
×
*Note: This kit is sold ONLY to Security & Low Voltage Dealers. Because you are buying intellectual property that can easily be copied, stored and used, once you purchase the kit, it is NON-REFUNDABLE. All pieces in this kit are sample pieces and will have to be edited to include your company name and contact information. The client testimonial handouts will have to have your own client testimonials inserted, please do not use the testimonials included. All pieces in this kit are either in MS Word or MS Publisher 2007.
These are copyrighted materials protected by strict copyright law! By purchasing the above material, you have a "limited use" of the printed materials, electronic materials, digital mastered copies and all content provided. "Limited use" being defined as: All printed materials, electronic materials and digital master copies that are provided by Security Marketing Guru to be used by the purchaser exclusively. They are intended for distribution to your company's customers, clients and prospects only. These materials are not intended, nor allowed, to be shared or distributed to any other persons or businesses. Reselling of printed and digital material is strictly prohibited. You are not authorized to share material in chat rooms or on the internet, nor circulate them within trade associations or other groups to which you may belong.
Damages, through legal prosecution, will be sought to the full extent of the law if any of the copyright rules set forth in the above paragraph are broken. Criminal and Civil action will be brought forth. Damages in the hundreds of thousands of dollars can be awarded, as well as payment of all legal fees arising from the suit. In addition, the government can criminally prosecute you for copyright infringement. If convicted, you can be fined up to $250,000, or sentenced to jail for up to 5 years, or both.