Welcome to 6 Rounds Of Ammo – Vol 2 and, like I said in Vol 1, I'm gonna assemble six quick rounds of info for you. I'll be aggregating articles and things that I read and listen to, plus I'll give you some tidbits on business-building strategies I implement in my own security business and security marketing strategies from some of my members from around the world.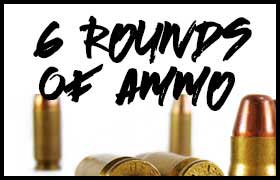 This Week's Focus Point –
Are you coming up with unique ways to update & re-invent your security company's products & services? What I've unearthed over the years is that a security company will first go "creatively bankrupt", before they go "financially bankrupt". Check Out How This Brooklyn Pizzeria Invented a Pizza Box Made of Pizza. Once you've read the article, think of ways that you can reinvent, reposition, repackage your security products and services so they stand out amongst your competition.
Weekly Perspective –
This is a serious tweet from @WhiskeyAndSuits and it's so dead on!
"Give serious thought to the number of hours you spend worrying. An hour a day for a year is 15 full days spent in worry instead of solving."
So stop worrying and starting DOING!
What I'm Reading –
Here's an awesome book from a sales coach/legend that died way too soon. This is by far one of the best sales books I've read and I've read hundreds. This book deserves to be on your shelf, so do yourself a favor – grab it and read it! The Ultimate Sales Machine
What I'm Listening To –
During my strength training session with my personal trainer Angela, who is a wicked heavy-metal chick, she has got me hooked on Disturbed, who's done a killer remake of one of the all-time classic songs from Simon & Garfunkel Sounds of Silence.
How to Get Business Referrals Pouring in Like Crazy
So, how can you encourage clients to "spread your gospel?" It's no small feat, and you may have to try a few different tactics before something sticks. One way to spark referrals may be through what's called "The Reciprocity Circle." If you're looking for a little inspiration, The Reciprocity Circle is another great resource to consider. And as always, if you need even more inspiration, our blog is always one click away.
How To Spot A Crooked Security Dealer A Country Mile Away!
It's super tough out there having to put up with unethical security companies: the fly-by-nighters, truck-slammers, door-knocking, steal-your-accounts-right-from-underneath-your-nose type of security dealers.
These companies and guys make it hard for the ethical security guys to cut through the clutter. So what I did to pave the way for the ethical security dealer to spark interest with prospective clients is to create a 10 page Consumer Awareness Guide titled "What You Need To Know Before Hiring A Security Company"
This 10 page Consumer Awareness Guide was included in the April issue of the Smokin' Security Newsletter™ and is a valuable, persuasive marketing piece to offer your prospects and old clients to boost their "Interest" and sales in your security company.
How Can You Get A Copy of This Incredible Guide?
If you join my Smokin's Security Newsletter™ Coaching Club by Friday, May 13th, I'll send you a FREE copy of the Consumer Awareness Guide! Your first month's membership in my Smokin' Security Newsletter Coaching Club is FREE (you just pay shipping), so you're getting a lot of FREE stuff here!