In the May issue of the Smokin' Security Newsletter, I wrote about the Hastens bed 'cuz I was so amazed that there are people (markets) out there who wouldn't think twice about dropping $65K large on this pretty little bed from Sweden. I was so interested that I actually went online to request the info-kit, and to see how they would follow up on a lead. Because I'm currently creating a lead generation package for a private client who sells and install security system to very wealthy home owners.  One thing you need to do before you go after a niche-market is to collect all the publications that they read, hop on the e-mail marketing campaigns from places like Frontgate, Nordstroms,  Barneys of  New York, Horchow, etc.  Call up a Mercedes dealership and play buyer. When you do all your research ahead of time it makes it that much easier to come up with a marketing game plan that will hit your prospect between the eyes.
Every Niche Market Has There Own Secret Language…
I would talk to this market in a different speak, then say someone who is trying to nickel and dime you on a free security system. This little formula that I just laid out for ya on a silver platter will work in other markets, like…if your selling to government agencies or marketing your services in high-end residential sound systems or commercial fire systems. What you want to do before hand is collect as much  information about these markets and become everything to these markets. So when they're looking for that electronic gizmo all they see is your little face. Remember it's Message-Market-Media –Match. Once you crack this code your selling will become that much easier for you and then you won't have to stare at the ceiling all night wondering where your next hot meal is coming from, cuz your inbox will be flooded with HOT prospects looking to do business with little old you!  Now that was a mouth full whew… Back to the Hasten bed example.  They did follow up with me and sent an info package about 3 days after I requested the info (once someone responds to your marketing piece— get them the stuff they requested ASAP!)  The killer is slow or no follow up after some request your free stuff. As you can see, it's just a big glossy catalog (something big companies love), with a DVD and a real pathetic intro/sales letter from the regional sales rep. If you read the letter he doesn't even acknowledge me by my name!  Hey, what do ya know, they'll even pick up 1/2  the freight cost on this bed—Wooopy Dooo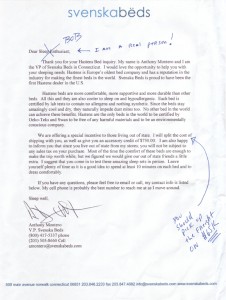 The Money Is In The Follow Up…
On a $65K sale, I would pay for the whole freight across the country if it was me selling this bed. What I have a gripe about—but why should I even be griping I have absolutely no intentions of throwing my bag-of-bones down on this bed to go sleepie any time soon—is that I wanted to tell all my subscribers this is a  how you follow up on a lead when your selling to the affluent types, but I can't even say that because there has been no such follow up what so ever!  No 2nd direct mail piece, no e-mail, no phone call, no out-bound telemarketing—no nothing at all!  I'm guessing that this VP has so many leads that he can't follow up with me— yea right!  He could've had his assistant follow up with me and given that person a piece of the action (maybe that's thinking outside the old box for this company). I've said before that full color ads in the Robb Report run you around $20-$25K, why spend all that money if you can't follow up on a lead—even if I am a tire-kicker, lookey –loo, wanna be (how would he know!)   A word of sage advice here is it's not the amount of leads you get, but the way you follow up on every single lead  That's what makes the difference and will impact your business tremendously.  How many times have you gone through the Yellow Pages and called the biggest ad in the book and they never answered the phone, never called you back or, even worse, couldn't answer your questions when you got a live person on the line and then they hung up on you?