Bob Maunsell here; pounding this email out at Starbucks while swilling down my favorite nuclear cup of coffee – a venti "Black Eye" (extra large, bold coffee with 2 shots of espresso) ;)
Even if your security business is rocking 'n' rolling, you should still pay very close attention to this email…
In this email, I'm going to share with you several Email List Building techniques, so you can easily & automatically market your security business with email marketing campaigns to your list of clients, prospects and circles of influence.
Having a monthly email marketing system in place is one of the key pillars to creating a Robotic Security Selling System™. And done right, it's the LEAST EXPENSIVE way to nurture relationships, educate your clients and prospects, increase referrals, reactivate old clients, and attract new ones.
But before we get into the Email List Building techniques, you may be wondering about content for these email marketing campaigns. What can you send out to your email list, on a monthly basis, that will help you attract and retain clients? I have the perfect monthly stay-in-contact, referral producing tool that you can use. It's my client nurturing/prospect converting e-Newsletter called The Secure Zone™.
This monthly, done-for-you e-Newsletter will bring you in a steady stream of new clients, repeat business, and referrals. It covers a wide array of topics, like residential & commercial security tips (that soft-sell these services for you), and interesting and engaging topics, like Health Alert, Gossip Alert and Tech Alert, that attract attention and curiosity from a broad readership base. There's also a Services Section that lets your readers know exactly what security services you offer.
The Secure Zone™ e-Newsletter includes an incredible Referral Program and a cool Rock 'N Roll Trivia section that solicits responses from your readers, so that they are reaching out to you on a regular basis – keeping you and your company fresh on your clients' and prospects' minds. Therefore, when they think SECURITY they know who to call and who to refer. Being in email format, The Secure Zone™ e-Newsletter is also very easy for your readers to forward along to family, friends and colleagues.
If you are interested in getting your hands on The Secure Zone™ e-Newsletter, for the paltry sum of $29 per month (for non-SMG members) and $19 per month (for SMG Smokin' Security Newsletter Club members) and FREE (for SMG Security Maverick Club members), then CLICK HERE.
Email Marketing = Money In The Bank
If I'd have to take an educated guess I'd say that an email address for someone you know, that works or lives near your office, knows your staff and techs and your centers of influence, and has the power to connect you with folks who need security installs, is worth a minimum of $10- $25 bucks per email….because even one new client per month is worth a minimum of $1,000.00-$2,500.00 and, most likely, a lot more.
So, you need to get started collecting emails!
Email List Building Techniques
To build your email list…
Get the emails of every one you come in contact with and put them in your email list. At the point of contact, you should be collecting name, address, phone, fax, AND emails!
Remember, you are making money by accumulating emails. Do it every chance you get.
Also…
Put something like this phrase below on the back side of your business cards: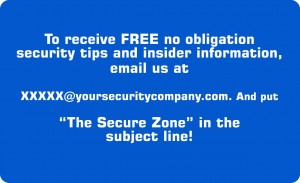 (A brain-dead-easy strategy that makes passing out your business cards finally a worthwhile cause!)
Lastly…
Call your active and inactive clients, to collect their emails, and start THEM on "The Secure Zone" Monthly Security Updates.
Hard Rock Mining
I've built my business on "LIST BUILDING" strategies and so should you. Your "LIST" of current clients, inactive clients, and prospects is a proverbial gold mine, and you need to extract the gold from it!
There is no reason on earth why you should have a LAME (Lousy, Annoying, Moneyless, and Exhausting) security business, when it's this easy to stay in contact with your clients and prospects.
The Email List Building techniques that I have shared with you, for mining the gold in your security business, are 10 thousand times easier to do than hard rock mining for gold in the South African Gold Mines, which are 12,800' feet underground where the heat at such depths is unbearable for human beings.
I gotta roll cuz I'm heading down to Cape Cod for the weekend with the family.
Talk to ya next week!
Have a Gr8 weekend!
Now Go Smoke Your Competition!
Your friend,
Bob
P.S. If this post resonates with you, please "like" it, "tweet" it, or +1 it!