I'm jacked up for 2011, and I know that I'll be making a HUGE difference in the lives of many of the security dealers/ integrators and low voltage installers who I continue to work with over the coming year. Looking back on 2010, I can see that I've hit about 87% of the goals that I set out to do for myself (two weeks prior to the end of 2009, I sat down and wrote out my goals for 2010.)
Make Your Thoughts A Prisoner On Paper
So I decided to make you a little New Years present. I put together a little "goal manifesto sheet" for you so that you can lay out your goals for 2011. Make BIG plans and set them in stone. Make your dreams become a reality. By writing down your goals and committing them to paper, your making your thoughts a prisoner that cannot escape you. You can visit and revisit them over the coming year, make action items to meet your goals, and check off the goals that you have achieved.
Arming & Disarming Your Mind
Please print out this form and fill it out (link @ bottom of this post). The more you think about what you want and the less you think about what you don't want (or fear), the floodgates of opportunity WILL open up for you. So what I want you to do is to take your completed goal sheet and tape it above your alarm keypad. You can do this at your home or in your office – which ever place you are most comfortable with promise. At least twice a day you will arm or disarm your system. when you do, you must read and absorb your personal goals. That way you will become emotionally invested in them and be more apt to take action on your goals.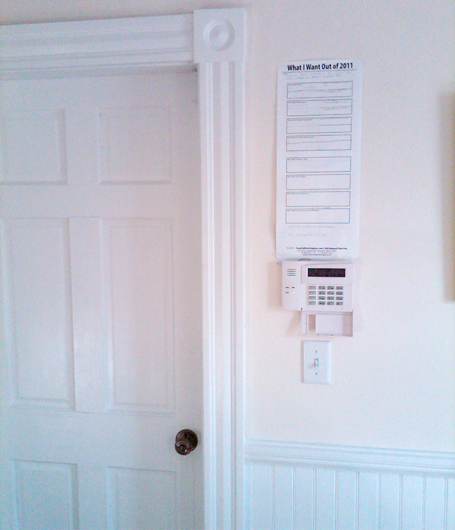 The Power Of Goals
Achieving goals by themselves will never make us happy in the long term; its who you become, as you overcome the obstacle necessary to achieve your goals, that can give you the deepest and most long-lasting sense of fulfillment. So maybe the key question you need to ask yourself before you fill out your goal sheet is, "What kind of person will I have to become in order to achieve all that I want in life?"
So, let's get started making 2011 a smokin' year!
Click to Download – The Security Business Marketing Plan Goal Sheet 2011
Bob
P.S. Go back and read this blogpost Who Has More To Gain If I Succeed In The Security Industry. It will show you how others can help you in achieving growth in your security business. After all, I'm sure this is one of the biggest goals we all have written down, don't cha think?