Last week, I was in The Big Apple for the ISC EAST Conference. I had a tremendous time at the event and was able to connect with my SMG members and meet some new SMG clients.
The last day I was there, before I headed back to Massachusetts, I ran out to grab a cup of Joe and a world-famous New York bagel, to knock off the last item on my NYC foodie bucket list.
I high-tailed it out of the hotel to Cafe Manhattan, which was right around the block. As I was walking, I stopped quickly to look at the lunch cart outside my hotel. I had no intentions of buying anything off the cart, just wanted to see what they were serving up.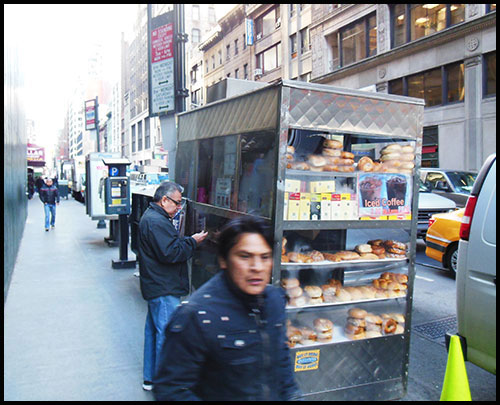 Lunch Cart "Larry"
As I was walking away the owner of the lunch cart shouted at me two times:
"Why aren't you buying from me, I'm the cheapest around"
"Why aren't you buying from me, I'm the cheapest around"
I chuckled to myself thinking I don't want the cheapest, I want the best value and poor old Lunch Cart Larry probably hasn't raised his rates in several years… Yikes!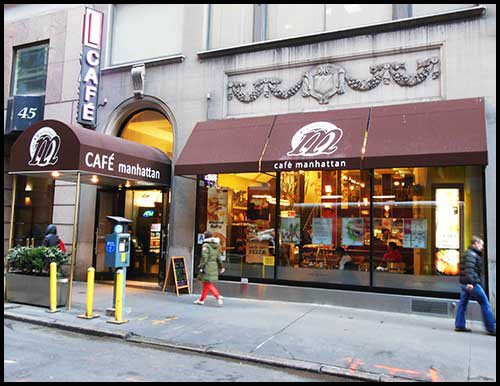 Cafe Manhattan
The reason I was going to Cafe Manhattan was that it has a good cup of Joe, bagels, fruit cup, and its a nice place to sit down and read USA Today before the 3 hour ride home. Not the cheapest spot around, but the best VALUE for MY money.
Look at the two photos in this email… If you want to work out of a lunch cart (i.e. your van) the rest of your life and never raise your prices, then I probably can't help you – and don't even want to help you.
But if you aspire to move upward and onward, I can help YOU! If your security business is doing well and you're the Cafe Manhattan of the security world, then I can help you.
The best place to start for a taste of security selling success is right here, right now.
Don't be a Lunch Cart Larry,and chant "Why aren't you buying from me, I'm the cheapest around." You NEED to learn to sell smarter and better!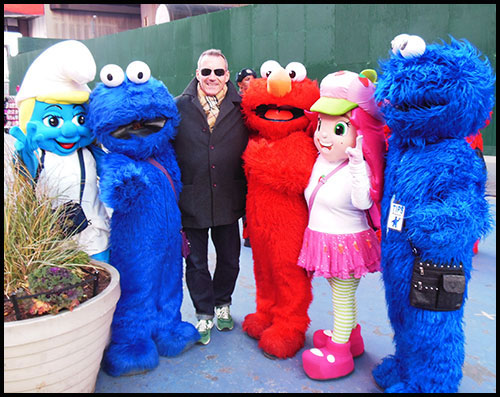 If You Want An E.S.P.™ Style Business,
One that is – Easy, Successful & Profitable and Fun,
Sign Up for my Smokin' Security Newsletter Today!
Start kickin' ass, my friend, by joining myself and other security dealers who are kickin' ass in the Smokin' Security Newsletter Coaching Club today!
The Smokin' Security Newsletter Is Stuffed Fatter Than A Thanksgiving Turkey… There's No Portion Control Whatsoever With This Issue!!
Special Report # 1 – Killing The Pricing Terrorist Once And For All
If you discover that you are providing more value, then you NEED to learn how to effectively communicate that value you're delivering. Most security | Integrators companies way overdeliver, and undercharge for their services. Stand up and ask for the $$$ you deserve. Discover how to charge more dinero for your services.
– Common Traits of A Wealthy Security Entrepreneurs.
– 14 Dirt-Cheap Strategies To Continually & Effortlessly Separate Yourself From The Competition.
The Novembers Smokin' Security Newsletter Is Stuffed With Exhibits.
– Exhibit # 1- An Amazing 32 & 73 Point Security Audits Business Card.
– Exhibit # 2 – The Best Central Station AD I've Ever Seen!
– Exhibit # 3 – The BEST Owners Guarantee In A Business… You've Got To Check It Out!
– Exhibit # 4 – Vomit Bag Marketing – How's This For An Idea: Sick & Tired of Security Systems That Just Don't Work As Promised or Poor After-The-Sale Service From The Installer?
– Exhibit # 5 – Selling Service Contracts With Your Technicians – You Won't Believe This Awesome Example Of How To Use Your Techs To Sell Service Contracts… It's Brain Dead Easy!
– Exhibit # 6 – I've A Member Who Installs 150 DMP Panels Per Month, You Got To Get Your Hands On His New Model Homes Strategies… If You Want To Jump Up To The Big Leagues!
– Exhibit # 7 – Got Fire Alarm Problems – I Have A Member Who Shared With Me His "Money-Making" Fire Alarm Service Inspection Postcard. Everytime He Mails It Out It Hauls in $$$$. If You do any type of FACP Service Work, You Gotta Get Your Hands On This!
-Exhibit # 8 – Blowing Your Techs Up On Google + – I Have A Crazy Member Who Is A Serious Stud Online Marketing Whiz… You Should See How He Outrageously Promotes His Technicians On Google +!
-Exhibit # 9 – The Power Of Free Publicity and Leveraging Social Media. One Of My Members Got A Killer Write Up In The Local Newspaper, You Gotta See What He Did With It Using Social Media!!!
-Exhibit # 10 – If You're InTo Cartoons and Cool Van Logos – This Is a Must See Exhibit For Everyone Talking About Your Service Vehicles.
Oh, Before I forget, here's one more reason to take me up on this month's issue…
Audio Success CD: The 6 Golden Keys To Building A Highly Valuable Security Business! With my good friend Kelly Bond on how to make your business desirable and highly valuable.
Start kickin' ass NOW and join me and other successful security dealers in the Smokin' Security Newsletter Coaching Club today!
Peace, out.
Bob