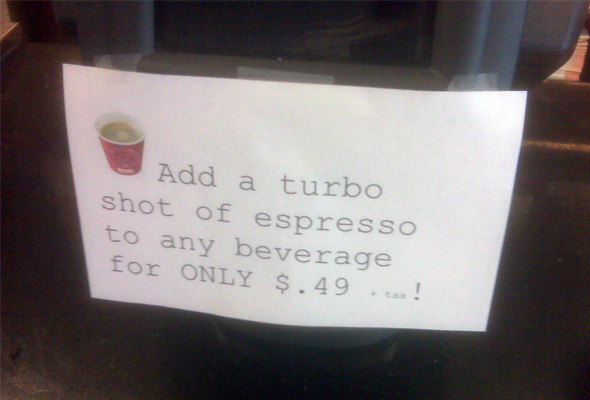 "The Great One" – 24oz Of Coffee Pleasure With A Turbo Shot of Espresso!
Sorry for the blury pic,(my BlackBerry has  2Meg)  I snapped it early this morning while running out of my local D&D (dunkin donuts for those not on the east coast) trying to balance two strawberry frosted dounts and a large 'pina coffee coolata' that my girls just had to have before school.  A delicious, sugar packed, frozen concoction that I enjoy so much . Anyways, as I stepped up to the counter and placed my order this sign greeted me and conjured up the popular commercial running up all over the networks up here in the Northeast of our hometown hero Dustin Pedroia (2nd Baseman for the Bo-Sox) or Pe-di as we like to call him slaying a giant with a smokin hot line-drive after downing a Dunkin's turbo shot ice coffee.
The young girl behind the counter caught me reading the sign and asked me if I would like to turbo shot my 'great one' (24oz coffee).  Hey, sure I replied, why not! I don't know if it was the turbo shot or not but when I took my first healthy gulp of coffee as I pushed open the door, the proverbial light-bulb when on and I immediately spun around and whipped out my blackberry.
A good friend of mine owns quite a few DD's up here around Worcester and I got to talking with him the other day about business. He told me the 'turbo shot' promotion has been going gangbusters and has skyrocketed his summer sales numbers. Now hes a pretty humble guy and didn't give me any solid numbers but do the math he owns 5 locations and say he sells on average 300 cups of coffee a day for on average $2.  That's $600 in sales per location, times 5 locations is $3000 per day.  Now lets saw his employees get 1/6 of the customers per location to try out a 50cent turbo shot, 300/6= 50 customers per location, 50 x .50 =$25 extra sales per location per day. So with only 1/6 of the customers adding a turbo shot it's an extra $150 in sales per day ($25 x 6 locations). Now that may not seem like a lot but I would bet my house more than 1/6 of customers are adding turbo shots and I would bet that his locations in downtown Worcester are selling cups of coffee in the thousands, do the math on that one!
To make a long story short you want to constantly look for ways to add value to your security services and create interesting and beneficial incentives for your customers to upgrade to the latest security doo-hickey. You really want to constantly be implementing new security services, new promotions that will inspire people to raise their hands and say, Hey! I Want That!.