Here is an another great question!
Hope you enjoy.
__________________________
Hi Bob,
I specialise in commercial security systems. Usually light commercial, convenient stores, strip malls etc. Of course I need more customers, who doesn't, but I am a small operation (me and my tech).
I got the customers I had through telemarketing myself. But I really need to be running the leads not making them. I have a great script but I don't want to hire one telemarketer. They get bored alone, they need supervision to keep working, etc. What are your thoughts on contract telemarketing?
One company say 55 bucks per qualified lead.  I am a super slammer and I will sell 50% on the first run and pick up any "penders" with a follow up call or visit. Would u recommend this or do you have another way to pick up commercial accounts.
P.S. For your readers I own all my accounts. The Authorized dealership will burn you… it's just a question of when. I've had 6 go out of business on me leaving me with 100 contracts in my hand and people to pay!!!
Sincerely
Todd installing in Texas
__________________________
Stepping over Dollar Bills To Pick Up Dimes…
Hey Todd,
Good to hear from ya!
Sounds to me like you're not that bad at cold calling.  Actually, I find that if a person is good on the phone setting up appointments, then they're generally pretty darn good closers, too.
But your absolutely right that you should not be producing the leads yourself – especially through cold calling…dialing for dollars, that is!  This is not the best, most productive use of your time.
At least you got the balls to cold call, cuz I know a lot of installers would rather starve then… gulp…cold call for leads.
Todd, you're obviously aware that you're stepping over dollar bills to pick up dimes when you're doing all the lead generating yourself.  And you also know your strong suit is in "closing the deal" so that's where you need to concentrate your efforts in your sales funnel.
Belly Button 2 Belly Button
Cold calling is definitely a job function that can be outsourced to someone else.  As far as the cost – you spoke of someone who will do it for 55 bucks per appointment.  I don't know what your average commercial sale is worth, but you should be able to calculate whether the cost per lead is worth it to you.
I wouldn't be squawking over $55 for an a appointment if I was standing belly button to belly button with a qualified prospect that was in need of a $10k plus commercial security system and had a closing rate of 80%-90%.
BTW, I have a kick-ass marketing piece that will help you increase your closing rate by another 15-20%.  I created this piece, about 1.5 years ago, and included it in my newsletter, the Smokin' Security Newsletter, for all subscribers to use.  I've decided to re-commission this beauty and will include it, again, in the next month's or two's issue…so look out for it, if you're a subscriber.  This one little piece, that includes 67 emotionally compelling words, has pulled in over $1M since inception…not bad for a piece that's handed to you!
Don't Put All Your Eggs In One Easter Basket
With all that being said, I don't think you should put all your eggs in one basket.  Lead generation should consist of multiple client acquisition strategies.
You should be utilizing a company newsletter, referral program, direct mailings, free reports, 1-800 hotline boxes, your website, webinars, tradeshows, Google adwords, Facebook, Twitter, YouTube, yellow page ads, billboards, joint ventures,  etc. to do the lead generating for you.  These security marketing strategies are similar to having your own strike force that you can deploy easily into local, regional, or national markets to attract new clients.

Security Marketing Diversity = Security Business Stability

Attention: Alarm Dealers, Burglar Alarm Installers, CCTV Honchos, Home Theater Dudes, Locksmiths, Low Voltage Installers, Security Dealers, Security Integrators, Private Security Guard Services:
Only 4Days and 18hrs, and 47 Seconds Left To Get Your Hands On My Three (3) Back Issues + One (1) Current Issue of The Smokin' Security Newsletter For My 47th Birthday Special!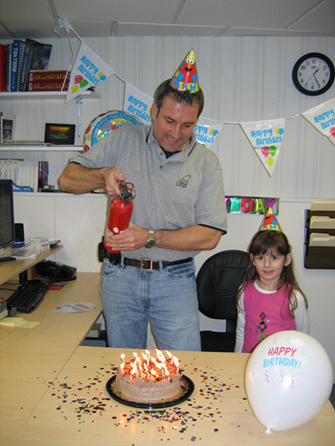 I gotta tell you that my 47th Birthday bash was even bigger then I expected!  It was so big that I needed a fire extinguisher to put out my birthday cake….hahaha!
For my birthday, I mailed out this simple, cool little "birthday-bash" postcard to all my clients and prospects.  This beauty has brought me in some nice cha-ching since I mailed it out.
So, I've decided to give a birthday gift to all my Smokin' Security Newsletter subscribers and have dedicated the February issue to teaching y' all how to use your birthday as a promotional tool.  I've even included my cool, little postcard for you to copy, swipe, deploy, for your security markets….it definitely works, I've tested it myself!
If you want to discover how to make your birthday a profit center and reward yourself each and every year that you get older, you better sign up for the Smokin' Security Newsletter today!
Inside the February Issue, you'll…
* Find out the #1 thing that scares the heck out of security dealers.
* Get a complete "Ad-topsy" on how to create smokin' postcards.
* Get a done-for-you Birthday postcard that's ready for you to send out.
* Get a live example of another birthday postcard – created by a dude in New York who used his birthday to bring in so many orders that it back-logged his business for over three weeks (I know cuz my order was in the sales funnel for that long!)
* Learn my three-step method for writing smokin' postcards.
* Uncover the phrase that all security installers must use in every letter introductions.
* Discover the one little thing that you should always include in your mailing pieces that's guaranteed to boost your response rate.
* Get my favorite line to use at the end of your postcard.
* Discover the #1 thing that your new prospects judge you on when you show up at their home or office.
* Learn the one little thing that you should practice everyday to hone your selling skills.
But wait, there's more…
* Special Report #1:  8 Steps to Becoming A Security Honcho
* Special Report #2:  How To Sell Security – The Prospect Theory VS The Negative Sell
* Audio Success CD:  Discover Secret Dental Marketing Strategies That You Can Use To Grow Your Security Business…This guest expert is off the hook in this CD!
If you sign up for the Smokin' Security Newsletter before the end of February…
It's My 47th Birthday, and to celebrate, I'm going to make you the sweetest, most generous offer ever… with a N'or Easter of Bonuses!
First off, I'm going to give you three (3) FREE back issues of the Smokin' Security Newsletter, this month's issue of the Smokin' Security Newsletter and four (4) Audio Success CD's ($388 value, but, really, it's priceless!)
Second, I'm going to throw in my special report, "Seven Simple & Easy Steps to Doubling Your Installations and Getting Paid Quickly in 2010" ($97 value)
Third, I'll also throw in my special report, "Five Security Marketing Skills to Master in 2010 and Beyond" ($97 value)
All of these gifts are yours to keep.  There are no strings attached.  And there's no obligation to buy anything…you can cancel at any time!
Why am I doing this?  Because I'm getting old and going senile!  No, not really. It's because I think there's no better, more honest way to get you interested in my Smokin' Security Newsletter than to let you "try before you buy."
Sure, people (especially my wife) tell me I'm crazy for giving away so much free, valuable stuff. They say, "How can you justify giving away the store?"
Well, I may be getting older, and possibly going crazy, but I'm not stupid.   I've found over the years that whenever I get security installers to sample the Smokin' Security Newsletter, they become absolutely hooked.  Most have continued to subscribe for years.
And so I figure the more installers I can entice to try the Smokin' Security Newsletter, the more installers I'll win over as members.  Hence the reason for this almost-crazy, irresistible offer.
You will get all the pieces mentioned above for FREE…the only thing that I ask from you is to help out with part of the shipping cost by paying the measly sum of $5.95.  Simply go to the Smokin' Security Newsletter page and sign up today and I'll send you:
Three (3) back issues of my Smokin' Security Newsletter that's packed with solid, proven security marketing advice and strategies, and tried-and-true security marketing samples. You will get all the tools you'll need to build a faithful heard of clients that will STAY, PAY and REFER! You'll also get four (4) powerful audio success CD's that include:
1. The Black Belt of Google Adwords.
2. How To Skyrocket Your Security Business With Interactive Video Monitoring.
3. Why Most Websites Fail and How To Make Yours A Smashing Success.
4. How To Make Your Clients Feel Like A Million Bucks.
My special "Seven Simple & Easy Steps to Doubling Your Installations and Getting Paid Quickly in 2010" will teach you WHAT you can do in the next three months to start 2010 off as a BIG year for you!
My special report "Five Security Marketing Skills to Master in 2010 and Beyond" highlights five skills, that if mastered, will have a BIG impact on your income stream (it will turn that stream into a river!)
Take a look at all your FREE stuff!  If you love it as much as I think you will go to the Smokin' Security Newsletter page and test drive the Smokin' Security Newsletter. Just fill out the form and we'll take care of the rest.
But there's one catch…I'm only offering the three special reports for FREE (my extra frosting on the cake, if you will) for the month of February (cuz it's the month of LOVE).  So you need to obey your inner voice and sign up today!  I'm not making this offer to everyone (only a select few), hence the reason you will NOT see these special reports offered to the general populace on the website. If you sign up before the end of February, you, and only you, will get these special reports.
So, maybe people think I'm crazy, but you're nuts if you don't take me up on this offer before February 28th!