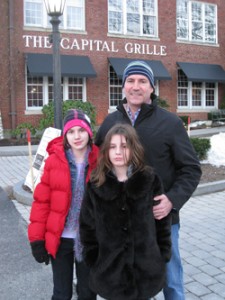 Long story short, after I bought my new, historic office building, the real estate agent (whom I purchased the property through) was very sage to send me a $200 gift certificate to one of my fav-O-rite restaurants, The Capital Grille. It's a remarkable steakhouse, with fabulous food, stellar service and hefty prices. My dish of choice is their Bone-in Kona Crusted Dry Aged Sirloin.
The Capitol Grille was jammed-packed on Wednesday, in the middle of the week, on a freezing cold (below zero!) night during a slooow economy. The waiting line for the 5pm seating started around 4:40pm and the restaurant was packed by 5:25pm. This ain't because The Capitol Grille is serving cheap Swanson "Hungry Man" frozen TV dinners. It's because they provide an extraordinary dining experience for their clientele.
Fly On The Wall
While my wife and kids were waiting to be seated and also during our meal, I noticed a few keen observations that probably went unnoticed to the untrained eye. So here the are:
I heard the hostess answer the phone exactly the same pleasant way each time: "Good evening. This is The Capitol Grill, Chestnut Hill. My name is Sarah, how my I help you, this evening?"
We got to the restaurant a bit early (the lounge opens at 4pm) so we watched the staff set up. The waiters and waitress were checking all the wine glasses and silverware and polishing them to perfection.
The busboys were polishing the heck out of the bathroom sinks, floors and stalls. Seeing this brought tears to my eyes remembering my experience in the Air Force boot camp on latrine duty. These are no ordinary busboys, no siree! Not only do the busboys clear tables, they go a step further – they folded our napkins and place them on the table each time one of us got up to use the bathroom. With lightening speed, they even pick up your napkin and get you a fresh, folded one, if it falls beneath the table! They do the same for your utensils.
The wait staff was very "au courant" on all the menu offerings. I even quizzed the hostess to see if she was up on all that the restaurant offered and I couldn't stump her. She also gave me information and directions on some area attractions that I inquired about.
I really liked this feature: The crumb sweeper (or at least that's what I call it!) Between each coarse, the table was stripped of it's plates and utensils, the crumb sweeper was brought out (it looked like a small, hand-held wiper blade), the white linen tablecloth was de-crumbed and new plates and cutlery were put down. A nice, clean start for the next course!
Lastly, the thank you card put inside the "doggie bag" was hand-signed from the Executive Chef.
What do these observations tell you?
You just can't be "know for quality, service and dependability" you have to exude this out of your every action!
We Will, We Will Rock You!
It's no longer enough to think in terms of providing a great security service. You need to be par excellence. You need to be what the Capital Grille is to steakhouses. We know live in an economy where folks are looking for and demanding some kind of meaningful and memorable experience when they make a purchase. And will pay more for it…they expect to!
The BIG question for you is, how can you take and reinvent your security company into an experience that leaves an indelible memory for your clients, and defines you versus all the the other security guys & gals in your area?
Question To Self….
How Can I Reposition Myself and My Security Business So I Am No Longer A Generic, Universal, Just-Your-Average-Joe Security Company, Bound By Our Industry Norms – Product, Pricing, Hours of Operation, Scheduling and Availability?
In other words… how can you become the Starbucks, Disney Land, Capital Grille, Nordies of the security industry?
I'll tell you. Pull up a chair, get a pen and paper and right this down:
"By creating multiple ways of positioning and doing everything just a little bit differently."
Do this by asking yourself, "If I was a client, what would I appreciate and perceive as delightfully different, that would knock my socks off, and I would stand at the mountain top telling everyone about your security business?
Make everything a unique experience and watch client appreciation and referrals go through the roof!
Maybe add one small permanent change each week and, overtime, you'll transform your security business.
Right This Quote In Blood
"Do what you do so well and so uniquely that people can't resist telling other people about you."
Well, I got to go….got a powerful nor'easter coming our way tonight that's expected to drop up to 17" of snow in NE. I need to rush out and buy some food for the family. Maybe I'll grab a few Swanson "Hungry Man" frozen TV dinners…not!
Peace, Out…for now.