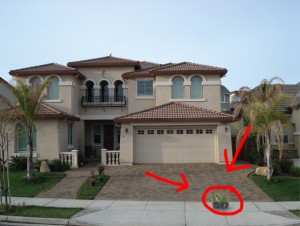 I was just reading an interesting article about how burglar's (these guy's keep us in business), have been placing flower pots in the driveway and in the front of the door of homes when they are casing in a neighborhood, they usually set up four to five potted plants at traps at a time for unsuspecting homeowners.
The theory is that the burglars are  testing to see if the residents were in town or outta town, and if the home owners moved the potted plants then they would moved it would prove that someone was home and they would move on to the next home where they have setup the potted plant caper.
The fascinating thing that I find about this is that perps are getting smarter and cagier, in how they are breaking in to homes.
Next time you give a residential security sales presentation, I encourage you to use this little story and watch the look on your potential clients face. This is a Mike Tyson style haymaker, for closing home alarm and security deals. It will show that you have insider knowledge on how burglars break in to homes, remember facts TELL, stories SELL.
So what can you use this to an unfair advantage in your local market do to combat these types of capers in your local market…? And gain MASSIVE CREDIBILITY & EXPOSURE…???
Security Alerts E-mails
If something like this happens in your own back yard you should an current and updated email list of clients and prospect who you can send out your  *Security Alert E-mail*  to your list (clients & prospects) warning them  to be  BOLO (Be On The Lookout) for perps, meth-heads, crackheads and miss placed potted plants in out of the ordinary locations, and remember to tell them to forward your email onto a friend in the town so they can BOLO as well.
By doing this you will be employing the power principle of EBSM (Education Based Security Marketing ™) subtlety positioning yourself as the obvious expert and as the local The Security Guru ™.
The Best of Both Worlds
By positioning yourself as the expert and providing free consumer awareness information you are "Softening the Beach Head" for future security system sales and referral generation. Besides sending an occasional Security Alert E-mail you should be in constant contact with your client base at least 2-3 times per month. This is way easier then you might think, a monthly client newsletter, and a couple of emails and walahhh, you just wrote your own prescription for success in a slooow economy. By implementing this strategy alone you will in deed create 7/24/365 sales reps for your company.
When you are in frequent contact with your client base it's ten times easier to sell and you will generate 100 X more referrals from your clients, you gotta like that. More referrals will make your security selling easier since you will be dealing with people who are pre-qualified to do business with you.
As one of my first mentors would say Jim Rohn "It's easy to do, easy not to do"
If you choose to do this little trick you'll put a firewall around your security business that can't be cracked by even the most creative, deadbeat, trunk slamming, hack job security dealer out there.
The more you educate your client the easier it is for you to sell more security products and services.
If ya don't show up how can you expect to sell?
P.S. In this months Smokin Security Newsletter, I have a 60 minute no holds barred audio interview with the nations  top security  trainer on  how to sell and install electronic security systems at higher profits and margins!
And that not all you get in the July  issue of the Smokin' Security Newsletter,  there's way more:
Also I have a referral postcard that is "off the hook" for creating a flood of referrals into your business.
A multi step lead generation example on how to sell $100K security systems and up.
An telephone script on for handling inbound calls and converting  to service contracts, and maintenance agreements.
Why you need to be optimistically paranoid, it's not what you think it is.
How to give a 1HR service call for FREE to sell a $10K security system.
The # 1 mistake all security dealers are making right now, and it's not what you think.
Now Go Smoke Your Competition! –  Bob Maunsell
Former Sgt U.S. Air Force
Have an E.S.P style day, Easy, Successful, Profitable.
**Hey, Do you want to post my articles up on your blog? Go right ahead! Just kindly cite your source and give a link back to my page.Thanks!**