It's Bob here… I'm a little groggy, and I'm on my 3rd espresso this morning. I took my daughters and one of their friends, to their 1st concert last night down in the Seaport District of Boston to see the band Imagine Dragons at the Fleet Pavilion Tent. I'm just thankful that it wasn't the Bieber or One Direction. I'm actually a Imagine Dragon fan, so it was very cool to see a concert with my girls – especially their first concert.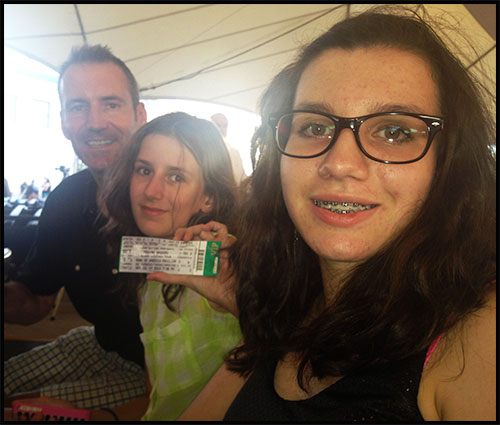 Don't Ever Stop Playing Games
All the way down the Mass Pike to the concert, it was just one big ol' game after another with the girls in the car…
– Who could name the song playing on the radio right now.
– First one to spot a VW Beetle wins.
– Who can spell Sassafras?
– What is the Capital of XXXXX?
– What app does this for your pictures?
– What celebrity is dating so and so?
– What's the easiest way to solve XXXX?
– Do you know this cord on a violin?
And the game we were playing reminds me of a quote from George Bernard Shaw "We don't stop playing games because we grow old, we grow old because we stop playing games." We seem to be flabbergasted at folks in their 80s and 90s who are resilient, sharp, vibrant, and are actually still evolving as human beings, and constantly giving back to society.

ZOMBIELAND vs CANI-LAND
I'm actually more stunned by people in their 30s and 40s who are living in ZOMBIELAND and are stalled, stunted, and short-circuited out of life, like a meth-head living under an underpass.
My mantra has long been influenced by Tony Robbins with his "CANI" Constant And Never-Ending Improvement philosophy. The Benefits of CANI include:
– Creates a personal and business momentum that will be hard for your competitors to knock you off.
-Personal satisfaction and fulfillment because it will cause you to grow personally and financially.
– Discovering online & offline sales & marketing strategies that will put a firewall around your security business.
– Leads to innovation. Innovation creates leverage.
– Testing new ideas, produce new results.
– If your techs are in CANI mode learning cutting-edge technology, your security business will be impenetrable.
When you're living CANI you're exercising far more of yourself than any personal fitness trainer can ever invoke within you.
The Power-Nap Gone Bad
Too many folks lay down to rest in the hammock which is beautiful tied between palm trees, overlooking the sunset. They sink deep-down into the hammock to a light, refreshing afternoon power nap. They wake up instead of feeling rejuvenated, but feel old, ancient, and outdated. There minds and bodies have atrophied. Ironically, nothing facilitates reinvention more than failure, because if you never fail you become comfortable with increasingly minor victories. My dogs Maeve and Lily don't catch every ball thrown at them, and I don't catch every ball life throws my way either. But we both keep running for the mere thrill of it, and CANI will keep the mind-body-spirit in shape.
Have a great weekend!
Bob