Dear Joe,
I hope Santa Claus was good to you and your family. We had a real nice kicked-back and relaxing Christmas in West Boylston with family and friends. I'm taking my oldest daughter out for another treat after Xmas for some Chinese food at our fave restaurant The Wong Dynasty and then off to the movies to see Anchorman 2.
But, before I do, I want to clue you in on a special Xmas message I received from one of my coaching club members a few days ago…
A Website That Catches Bad Guys
Bob, you inspired me to think of that. I've created websites for my businesses before but I've always struggled to come up with a URL that was memorable. Art Dunn Alarm Company would have been far too easy to forget!
Somewhere you had mentioned that an easy to remember and descriptive URL (I think it was a plumber in one of your newsletters) would be far superior to simplify the company name.

Largely because of your coaching I've designed and built this whole company around the answer to a prospect's questions- "why should I do business with you and why are your services worth so much more than the next guy?". The answer is in the URL- we catch bad guys!
Art Dunn
Art Dunn Alarm Company
Modesto, CA
"I'm Kind Of A Big Deal" Ron Burgundy, Anchorman
If you saw Anchorman, then you'd probably remember the line above from Ron Burgundy. Well, Art Dunn has become Ron Burgundy famous in his neck of the woods for being a legit expert in "Remote Monitored Verified Video|Security Systems." He does this by focusing on what really works- getting armed responders out to catch the bad guys! He uses equipment that offers video verification of intrusions – indoors or outdoors, day or night, without wires or utilities. This allows intrusion detection and verification where others cannot or dare not go! His experience as an installer ensures that each system is designed to aid in effective responses that lead to captures. Avoid the regret hesitation could bring. Contact Art today! Please note that because our focus is on our clients' property, our office is not regularly staffed. Please contact us for an appointment.
if you notice that Art uses a Ron Burgundy "I'm Kind Of A Big Deal," takeaway selling line, by selling his experience by appointment only.
In This month's Smokin' Security Newsletter I was flattered by Art's xmas message so I created for him a "Case Study Handout" to help him educate his prospects in advance and close more clients on the spot. Also include is a blow-by-blow marketing formula to leverage everything that he's doing right now guerilla-style to become a local Remote Video | Security Expert.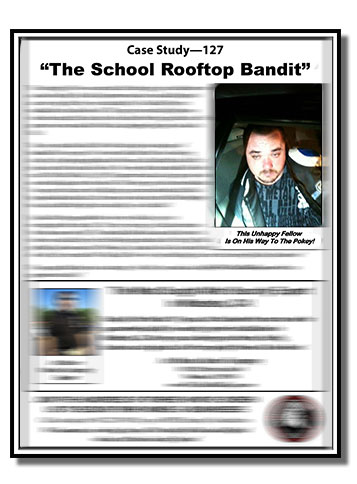 Most marketing consultants would have you use pictures of unicorns, giraffes, and bumblebees in your glossy marketing pieces. No Siree, not I! I like to hit a prospect in the mouth and then hit them where it counts – in the wallet, this ad will help you do just that!
Special Report # 1 – How To Sell Mass-Market Fire Alarm To Residential Neighborhoods. Use this as a way in the door instead of leading with your typical "FREEBIE" alarm system.
Special Report # 2 – Your 12 Month Marketing Plan
If you're feeling lost with how to make 2014 even better, here's a simple way to create a 12 month marketing calendar. To keep you on track and making more dinero in the coming months.
Special Report # 3 – Your Winter Client Newsletter
If you want to be considered a high-end security provider, you need to be sending your clients a "paper & ink" newsletter. There isn't any better way to soften the beach head for more security system sales. It's all done for you all you have to do is slap your company name and logo on it.
Special Report # 4 – Blasted Burglar Ad
If you're finally ready to eliminate thieves, pesky vandals, peeping toms, and derelicts. Then you need this ad in your marketing arsenal.
Santa Bob is also bring you some more gifts:
– Have you ever dreamed of creating a boutique security business?
– Discover how to SELL to the affluent.
– 16 Ways to package your services for millionaires.
– Discover the "hidden" dangers of emailing your invoices.
– Niching your security business for maximum profit.
– The real reason why you NEED to Cash on hand.
So if you want to get your hands on the December issue of the Smokin' Security Newsletter, then get to it! The introductory offer is for $5.95. Starting January 2014, this introductory offer will be going up to $19.97, so get it while it's still less than 6 bucks!
Have a great New Year!
P.S. Fear And Procrastination Is The Language Of The Poor.
Bob