10 hours from now I'll be hoarse and screaming at the top of my lungs:
Out here in the fields
I farm for my meals
I get my back into my living.
I don't need to fight
To prove I'm right
I don't need to be forgiven.
Yeah, yeah, yeah, yeah, yeah
Don't cry
Don't raise your eye
It's only teenage wasteland
Cuz I'm seeing THE WHO perform at The Dunkin' Donuts Center in Providence, Rhode Island tonight. I never get tired of listening to the song "Baba O'Riley". It was my personal patriotic anthem when I was a punk back in the day (can you relate?)
The Story Behind Baba O'Riley
I recently read an article about "Baba O'Riley," and Pete Townshend claimed, at least in part, that "Baba O'Riley" was about what he witnessed from the crowd during the Who's performance at Woodstock. He stated that "Baba O' Riley" is about the absolute devastation of teenagers at Woodstock, where everyone was smacked out on acid and 20 people ended up with brain damage. The contradiction was that it became a celebration: "Teenage Wasteland, yes! We're all wasted!'"
Crack Heads + Meth Heads = Serious Crime Problems
Today, the kids are jacked up on large quantities of Crack and Crystal Meth and are far more dangerous, with glocks, assault rifles, social media and smart phones, and are prowling around unsuspecting victims to break into their homes or businesses and make off with"sky high stacks of cash" to feed Satan (their addiction.)

The Gold Rush Is On, Will You Be Left Behind?
With this type of global chaos and panic going on, the need is great for security dealers and integrators like you to be selling and installing "higher-level" video surveillance systems to protect your local markets, not the rinky-dink DIY yourself kits from Walmart or Sams Club. You need to be thinking Mega-Pixel & Remote Video Monitoring Services because it's on the cutting-edge and that's where the ***margin*** is today. The only object standing between you and higher profits is your positioning as a touted and respected CCTV/Video Surveillance expert.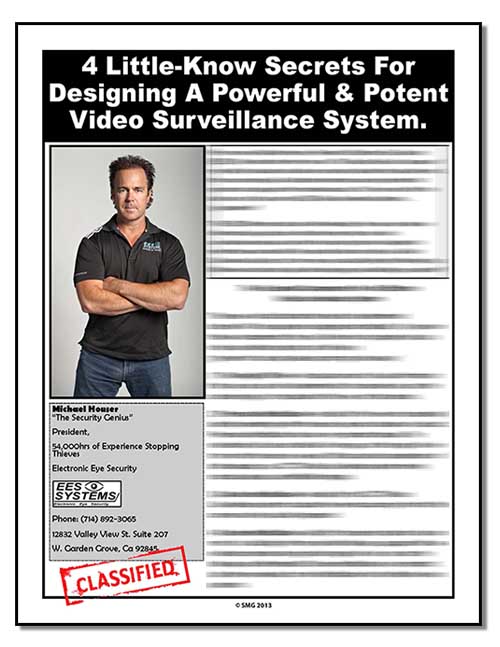 4 Little-Know Secrets For Designing A Powerful & Potent CCTV/Video Surveillance System Ad
I have been using these 4 little-know secrets for designing Video Surveillance Systems for years now. If you can enlighten and educate your prospect on how to design a successful surveillance system, you'll be perceived as the expert, go-to security guy and have a huge leg-up on your competition.
Most sales reps are equipment salesmen, and they don't bother to understand the theory and philosophy behind how to install and design a potent surveillance system. So I took it a step further and created a Bad-A$$ ad for this month's Smokin' Security Newsletter that sets YOU up as the "obvious video surveillance expert." All you have to do is insert your pretty face and company logo or, if you have a stable of sales reps, take a quick photo and customize it to them. When you read the copy that goes along with this handout, it's education-based about surveillance systems, and also provides a nice little compelling monologue from YOU as to why they should "trust" YOU over any other security company out there.
But Wait There's Still More….
Special Report – How To Become A Famous Security Expert Fast!
If you have celebrity status as a security expert, then your prospects will just go off of your recommendations. While your competition is having petty fights over how much to charge for a roll of black electrical tape, and all the while cream-puff projects will fall naturally into your lap.
Still More…
– Exponential Growth Using Force Multipliers In Your Business.
– Discover How To Paint a Clear Compelling Vision For Your Team.
– The Real Truth About Using Flattery In Your Sales Presentations.
– 3 Diabolical Mind Control Tactics To Use On Your Staff.
– Are You Growing Or Dying…. Increasing Your Bandwidth.
– The Most Important Day Of The Year For Your Clients.
– Super Secret Mobile Marketing Strategies… Do You Know What It Is?
– How To Put A "Killer Affiliate Referral Program" At The Bottom Of Your e-mails.
– How To Read & Learn Using Hyper-Speed Reading.
Audio Success CD – Dominating Your Market With PPC Ads & Retargeting
This audio CD will leave you drooling with ideas on how to target prospects online for security systems.
Fast Action Bonus – St. Paddy's Gift For You
If you take action TODAY and become a bonafide member of my world-famous Smokin' Security Newsletter, I'll send you a copy of my Members Only gift (You'll receive this extraordinary gift in the beginning of March…I can't tell you what it is cuz I don't want to ruin the surprise, but I guarantee you'll love it!) that you can email out to your clients and prospects – for FREE – to drum up much more in security sales.
I Get My Back Into My Living
One of the verses in "Baba O'Riley" that Roger Daltrey sings, "I Get My Back Into My Living." What he's referring to is "pick & shovel" work (i.e. MANUAL LABOR). You can't make money doing manual labor, it will eventually kill you, but first will ruin your knees and blown out your back. If you desire to make "sky high stacks" of cash without manual labor, this is the gospel truth: "Without a Killer Marketing System in Place, There Will Not Be a KILLER Security Business. The Money is in Marketing Your Security Business."
Rock on my friend!
~Bob