I was gagging on my coffee, the other day, while I was reading a comment that one of my security marketing email subscribers posted on my facebook page.  I was bantering back and forth with a few friends on some "Glengarry Glen Ross" monologue and the subscriber jokingly chimed in with "Coffee's for closers, so put down that coffee!" I almost wet my pants laughing and chocked on my coffee, simultaneously.
If you don't know the line, "coffee's for closers" then you probably missed one of the all-time, best sales movies ever – "Glengarry Glen Ross." If you're in sales, then you gotta see this movie!
"Glengarry Glenn Ross" came out in 1992 and Alec Baldwin was one of the actors, along with Jack Lemmon, Kevin Spacey, Ed Harris and Alan Arkin.  Alec Baldwin's character's name was Blake, who was an arrogant, narcissistic, yet highly successful salesman.  Blake been sent, by the Big Bosses, to a ill-performing sales office to improve the flagging efforts of the employees through threats, intimidation and the gimmick of a sales contest.
You should watch this seven minute clip from the movie…it's awesome.  It includes the line, "coffee's for closers," and is also a bit colorful in language so if you don't like profanity, then skip it.  Here it is…
Always Be Closing
There's a couple of real gems in the clip that Blake (Alec Baldwin) throws out at the lame, pathetic, incompetent sales reps (that can't get out of their own way) he's been sent in to motivate.  Here are two good acronyms Blake uses:  ABC and AIDA.
A = Always
B = Be
C = Closing
and,
A = Attention
I = Interest
D = Decision
A = Action
In this month's Smokin' Security Newsletter, I'm gonna give you a tool that'll make it so easy for you to close…Blake would be so happy that he'd give you his $80,000 BMW!  This tool is a killer marketing piece…pull up a chair and let me explain it to you:
Get the Money….You DESERVE!
Just a bit over five years ago I created a marketing piece, for a private client of mine, who was really struggling.  The client specialized in high-security perimeter fencing and gate access control and he did great work.  One of his biggest problems was closing sales and getting his money's worth for his work.  He was constantly low-balling to get the jobs because he thought that's what people wanted and that's all he knew how to do.  I told him this method was a big, NO-NO.  I told him he could stay in that mind-set for the rest of his life or start working smarter to make more money.
The marketing piece I created for him helped him close sales, on the spot, and took out the price     discounters.  He went from clients asking, "Is that your best price?" to "When can you start?"
Now, ask yourself, which one of you could use this security marketing piece…because you know I've tweaked it for you!  I'll tell you who could use it:
Alarm Installers
Burglar Alarm Dealers
CCTV Installers
Low Voltage Installers
Locksmiths
Home Theater/Automation Installers
Security Integrators
Fire Alarm Dealers
Video Surveillance Installers
Access Control Installers
Satellite Installers
Private Guard Services
Yes, all of you could use this kick-ass marketing piece to boost your closing techniques and increase sales…which is a good thing, no?
Well Fed
If you want to see the "wall of clients" my marketing piece helped generate for my high-security perimeter fencing client, then check out the pic below.  He's definitely well-fed these days!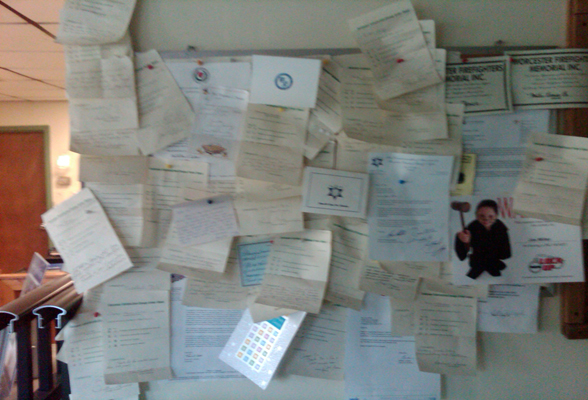 P.S.  Here's another one of my favorite lines from "Glengarry Glenn Ross."  "First prize is a Cadillac Eldorado, second prize, "a set of steak knives," and third prize "you're fired." These are the prizes for the sales contest that Blake issues.  Which prize do you want?
Have a Gr8 week!