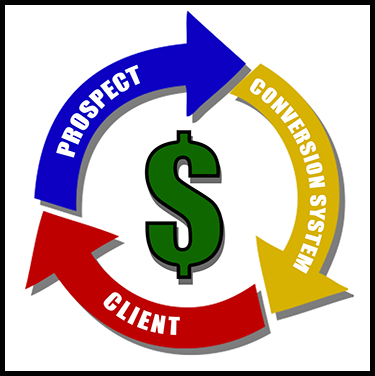 So, are you ready to discover how to convert more of your prospects into paying customers? If you've answered "yes" then read on…
With our Converting Prospects Into Paying Clients Marketing Kit (for the residential market) you'll get two great marketing systems that, together, will position you as the go-to-company for residential security in your neck of the woods, and prove to your target market that you, and you alone, are the security dealer of choice. Let me explain further…
The two systems included in this kit are:
   •Prospect Converting System
   •Testimonial Generating System (real, live client testimonials help BIG TIME to persuade and convert prospects, don't ever underestimate them!)
Each system has a dedicated purpose.
Prospect Converting System
All the pieces in this system are designed to boost your image by proving that you are the ethical, reliable, knowledgeable, experienced and trustworthy security company in your marketplace and that YOU are the company of choice when it comes to protecting and securing residential homes and loves ones.
Pieces Included In The Prospect Converting System:
   •"We Aim To Make You Happy" Email this incredible email should go out to all your prospects BEFORE you meet with them. It includes three (3) convincing pieces that will set you apart from your competition and position you as the security company of choice before you even meet the prospect!
   •Your Company's Code of Ethics – this piece is a must have for EVERY security dealer. It sets the stage for your security company as an honest, ethical provider of security.
You Vs The Other Guys Guarantee Comparison Chart – includes 30 Bold Guarantees that you vow to your prospects and clients – that no other security dealer can or will!
   •King of Security – this piece is a great positioning piece. It will show how knowledgeable and experienced you are in the security industry (NOTE: this piece also pitches the 32 Point Home-Safe-Home Security Audit and utilizes the audit to feature a very powerful offer that will get your phone ringing and your foot in the prospect's door! The 32 point audit is NOT included in this kit. It is, however, included in the residential Home-Safe-Home Inspection Marketing Kit.)
   •Client Testimonials and Smiley Face Client Testimonials – both of these pieces are VERY powerful. The Client Testimonial piece includes written client testimonials, while the Smiley Face Client Testimonial piece includes both visual (graphic) and written testimonials – the most impressive & compelling testimonials you can get! Real, live client testimonials lend integrity, credibility, reliability, trustworthiness and honesty to your security business because what others have to say about you is 100 times more believable, compelling, potent and persuasive than anything you have to say about yourself.
For this reason, our next system is all about soliciting and amassing powerful,dynamic online and offline client testimonials.
Testimonial Generating System
As mentioned, client testimonials are powerful in that they help break down the walls of resistance and prove to your prospects that you are a wonderful, honest, trustworthy, knowledgeable and competent security company that doesn't let its customers down. This system includes pieces to garner and glean great online and offline client testimonials.
Pieces Included In The Client Testimonial Generating System:
   •World Famous Client Survey form – this piece asks your clients to give you feedback on the good, the bad and the ugly. If you've done a great job with the installation and client care, the good will come out in droves and you'll have plenty of fodder for your client testimonial handouts. (comes with direction on how to distribute the form.)
   •Smiley Face Testimonial Cards – these little babies work like gang busters to give you visual and written confirmation of a job well done by your security company. Clients have a blast filling them out… wait till you see them – they're absolutely brilliant and the most compelling, client-converting pieces you'll EVER find! Also included here is a one (1) lively marketing piece that solicits clients to fill out these fun and amusing testimonial cards. (comes with directions on how to distribute the cards.)
   •Google + Reviews – It is imperative these days to have an online presence and a Google + page. On this page, clients that have gmail email accounts have the opportunity to review your products and services. This Google + Review section is actually a system within a system. It includes: two (2) emails that you can send out to clients seeking honest Google + reviews, plus you'll get one (1) marketing piece requesting Google + reviews from clients that can be used as a handout, a direct mail piece, inserted in invoices or client newsletters, a fax form, or used as text for a webpage. (comes with directions on how to distribute three pieces.)
So, if you're interested in converting more prospects to Clients for Life, and want the systems that will make that happen, order the Converting Prospects Into Paying Clients – Residential Marketing Kit today! Your investment in the kit is $597.
A Free Security Business-Building &
Strategic Marketing Makeover
For those of you who would like to get a little extra help in discovering what's needed to increase your installations and cash flow and to get your business growing and moving in the right direction, then REGISTER for your free Makeover with Jodi, our Security Marketing Expert.
The very quickest way to get "un-stuck" and take your security business to the next level is to let Jodi pinpoint exactly what's going on that's holding you back in your security business-building and marketing efforts. And at the same time, she will also reveal specific new security marketing strategies you should be using, and explain how to use them correctly in your business.
If you'd like to take me up on our Free Security Business-Building & Strategic Marketing Makeover to identify your business's marketing and business-building shortfalls and discover what is needed to grow your security business, then click the link below and register for your free makeover TODAY!
FREE MAKEOVER
Stay Awesome!