Free 17 Point SEO Audit and Google + Business Review Reveals How To Drive Traffic, Leads & Sales To Your Website In Droves – Available Free To The First 10 Folks To Respond! So Hurry Up – Don't Delay, If You Want In!
Bruuuce…
I'm heading into Beantown (aka Boston) tonight to see Bruce Springsteen. Bruce will be playing in the "Cathedral of Boston" which, if you saw the bank robber movie, The Town, is what Fenway Park was referred to.
I love this movie and the line from the bank robber Fergie Colm that goes something like this: "Cash is brought out and stacked fifteen minutes before the van does the pick up. That is when you hit. On Monday morning, before game stands in New York, sixty thousand beers, food, merchandise. Total call; three and a half million. Taking down the Cathedral of Boston? Priceless."
Taking Down The Cathedral Of Boston…
I'm stoked cuz I know Bruce will literally take down the Cathedral of Boston (Fenway Park) with tonight's performance. If you've never been to a Springsteen concert, you're missing out big time! One thing Bruce is known for is his over-delivery of awesome music. He typically performs 3.5 – 4 hour concerts of pure Rock n' Roll. Most bands, if you're lucky, will perform 1.5 – 2 hour concerts. Bruce gives you that, plus an another 90 minutes. The value is tremendous!
Free 17 Point SEO Audit and Google + Business Review – For the first 10 Folks To Respond ONLY!
I want to let you in on something new that we're cooking up here at SMG Headquarters. We have quietly been putting together a kick-ass SEO Optimized WordPress Website program for security dealers and integrators. I haven't unleashed the program yet to the general populace. That will come very soon. But what I'm offering you today is totally FREE in-depth 17 Point SEO Audit, and a thorough review of your Google + Business review page.Why am I doing this? Because I believe, to my core, that you have to give tremendous value to clients and prospects to help them become more successful in their endeavours. And that is what this 17 Point SEO Audit and Google + will do for you.
Does Your Website Dominate The Search Engines & Show Up On Page ONE of Google?
One very important security marketing pillar is your website. We all know how important it is to have an elite website that dominates the search engines and pulls your site up on the FIRST PAGE of Google. When people are searching for security systems, video surveillance, access control, fire alarms, biometrics, intercoms and paging, home theater, satellite systems, GPS systems, locksmiths, and ZWave technologies, etc., if you're not on PAGE ONE of Google (the only page most people search), it's costing you a lot in sales an RMR…period!
We all know how important it is to have a site that targets the prospects who are visiting, and captures their interest with relevant, interesting and updated content. It's also very important to capture the visitors' contact information…immediately!
Is your site set up to do all of the above? Does your site drive prospects to its doors and provide them with content that is not only interesting, but positions YOU as the trusted, expert source in the security field, the go-to-guy for all their security needs?
Are you using WordPress, to its full optimization, for your website? Google LOVES the WordPress platform, integrates with it seamlessly, and utilizes its special powers to boost your search engine ranking/listing on Google. If you're not using WordPress, you should be and will be soon…keep reading on!!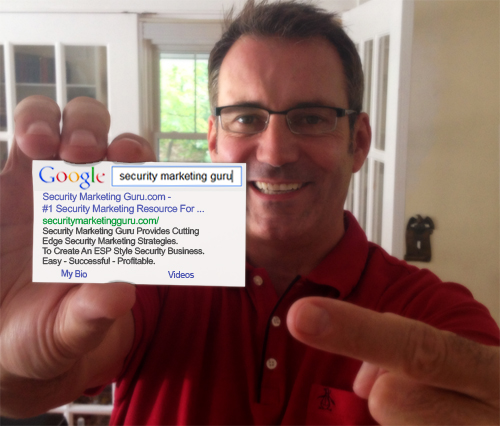 A Multi-Million Dollar Marketing Mistake – Not Perfecting Your Website
If you are not doing the things that I've just mentioned, then you're losing valuable web leads (a.k.a. $$$$) …believe me, much, much more than you can imagine! So many people now search the web for their security needs, that it's a shame, and a BIG profit deflator, if you're site is not positioned correctly and designed to attract, capture and retain customers.
If you're interested in DOMINATING Google, DRIVING more qualified traffic to your site, CAPTURING visitors contact information and SELLING many more security systems, then I've got the SOLUTION for you.
I'm offering a FREE 17 Point SEO Audit and Google + business review business critique to get you started. Again, I'm ONLY offering it to the first 10 people that respond.
***Just want to let you know that this is the One and Only chance to
GET IN on this incredible offer for FREE!***
So if you're interested in this Freebie, just reply to this email. There will be two dates set up next week for this review. Once we have the first ten folks, we'll contact you with your date and time.
If your interested in this audit send an email to support@securitymarketingguru.com!
Rock On!
Bob