Recently, Natasha and I had the opportunity to sneak out for a date night. We really wanted to see the new action flick The Bourne Legacy. The other three Bourne movies were awesome and this one was no exception. However, my wife likes Matt Damon better in the starring role. Other than that, The Bourne series are our favorite action movies (we're also fans of the MI movies.)
The Bourne Legacy
Instead of Matt Damon playing Jason Bourne, there's a new character, Aaron Cross, played by Jeremy Renner. Aaron is a member of Operation Outcome – one of the Department of Defense's black ops programs, which provides its agents with Green Pills to enhance physical ability, and Blue Pills to enhance mentality ability. Aaron is given the moniker "Number Five" and is deployed to Alaska for a training assignment, during which all hell breaks loose and a globe-trotting, action-packed chase ensues. I'm not going to spoil it for and give you the details, but the movie is definitely worth watching.
Green Pills & Blue Pills
Wouldn't it be so easy and trouble-free if all we had to do was take a performance-enhancing pill to get the results were looking for in business? I think that's what's wrong with the world today. Everybody is looking for the "magic pill", the easy way out…the computer that going to spit out $1000 dollar bills while they sit in front of it in their underwear or the social media site that's going to make them rich and famous.
When sometimes all that is required is that dreaded, dirty, disgusting, four-letter-word called WORK and then having a little LUCK (Learning Under Correct Knowledge).
You are the MAGIC PILL!
With the right performance tools (and I don't mean pills!) you can become extremely successful in your endeavors. Let me give you a true-life example of how incorporating the right performance tools can increase your security sales…
In Less Than a Year Our
Security Business has increased over 30%!!!
Michael and Kathy Frye of TecVentures, Bellbrook, OH, joined our Smokin' Security Newsletter Coaching Club program about a year ago. Here's what Kathy has to say about how she increased her business by over 30%.
"We Started using the client newsletter and many fresh marketing ideas along with the 32 point audit and in less than a year our business has increased over 30%!!! We recommend the client newsletter and the 32 point Home-Safe-Home audit. Keep it coming! Thank you SMG Team!"
Kathy Frye
VP
TecVentures Inc.
Bellbrook, OH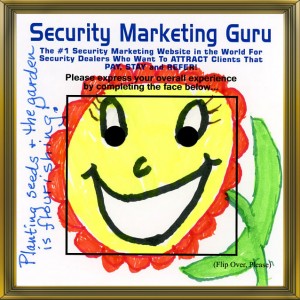 So, let's figure out the cost to increase your business by over 30%..
It took Mike & Kathy less than a year to increase their sales by over 30%. So, let's round it up to a year and figure out their cost.
Mike and Kathy are Smokin' Security Newsletter Coaching Club members (which includes the client newsletter that Kathy is referring to) and the cost of this program is $97 per month, with the first month's special pricing of $5.95.
1 x $5.95 = $5.95
11 x $97 = $1067
Total = $1072.95
The Home-Safe-Home Security Inspection Marketing Kit (which includes the 32 Point Home-Safe-Home audit that Kathy is referring to) is $697, but Mike and Kathy used their $100 SMG Money Certificate they got as a bonus gift for membership in the Smokin' Security Newsletter Coaching Club.
$697 – $100 = $597
Total Investment to increase your sales over 30%:
$1072.95
+ $597.00
$1669.95.
In other words, it cost Mike & Kathy $4.57 a day. Is that too much to pay for a 30% increase in sales? You need to decide.
Jim Rohn Quote On Success
I'll leave you with a quote from Jim Rohn, "No wonder that gal is so successful, look at everything she's doing."
Peace, out!
Bob