How to Own Your Local Market With
Saturation Mailing
(audio file)

[audio:BlogPostWed.mp3]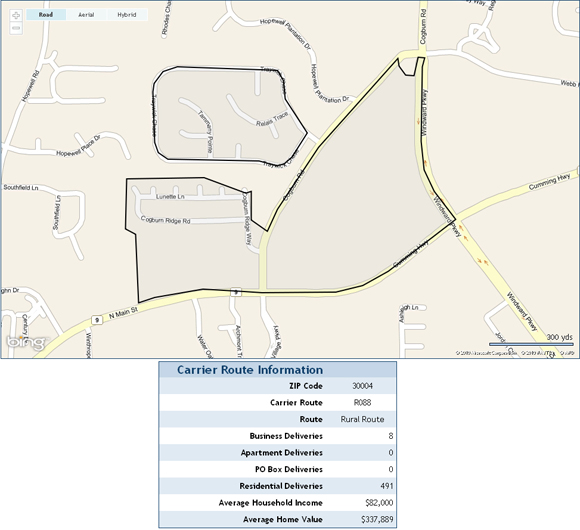 This is a "fishing hole"  in Alpharetta, GA. There are just under 500 residential deliveries/homes with an average home value of $338,000 and an average houshold income of $82,000

Discover The Secret "Lure" To Being The Big Fish In A Small Pond
There are literally hundreds of small fishing holes, within 5-10 miles of your office, that you can go fishing in for new clients anytime you'd like.
Do you want to learn how to zone in on specific target neighborhoods…prime fishing waters… where you can dominate the market with your targeted security marketing messages…you'll realize the greatest selling potential with this strategy – learning how to catch "fish" at will!


These Darn Fishing Holes Are All Over The USA
Come back to my fishing hole and we'll discuss this deeper.  I've also recorded an audio for you to listen to, plus included some sample "fishing maps" of affluent clientèle.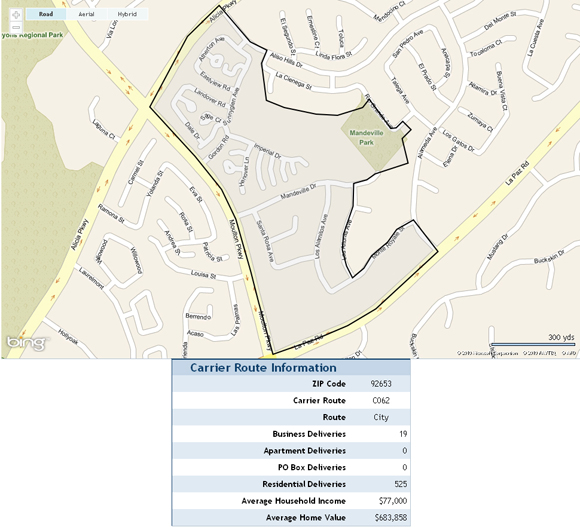 Here's another "pond" in Laguna Hills, CA.  With 525 residential deliveries, an average home value of $684,000 and an average household income of $77,000 it's a great "pond" to fish in!

Big Fish Little Pond Strategy
To give you the big fish in a little pond strategy… I'm talking about how you can use postal carrier routes combined with neighborhood saturation mailings to wickedly improve your targeted direct mail response rates, so that you can save money, and maximize sales and profits!
In this month's Smokin' Security Newsletter, I've included a CD, handout and special report that details the Big Fish in a Little Pond strategy.  Here's some of the things you'll learn:
How to reach your ideal prospect through cost-effective direct mail.
How to save a boat-load of money by doing saturation mailings- lowering your postage costs by by 50% or more!
Discover how mapping and demographics are the secret "lure" to successful direct mail.
Automatically attract and target any schools of "monster fish" in any body of water and easily haul them in.
And, much, much more!
Don't you hate it when you're watching other security dealers and low voltage installers catch more fish, hand over fist, than you and you ain't catching squat?  You don't need to watch that nightmare anymore!
Do you lay awake at night dreaming about catching a monster school of fish that will double your  fortunes overnight?
If you want an inside edge for hauling in even more fish than other competing security dealers, then you need to get your hands on this month's issue of my
Smokin' Security Newsletter
!
Secret Weapon "Lures"
Knowing how and where to fish for only the biggest and best fish in your local pond will lead you to domination of your local market and an incredible income explosion!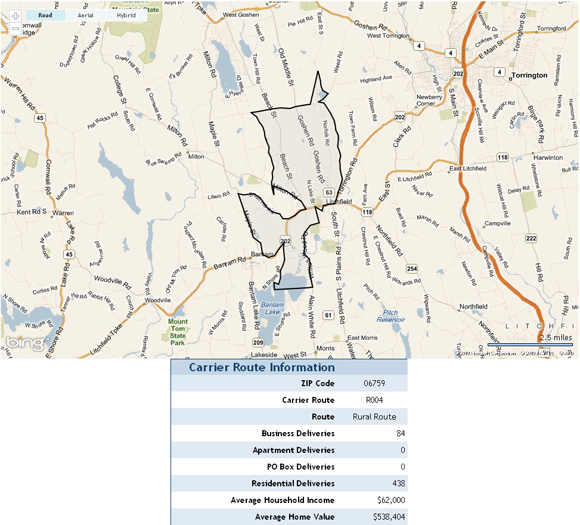 This third pond is in Litchfield, CT. This neighborhood has 438 residential delivieres, an average home value of $538,500 and an average household income of $62,000.