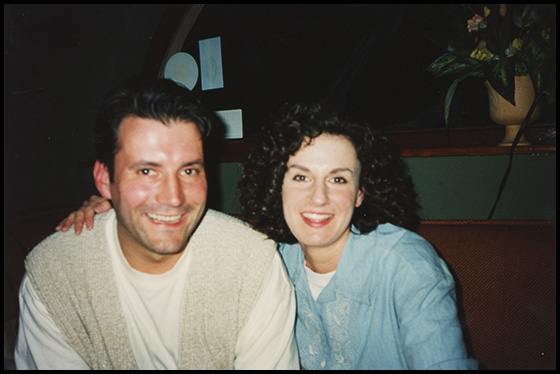 Dingle Ireland 1994
Back in the summer of 1994, I was on a two week vacation with my bride-to-be, Natasha. We traveled all over Ireland listening to "LIVE Throwing Copper," "Jeff Buckley Grace," and of course U2 "Joshua Tree & Achtung Baby."
We were in the village of Lahinch on our way to the world-famous Lahinch Golf Course when we stopped in a local pub to partake in a pint of Guinness Stout. While there, I started up a conversation with another American, by the name of Dennis, who was also on vacation and golfing that day at Lahinch.
Working For The Man
Over the course of a couple of pints of Irelands finest brew, we discussed what we did for employment, and I was still "working for the man" at the time. But I was moonlighting on the side and was contemplating breaking out on my own to set up a full time shop. Dennis told me that he was a XEROX copy sales rep in Manhattan, and that his sales territory was the World Trade Center. I inquired about how he went about making sales calls, so Dennis turned over the bar napkin and drew this diagram out for me. It was something I had never seen before and I had no idea what it meant.
Do You Know What This Diagram Means?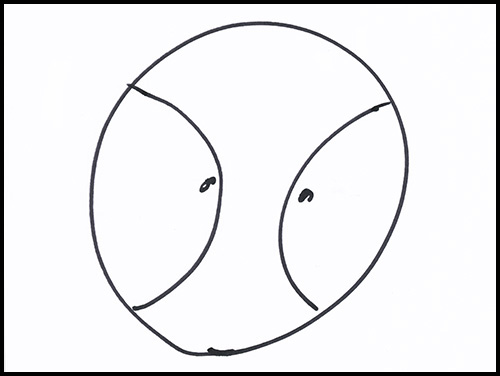 Dennis explained that he had to get Belly Button To Belly Button with 20 people a day to have a successful selling day. He went on to say that he would start in the North Tower on the 110th floor and would work his way down. He said he could easily get "Belly Button To Belly Button" with 20 people a day by doing this. This diagram literally altered the way I thought about SELLING, but not in a good way. Most security dealers | integrators are still selling this way, and this style of selling will lead you straight to rehab. Find out how to resurrect your selling career in this month's Smokin' Security Newsletter
But Waits There's 2.5 Tons More Pure Money-Making Content For You!
Special Bonus # 1 – The Coolest Business Cards For Your Technicians.
You do give your techs business cards, dontcha? Remember that people START a job because they need a paycheck. But your techs STAY long-term because they emotionally buy into your "business family."
Encourage your employees to leave their business cards everywhere they shop, think of all those display boards at the supermarkets, delis, lunch spots. You should even give your techs a commission on every business card that produces sales that is distributed in this manner. You gotta get your hands on this SMG designed & approved tech business card!
Special Bonus # 2 – A Robotic Referral Card with a 5 Step Process To Generate Referrals.
Everybody needs more referrals, do you have a unique referral card with 9 different reason WHY someone should send you a referral. Do you also have a 5 Step Robotic Process for Generating More Referrals?
Special Bonus # 3 – Don't Gamble With Your Security System
This bonus piece is The Coolest Business Card I've Seen In a Long Time. If you want to check it out, then jump on board this month's Smokin" Security Newsletter.
Special Bonus # 4 – Former Military Officer Turned Security Expert Audio Success Cd
This month's audio success CD is with a Smokin Security Newsletter member who is a Former USAF Captain turned security expert turned damn good marketing protege of mine. He operates in one of the most remote and desolate areas in the United States and he's killing it cuz he markets with sick online & offline marketing tactics and strategies. Listen & Learn from his inspiring & informative story.
P.S. Look, you can deny it if you want, recite delusional "money chants" and hope for the best… but the economy has changed the way money is moving. And I don't think it's EVER going back to how it was just a few years ago.
We're at a precarious time when what works and what doesn't work to make money has changed dramatically. Nowadays, you have to be totally in tune and up to date with the changes in buyer motivations and spending habits.
If you don't know how to strategically react to these constant changes…
… In your advertising copy…
… Customer acquisition programs…
… "Reason to buy" presentations…
… And customer retention programs…
… You're going to lose out on at least HALF of your potential sales and income.
Maybe more.
Or worse, you may not even BE in business next year. The choice is yours. If you want to swing for the fences and hit the big home runs in 2013 and beyond, you need to know the most advanced and cutting-edge strategies, techniques, tactics, tricks, secrets and successful sales models that are working right NOW. Six years ago you probably could have coasted along without all this stuff and done OK. Not anymore…
Start kickin' ass, my friend, by joining myself and other security dealers who are kickin' ass in the Smokin' Security Newsletter Coaching Club today!
Peace,
~Bob