I'm interested in purchasing another apartment building,and the apartment building I have in mind is what I would call an "ugly pig." All it needs is lipstick and makeup to make it look more appealing. One of the other things it requires is a new roof, so I'm in the process of getting quotes from a new roof. So I contacted three roofing companies to meet me at the building.
Sons of Anarchy
I think that for the most part roofers remind me of the cast of characters from the tv show Sons of Anarchy. They all drive Harleys, wear bandanas, tank tops, are covered in tatts head to toe, have some motorcycle gang affiliation, 99.9% of them have done time in the joint, and have a penchant for drinking & drugging. On average, just a rough and tumble lot.
I want to introduce you to three main characters from Sons of Anarchy, that I had give me quotes, the characters are based on what they looked liked, and acted like in my presence.
1st roofer playing Bobby Munson: This guy showed up 20 minutes late, was at least 137 lbs overweight (I'm sure his blood-pressure was going through the roof)and he was bursting at the seams. First words out of his mouth were about how his roofing business was sucking wind, and the economy was still up-and-down. Bobby was running down every other roofing company in town (sound familiar to anybody?) He offer no real solid advice, except that he would stop back with his partner to look the job over again. I'm still waiting to hear back from good ol' Bobby.
2nd roofer playing Tig Trager: This dude scared the sh*t out of me, a real crazy looking person. Every other word out of his mouth was a cuss word, he had glassy eyes, reeked slightly of weed, and his breath definitely belong to the King of Beers. Hmmm… Wonder where he was before he stopped to meet me. Tig had little to say, he did offer some decent educational information on how to re-roof the property. But, as of today, Tig has yet to get back to me with a quote.
3rd roofer playing Jax Teller: This young kid was impressive. He had the tatts and everything, but he was a real likeable young man. He said his business was going great. He had his game going on. Had a list of references for me, and before and after pictures of recently completed roofs. Told me everyday his crew would sweep the property with metal detectors at the end of each day, to make sure there were no roofing nails laying on the ground. Also informed me his company didn't use sub-contractors or inmates from the Worcester House of Correction. I did receive a quote from Jax in the mail about a week later and it was impressive. If I go through with buying this property, I'll go with this Jax.
The point I'm thriving to make with this email is how to act in front of clients and prospects, cuz you only get one chance to make a lasting impression. So I leave you with a thought-provoking story. Let me know what you think…
A Story About "My Security Business Is Great!"
There once was a security dealer who ran a successful business that had been in the family for two or three generations. His technicians were very happy and grateful, and the clients loved him, his techs and his office staff. When the technicians would arrive at a clients' home or business (always on time and friendly) to perform an annual fire inspection, or burn a video clip from the DVR onto a DVD, or install an additional motion or keypad, the techs were always treated as professional friends.
For as long as anyone could remember, the current owner and previous generations of owners were extremely positive, happy people.
Most folk assumed it was because they ran a successful security business.
In fact it was the other way around…
"My Security Business Is Great!"
A tradition in the business was that the owner always wore a big ol' badge, saying "My Security Business Is Great!"
The business was indeed generally great, although it went through tough times like any other. What never changed however was the owner's attitude, and the badge saying "My Security Business Is Great!"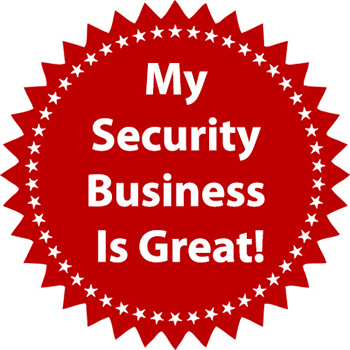 Everyone who saw the badge for the first time invariably asked, "What's so great about your security business?" Sometimes people would also comment that their own business was miserable, or even that they personally were miserable or stressed.
Anyhow, the "My Security Business Is Great!" badge always tended to start a conversation, which typically involved the owner talking about lots of positive aspects of his security business and work, for example:
The pleasure of meeting and talking with different folks day in and day out.
The reward that comes from helping his techs learn new security technologies, and seeing them grow as human beings taking on new challenges and experiences.
The fun and laughter and camaraderie from working in a relaxed and healthy work environment.
The reward of securing his clients' homes and businesses.
The great feeling when you finish a security install and doing it to the very best of your capabilities.
The new, little things you learn each and every day – even without looking to do so.
And the thought that everyone in business is blessed – because there are many millions of people who would swap their own situation to have the same opportunities of doing a productive, meaningful job, in a civilized well-fed country, where we have no real worries.
And so the list went on. And no matter how miserable a person was, they'd usually end up feeling a lot happier after just a couple of minutes listening to all this infectious enthusiasm and positivity.
It is impossible to quantify or measure attitude like this, but, to one extent or another, it's probably a self-fulfilling prophecy, on which point, if asked about the badge in a quiet moment, the security dealer would confide:
"The badge came first. The great security business followed."
Stay Awesome
Bob