It's Bob here, I'm heading up to Mt. Snow in Vermont today to get
some spring skiing in. It's the best time in New England to go skiing,
with warmer weather and longer daylight. Before I go, I had my
skis sharpened and waxed, so I can fly down the mountain faster.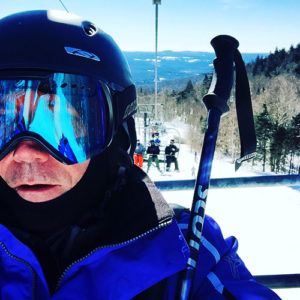 Thuggin' On The Chairlift @ Mt Snow
And before I head out, my security friends, I want to tell you about
a FREE tool for you to make your website go much faster. So please read on….
According to Google:
On average, people check their phones more than 150 times a day
(sounds crazy, but think about all the emails, texts, social media
and phone calls you check), and more searches today occur
on mobile phones than computers.
If a potential customer is on a mobile phone, and a site isn't
easy to load or use, they're outta there. Confirmed by Google,
a whopping 9 out of 10 people leave a mobile website if it isn't
performing to their standards. That could mean the difference
between deal or no deal.
To avoid losing out in these crucial moments, your site needs to
load quickly and be easy to use on mobile screens. The first step
is seeing how your site is performing.
In order to improve your website's performance and get more
customers from it without increasing traffic, Google launched a
free tool that gives you a list of specific fixes which can help your
business connect more quickly with people online.
Google's Tool Tests 3 Key Metrics
Mobile Friendliness

Mobile Speed

Desktop Speed
Test your site and find more about the tool by clicking here.
It is very simple to use. Just enter any URL and results are returned
quickly (you can also check how their competitors sites score by
adding their URLs ;)
Cheers!
Bob
P.S. If your site is not performing well (per Google's standards) ,
and you want to fix it, CLICK HERE
P.P.S. This free offering from Google is yet another sign that the
search engine giant's increasing focus is on the mobile web. And
with more Google searches coming from mobile devices, the success
of mobile websites – even small ones – is more important than ever before.