Check out the these two great big smiles…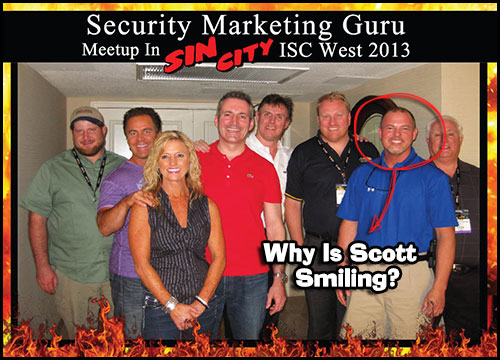 Now, read these killer testimonials to find out why everybody's happy!
From: <******@ts3security.com>
Date: Thu, Apr 25, 2013 at 10:03 AM
Subject: Re: Hey Scott
To: Rick Miller <rickm@securitymarketingguru.com>

I did! My first bid after coming back from Vegas I raised my prices and will net 45% ($12,000) on the job. The customer didn't even flinch when I gave him my proposal.

I am available most mornings about 8:30 CST if you would like to schedule a call for next week.

Thanks for your help and I look forward to more success.

Scott

Scott Trussler
TS3 \ Truscott, LLC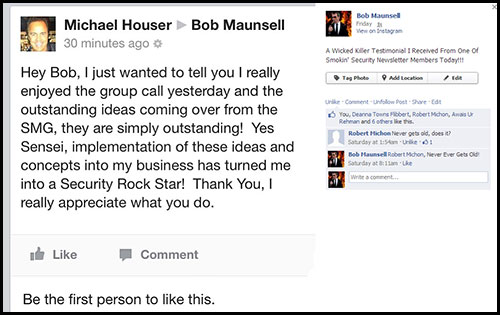 Both Scott and Michael gave me unsolicited testimonials about my Smokin' Security Newsletter Coaching Club, both of them have had phenomenal results and successful as members of this killer club. I'm a firm believer in coaching in all areas of my life, I'm even a member of various coaching clubs, including a physical fitness coaching program, a high-level consulting coaching program, marketing and advertising, and a apartment building real estate investment club. I have been in coaching for years, and I can tell you the amount of money that I have invested in my own personal education, has brought me in million dollars!
I just wanna be blunt right here, right now… If you don't think that I and my crack-team of ninja marketeers, at Security Marketing Guru, can help you with your client attraction and client retention programs, and to help you GROW your security business, then I urge to go out there and find the business strategist that can coach you up to the next stratum.
The Blow-Off Factor 10 X
Lifes waaay too short to settle for table scraps, and mediocrity for yourself and business, when there is a king ransoms waiting for you out there in the marketplace. If you think I'm full of myself then just unsubscribe, from my emails at the bottom of the page, no hard feelings. Because I practice what I preach, about only getting in front of pre-qualified, pre-motivated, and pre-sold folks who highly value what you do. This is what I teach teach to my members, once you set your sales funnel up to only to be spending your time only consulting with folks who tremendously value what you, you then can inoculate yourself, and your staff against all the tire-kickers, lookey-loo's, and dead-beats that are out there.
So if you wanna see what I got in this months Smokin' Security Newsletter… Keep reading my friend!
This Ain't No Family Business
Funny thing, I was on a coaching call with a client the other day (let's just call him Alan) who, over the past 5 years, was in charge of the residential division of a security company. So Alan mostly sold security systems under $10K. And recently Alan has taken a position with a large national company, in commercial security sales, where he's doing "big game" hunting (university, banks, Fortune 500 companies, etc.) Alan is in the bidding process for a campus-wide security project at a large mid-western college and he is petrified to "follow up and ask" for a $350,000.00 security contract from the CSO (Chief Security Officer) at the college.
I said, "Alan, This Isn't A Family Owned Business, you're not dealing with someone who is worried about mortgage payments, kid's braces, tuition, family vacation funds, or having money stored in the kitty in case something happens to the car…..
– Why a CSO (Chief Security Officer) is really concerned with, and it ain't price.
– The right way to position yourself to CSO (Chief Security Officer.)
– Discover the reason WHY you should be reheasing yourself pitch in front a mirror.
– The new "Gravy Train" is Perimeter Protection, discover how can you jump on train.
– The right way & the wrong way to nurture your top clients.
– How to use "Newsjacking" in your social media posts and emails.
– How to create "Unexpected" windfalls in your business with email marketing strategies.
– What To Do With A Referral & How To Maximize It.
– A DONE-4-U Referral Script to follow-up with referrals.
– Crazy and unique way to use QR codes in newspaper ads.
– The # 1 social media site you better be on! (and it's one not one of the Big 4)
I'm gonna NUKE you with even more Goodies, if you give my Smokin' Security Newsletter a test drive!
Bonus # 1 – Ethical Security Dealer Pledge – Do you have a team pledge sheet that you can hand out to inform your prospects that you're an A -1 security company and that every employee is on-board to deliver a "world-class" experience for your clients?
Bonus # 2 – You vs. The Other Guys
This is a great service matrix sheet handout to use because you don't have to go bad-mouthing your competition. Instead, let the matrix sheet be your own little Johnny Cochran and defend you against your competitors. If you have a team of sales reps, you gotta make sure you give this matrix to each and every sales rep you got! This security marketing piece will be priceless to your security firm. It's an absolute friggin' brilliant security marketing piece, if I don't say so myself.
Bonus # 3 – My Secret 11 Word Email Cash-Surge Email
This secret little email has brought in hundreds of thousands of dollars for my members. Its raked in millions dollars collectively as a group. Would you like to have something like this in your toolkit so you can follow up with folks on dead quotes to reactivate them?
Bonus # 4 – My Secret 30 Word Email That Reeled In $70K In One Day.
This 30 word email has reeled in $70,000.00 in a single day, how would you like to have this in your arsenal?
Bonus # 5- 60 Minute Smokin Security Newsletter Group Webinar.
We'll send you the link of this recorded to get you in HIGH-GEAR fast, so that you can implement these strategies to an unfair advantage.
Dedicated To Helping You Design an ESP (Easy, Successful, and Profitable) Security Business, and Lifestyle.
Stay Frosty
Bob