The big question people have today when looking for a service provider is, "Help! Who Can I Trust To Give Me Fair & Accurate Pricing?" This is true for a roofer, plumber, CPA, carpet cleaner, dentist, electrician, cosmetic surgeon, ditch-digger, butcher, baker, and candlestick maker. Nobody wants to get porked. But, it's easy to get porked today with so many bait & switch service providers.
That's why I created my "Ethical Security Dealer" postcard – to help consumers choose the right security company that won't leave them in a lurch. It's included in this month's issue of the Smokin' Security Newsletter. This postcard can be tweaked for electricians, CCTV installers, locksmiths, private guard service companies, etc.
Christmas in July…in this month's extra-packed issue of the Smokin' Security Newsletter, you'll get: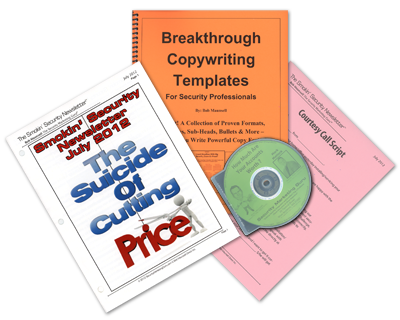 Bonus # 1 – Breakthrough Copywriting Templates For Security Professionals – A 25 page master blue print book that shows you how to create security ads from scratch. With it, you'll learn how to create attention-getting, response-provoking ads and discover the "magic key" to effective advertising.
You'll also learn how to…
– Get started writing response-provoking copy
– Write proven, attention-capturing headlines.
– Write provoking sub-heads.
– Logically format layouts for the best response rates
– Write effective lead-generating ads for small space placement small-spaces
– A commercial security postcard that hauled in over $15,000.00 in sales.
– An incredible residential security postcard that set's you as the local security honcho.
Plus, you'll get live samples of some of the best ads for pain-relief, before and after, ethical treatment, storyline with testimonials, plus a killer speaker ad that incorporates an amazing USP (unique selling proposition) and highlights the need for such. If you position your security business with an incredible USP, you'll dominate your marketplace!
Bonus # 2 – What Are Your Accounts Worth? – Audio Success CD
Mark Matlock of UCCC, Inc., spills the beans on how to get more money for your accounts when you go to sell your business.
– Do you have any idea what you monitored accounts are worth?
– How to make your monitored accounts them MORE valuable?
– Do you know why the BIG money is in interactive services?
– Do you know what the BIG look for when they're buying accounts?
– What MUST have language you need in your contracts.
– Do you know the one thing you gotta do with you IP based intrusion?
This audio success CD alone will pay for your membership, for years to come.
Bonus # 3 – Courtesy Call Script
Do you follow up with clients, right after the install or service call, to make sure everything is fine and dandy, or are you on to the next job – like most sub-par service providers? If you want Clients for Life and repeat referrals from your client-folk, you BETTER be providing an elegant experience and follow up immediately after the install! I'm going to assume by now you know how to provide an "elegant experience", so here's how you can easily follow up immediately after the sale. I'm gonna give you a fierce Courtesy Call Script, that will make your company look like The Four Season Resort in The Maldives (BTW, this place is super friggin' high-end luxury destination.)
Bonus # 4 – Replay Of My Smokin' Security Newsletter Members Only Group Coaching Call – The first place people are searching for your products and services these days are on mobile smartphones.
How To Create Mobile Enabled Websites For Your Security Business.
How To Beef-Up & Optimize Your Local Google Business Listing.
The First Results People See Are From Google Local, This Is True Especially On Smartphones.
This webinar is worth well over $1,000.00 with the advice, ideas, and action steps to Smoke your competition on a local level, don't get left behind in this area!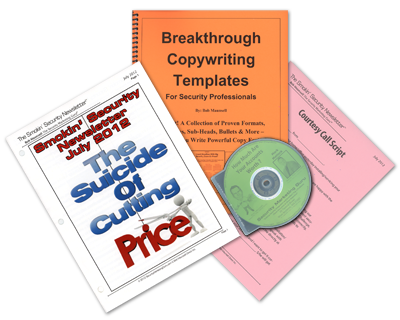 Help! Who Can I Really Trust To Give Me Proven, Real, Tested, Reliable, Affordable, And Innovative Cutting Edge Security Marketing Ideas And Strategies To Help Me Grow My Security Business?
You Know Who You Can Count On Is The Security Marketing Guru To Help You Breathe New Life Into Your Business!
Stay Frosty