The classic Bob Dylan song came to mind while I was walking around the streets of Amsterdam.
Well, they'll stone ya when you're walkin' 'long the street
They'll stone ya when you're tryin' to keep your seat
They'll stone ya when you're walkin' on the floor
They'll stone ya when you're walkin' to the door
But I would not feel so all alone
Everybody must get stoned.
The smell of marijuana was so pungent in Amsterdam that one could almost get a contact buzz while strolling past the coffee shops. Amsterdam is a pretty freakin' amazing city, it's literally a walking museum of architecture, canals, weed shops, street musicians. I met a beggar from Philadelphia, who was riding around on rascal holding out his tin can. He was so funny and pleasant, that he got me for 4€. I also took a quick little visit to the Torture Museum and was shocked at some of the devices used to tortures human beings way back when.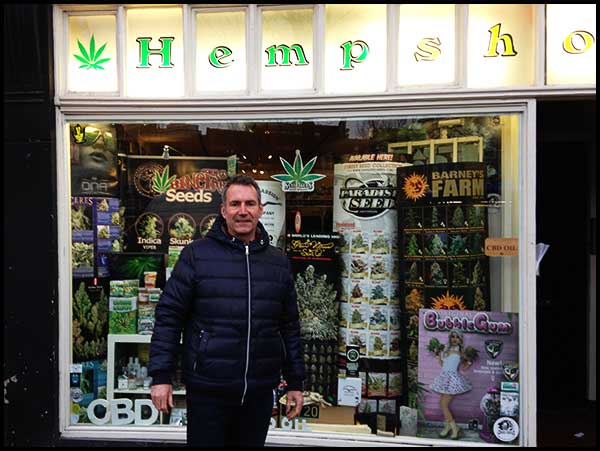 Amsterdam got attitude, and then some!
What I want you to get "high on" is marketing your security business. Trust me the high last 10X longer, and it's more profitable, too.
Here is the "High Times" of marketing for 2015, so you'll get a higher ROI (Return On Investment), plus a higher ROR (Return On Relationships) with your clients and prospects.
1) The Collapse Of Websites – Almost every visitor to your website is either in "research mode" or "purchase mode" – meaning these folks are either looking for MORE INFORMATION about a security system or are ready to BUY NOW. It's imperative that your site be designed with seductive sales funnels & compelling marketing pieces in place that attract and capture BOTH these types of visitors, otherwise your site is not doing what it's suppose to do – provide you with hot security leads.
Your site also needs to position you as the Security Expert and the Go-to-Guy (or Gal) in your local market. This positioning is mandatory to get your prospects to K.L.T. (Know, Like and Trust) you. Also you website should be responsive (fits different screen sizes) if so has to pitch their smartphone or tablet to read your information, there gonzo.Also you should have a couple of different opt-in forms to collect email and address, to nurture these potential prospects. Also you should be nourishing your blog with weekly content, so that website visitors think their visiting a website from 1957.
2) Social Media. Ever heard the expression "All roads lead to Rome?" Well, think of your social media this way. Your social media platforms are the roads that link back to your website (Rome). Your website will then sort the two types of folks coming in – the "More Info" folks and the "Buy Now" folks.
So, if you haven't already, you gotta get on board with social media. Facebook, Twitter, Youtube, Instagram, LinkedIn, etc. Best place to start is Facebook. Post stuff about your business, employees, clients, let folks see behind the curtain and get to know you. Also post security tips and articles (great place to utilize the monthly e-newsletter we offer) and security issues/happenings in your local area and even national news. Link the content back to your website.
3) Google My Business Listing. When folks search for your company online, your business listing is featured prominently on the top, right side of the screen. If you didn't catch that – you got the ENTIRE right side of screen to yourself, so use it wisely! First, you need to make sure you have claimed your business listing through your Google + account. Google has recently done all us business folk a huge favor by adding our Google + postings to the bottom of our listings. Here is where you can really shine by posting security-related tips and articles to position yourself as the security expert in your local market (another great place to utilize the monthly e-newsletter we offer :))
4) I'm Goin' Mobile
If a prospect is going to Google "fire alarms systems" in Amsterdam, or Google "video surveillance systems" in Toronto, or google "home alarm systems" in San Diego, with a smartphone, and you don't have a mobile enabled website, then my friend you're creating friction for a potential prospect who is looking to add money to your bank account.
They'll scurrying off to another security dealer/integrator that has one, and that can meet their needs in the 21st century. Let's not forget that than 70% of mobile users (yourself included) have zero patience for a mobile presence that has zero usability or zero information, and don't forget that last year (2014) mobile phones have surpassed desktop.
5) Education-Based Client & Prospects Nurturing By Way Of Email
A little Marketing 101: A client e-newsletter is the BEST marketing strategy to utilize for maximizing your client attraction and retention. A properly designed eNewsletter IS the most powerful, stay-in-contact tool on the planet that will help BRING you new clients, referrals and repeat business. It will also reinforce your image as "the security expert" in your marketplace and the "go-to guy" for all things security. It's truly a fierce marketing weapon that WILL crush your competition, build an iron-fence around your herd of clients and keep them loyal to you for life!
A client e-newsletter is dirt cheap to implement. Check out our monthly e-newsletter.
6) Lights, Cameras, Action!
Folks nowadays love to consume video content. The incredible success and online viewing rates of Youtube is proof.
Lights, Camera, Action, is the traditional cue to a film crew at the beginning of a take. So break out your smartphone and start shooting education-based videos for your clients and prospects. The video themes can range from:
– Client Testimonials
– How to change the user codes in the intrusion panel.
– A quick video of a installation you're doing.
– Product demonstration of a fire alarm system.
– How to have your clients like your security companies Facebook Fan Page.
High Times In 2015
So, I've given you 6 killer strategies to get into "High Times" of marketing for 2015. Obviously, we offer all of these strategies/services at SecurityMarketingGuru.com. Just check out our Products & Services page.
Fast Track Your 2015 Game Plan
Or, if you would like to speak to Jodi, our Security Sales & Marketing Specialist, to get more advice and quick direction for 2015, please respond to this email to request a call, or call the office at 508-835-1123 to set up an appointment.
Stay Frosty, my friend (-35 with windchill here today and no school for the kids!)