I gotta get this security marketing blog post off of my chest, because I've been in the mist of a truly outstanding service professional. He delivers an incredible client experience, each and every time he shows up at my office and his performance blows me away! You probably won't believe who is delivering this top-shelf client experience.
Drum roll please…
Mr. Brown
It's my "Brownie," our UPS delivery man, who provides an outstanding client experience! Every time he shows up at my office he is very polite, well mannered and always in a good mood (even on days with the worst kind of New England weather.) He always asks how everyone is doing and is especially attentive to our little dog, Maeve, who's a morkie (half Maltese/half Yorkshire Terrier) and comes to the office every day to help out by chewing up paper and tearing apart our mailing boxes and office supplies (but she's very cute so she can get away with it!)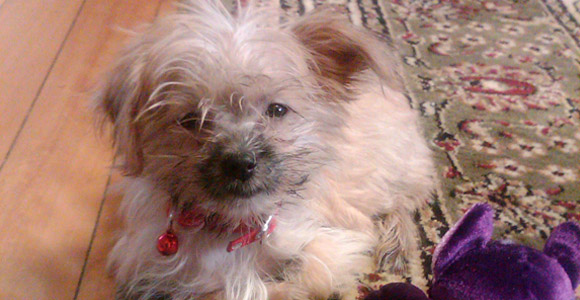 Every time Mr. Brownie delivers packages to my office, he has a special little treat for Maeve…a nice dog bone! And when I say special, I mean special because he had to get extra small bones for her! And he goes out of his way to do so. When he first showed up at our office and offered her a bone, it was the size of her tail! Next time 'round, he had a nice little one that fit perfectly in her mouth. Maeve is tickled pink whenever he shows up and jumps all over him. He loves it! He also has six people in my office saying what an awesome guy our "Brownie" driver is and that we have the best darn "Brownie" driver around!
Creating An Impenetrable Bond With Your Clients
Now guess what company we exclusively use to mail out all of our packages – and we send out a lot! You guessed right! UPS. It cost me more money to mail out my packages UPS than using FedEx or the US Post Office (which, by the way, is conveniently located right up the street.) No siree! Not for us. We are awed, wedded and velcro'd to Mr. Brownie and his company, UPS!
Do Your Clients Go "Goo-Goo Ga-Ga" Over You?
How much does it cost to make one, little 6 pound dog and six grown adults go "goo-goo ga- ga" over you? Well let me see…A box of dog bones cost say, on average, about $4.00 per box (and I'm not talking the high-end brand of holistic dog bones here.) There are around 50 bones in a box, so roughly 0.08 cents per dog bone. Holy cow! It cost 0.08 cents to drive everyone bonkers in my office. Wow, I guess we're real cheap dates then! See, it doesn't cost a lot of money to bring tremendous value into people lives.
I have had three solid UPS drivers over the years at various office locations of mine, but this latest Brownie is that one that is really delivering "Champagne Service" to my doorstep.
What type of special gifts can you give to your clients that will adhere them to you like super glue for life?
Are we connected on linkedin? Connect and join my security marketing discussion group!
Have a great weekend!
Now Go Smoke Your Competition! –  Bob Maunsell
Former Sgt U.S. Air Force
Have an E.S.P style day, Easy, Successful, Profitable.
**Hey, Do you want to post my articles up on your blog? Go right ahead! Just kindly cite your source and give a link back to my page.Thanks!**