I hope your Christmas was fantastic! We had a great time here in West Boylston with family and friends. I ate lots of food and stayed up way too late. The only thing that stinks was that we had a green Christmas. On Christmas morn, we woke to a dusting of snow, but it melted away quickly. My daughters wanted to desperately use their new sleds, but didn't have enough snow to slide on. But soon enough, they'll have plenty of snow for that…and skiing!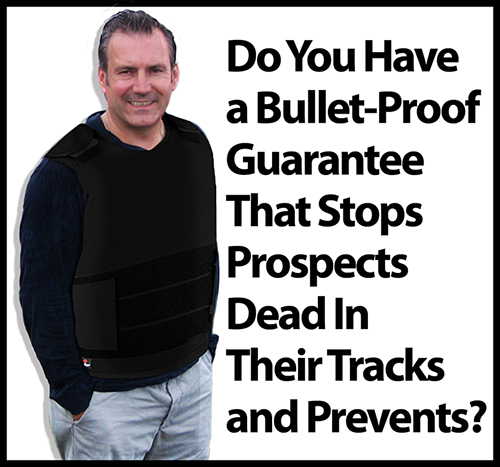 How To Close More Sales With A Bullet-Proof Guarantee
Let's cut to the chase. I want to make selling security systems as easy as pie for you, but before I can help you accomplish that, I need to know one thing….
Do you have a "Bullet-Proof Guarantee" in your security business?
If you do not, you are leaving Gold Bullion Bars on the table for another security dealer to confiscate. I have a Bullet-Proof Guarantee that stops prospects dead in their tracks and prevents them from even thinking about calling another security contractor for a bid – because my guarantee is that powerful!
A powerful guarantee stops consumers from shopping you around town like a used rug at a flea market. You'll find that your prospect is drawn to you like bees to honey, because your Bullet-Proof Guarantee is so sweet.
A powerful guarantee also instills confidence in your prospects. Therefore, they don't have to lay in bed at night worrying that their security company is gonna scam them out of their hard-earned money. You're powerful guarantee has taken away their fears and worries and distinguished yourself as a reputable, honest and trustworthy security company.
A Bullet-Proof Guarantee is possibly the best money-making Christmas present you could ever give yourself. Use it as a handout in your sales presentation, feature it on your website, and include it in your quote packs. My Bullet-Proof Guarantee and how I use it to smoke my competition, is included in this month's Smokin' Security Newsletter™.
More Christmas Presents To Be Had…
Also included in the Christmas issue of The Smokin' are more money-making strategies and tactics than you can shake a stick at! Here they are:
Christmas Gift # 2 – Your Quarterly Winter Client Newsletter, Service That Soars – A 4-Page done for you newsletter, plus 5-pages of inserts that boost sales and referrals. All you have to do is input your company name and logo, and send it out the door to your clients and prospects to rustle up sales for 2013. A $150.00 dollar value…but your bonus gift as a subscriber to the Smokin' Security Newsletter™!
Christmas Gift # 3 – Wicked Killer Radius Sales Letter –
A local roofer is using a badass sales letter for prospecting in his area. This letter is seriously worth studying and modeling for your security business to attract commercial and residential security sales. You'll get the whole sales letter, along with my blow-by-blow "13 Point Sales Letter" critique that identifies what works with this letter and how I would add TNT to pump it up even more! A company without a sales letter is reduced to the manual hard selling of one prospect at a time (yuck!) while a sales letter can educate and sell tens of thousands of folks in one single swoop.
Christmas Gift # 4 – Lost Customer Email Template
Do you have an email template that you can shoot out to reactivate long lost clients who have drifted away? If you don't, you gotta check this one out!
Christmas Gift # 5 – Clever & Quirky Gift That Stimulates Referrals
One of my Security Mavericks told me about this clever & quirky gift that delivers a tractor trailer truck full of security referrals to his doorstep.
Christmas Gift # 6 – Protect Your A$$ With Alarm Contracts
I had the wonderful privilege of interviewing the great legal eagle of the security industry, Atty. Ken Kirschenbaum.The interview entails everything you need to do to protect your butt when it comes to partnerships, floods, fires, selling your alarm accounts, and much, much, more. A CD of this incredible interview is included in this month's Smokin' Security Newsletter™.
Christmas Gift # 7 – Special Report – Security Dealer Mobile Marketing Explosion Report…
New Technologies For Reaching More Customers
Your company website is important for your marketing efforts. You have, no doubt, spent much time, money, and energy building your online presence. But is your company website all you need? Heck no! There's plenty more online options at your disposal, and in this report we'll delve into what I consider to be the BIG 3: Mobile Websites, QR Codes and Text Appointment Reminders. This is a must have if you want to survive and thrive online today.
So what are you waiting for?! Get your hands on The Smokin' right here, right now while supplies last. I only have Ten (10) issue left, so when they're gone, I mean they're really gonzo!
When you order the Smokin' Security Newsletter™, you also get two (2) back issues and four (4) of my favorite audio success CDs…all for the low, low price of $5.95 ($14.95 overseas)!
Let's make 2013 Your BEST year yet!
Happy New Year!!
Bob