Quick Note: I'm here at The Broadmoor Resort in beautiful Colorado Springs for the Electronic Security Technology Summit. If you're here, join me Friday for my info-packed security marketing training session, "Branding & Selling Your Security Services In An Online World." If you're not here and want to a free copy of the class booklet, go to the last paragraph.
I Don't Trust Myself…
Everyone has at least one area of their lives where they're insecure and need help and qualified expert guidance from a "trusted expert" in an area (e.g. finance, fitness, real estate, accounting, law) where they're unsure of themselves.
Lots of security sales reps, security dealers | integrators and business owners don't see themselves as a "trusted expert" or even bother positioning themselves as a "trusted expert." Because of this, they devalue their industry knowledge and expertise to such a point it's no freakin' wonder why their margins have shrunk. And to these folks that are always clamoring about their margins evaporating, I ask this:
Are your margins really diminishing, or is it that your ability to make a persuasive case why someone should choose your security business is diminishing?
Case In Point – Nordstroms
Like I stated early, everyone has at least one area in their lives where they've reached out to a "trusted expert" for advice and consultation. If you're not admitting to it, then you're a liar!
The point is that everybody needs help and guidance.
I like to consider myself a neatly attired man, but when I need advice on a suit or fashion combinations (like mixing casual wear with more formal attire) I have a "trusted expert" who helps me out.
My friend Vartan is such a man. I like to call him the "Fashion Security Expert." Vartan is a haberdasher in the men's department at Nordstroms.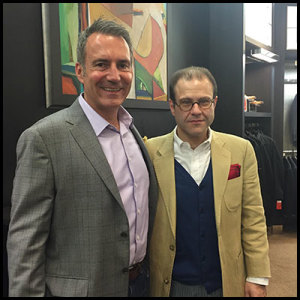 Here's a picture of Vartan and I taken last weekend. Vartan helped me put together a couple of fine suits, shirts, and ties, and fashion combinations that I wouldn't have thought of. Now, mind you, this pic was taken a good chuck of change later – that I was more then happy to shell out (notice the big smile on my face.)
All the while Vartan was magically putting together fashion combinations, he was telling me about the value of the items and how I'll get 20 years out of the suits and traditional pairings, and showing me alternative combinations to my purchases that I can add on down the road – all of this "trusted expert" advice reduced my price resistance for the haberdashery – to zilch!
When it comes to buying an "electronic security system" your prospects and clients are calling YOU!
Why is that? BECAUSE THEY DON'T TRUST THEMSELVES to buy the right system to protect their home or business.
This has to be in your mindset prior to going on the sales call. If prospects and clients knew everything about alarms, CCTV, gates, fire alarms, paging systems, intercoms, guard services, access control, etc., then they wouldn't be calling YOU!
And it should be your obsession to educate and serve your clients and position yourself as the "trusted expert."
Therefore, from this day forward, YOU should be seen & known to all as the "Absolute Expert & Trusted Source" when it comes to security in your marketplace.
Security Marketing Training Session – Broadmoor Resort, CO
If you're here now at the ESTS Summit at the Broadmoor Resort in Colorado Springs, CO, I'm here and look forward to meeting you! Be sure to attend my security marketing training session, "Branding & Selling Your Security Services In An Online World" on Friday.
Free Booklet: Branding & Selling Your Security Services In An Online World
For those of you who can't attend my training session and want to get the info-packet class booklet free:
In this booklet, you'll discover the strategies needed to brand and sell your security services in a profitable online world.
Dedicated To Increasing Your Knowledge & Profits!