How To Build Your Most Valuable Asset Your Email List
Nowadays, almost every website has a "sign up" option. Whether it's to sign up to receive free newsletters or blog updates, free reports or relevant information, a free analysis or audit, or to register for exciting discounts or deals… you name it. Why do you think this is?
The answer's actually quite simple: despite the enormous growth in social media, email remains the most certain way to reach folks. So having these "sign up"options on your website helps to build your contact/email list. By offering something interesting and relevant to your visitors, you get access to their most coveted possession (from a marketing point of view) – their email address.
The purpose of this blog post is to help you build your most valuable asset – Your Email List.
The most common way to get people to give up their email addresses is to have, on your website, a stationary ad(s) and/or a pop-up ad(s) – both including a free offer with a call to action and fill-in form. The offer must be something interesting enough to entice and incentivize visitors to fill in the form and give you their email addresses, something like a newsletters, blog updates, free reports, free audits, contest prizes, etc.
Here are a few examples of how I readily get visitors to fork over their names and email addresses.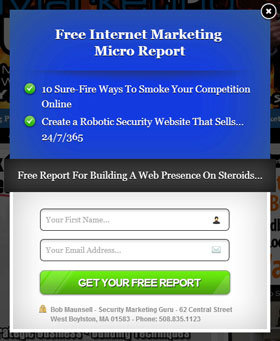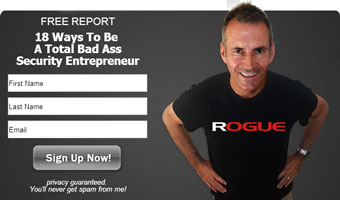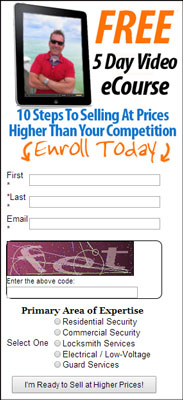 Sample Offers With A Call To Action
The stationery ads and pop up ads should be visually appealing and include an intriguing offer with a call to action, such as:
Sign Up Now To Receive Your Free Step-By-Step Guide To Safeguarding & Protecting Your Home & Loved Ones

Step Up Your Safety & Security Knowledge & Register To Receive Our Free eNewsletter Today!

Your Facility Is Like A Leaky Bucket. Let Us Help You Secure Your Assets With Our Free 73 Point "Safe-n-Secure" Commercial Audit. Register Today!

Get Everything You Need To Know To Safeguard & Protect Your Home & Loved Ones. Register Now For Our Free 32 Point "Home-Safe-Home" Security Audit
These ads should also consist of a form that asks for an email address and first name, and, perhaps, a last name, but you don't want to ask for too much info because long registration forms may turn the visitor off. Make it quick and easy to request the free offer. However, you definitely need to collect the first name of the respondees so you can customize future emails to these folks.
Example For A Newsletter Sign Up
Let me give you an example of how to handle the sign up of an online eNewsletter subscriber. This is a brain-dead easy strategy for you to use because you all have access to a very inexpensive monthly eNewsletter – my Secure Zone eNewsletter. You Mavericks and Mini Mavs get it FREE & SSN members get it at the reduced rate of less than 20 bucks a month! No excuses here!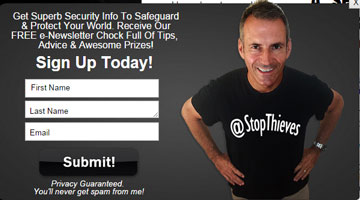 Above is one of the pop up ads I use on my security website for visitors to register for the free eNewsletter.
Once someone signs up for the free monthly Secure Zone eNewsletter (again, THAT YOU ALL SHOULD BE OFFERING TO VISITORS OF YOUR WEBSITE!) you then send out a "Thank You for Subscribing to Our Secure Zone eNewsletter" email to the people that graciously gave you their email addresses. The email includes a quick paragraph thanking these folks for subscribing to the Secure Zone eNewsletter and telling them to keep an eye out for it in their inboxes. Here is why it's so important to ask for the respondees first name, you will need to put it in the salutation field (Dear ______________) of this thank you email.
Building Your Email List
You will be collecting names and emails from the forms on these ads. You can handle the collection of this data in a couple ways.
1. Content Emailed To You
You can have the names/emails from the forms be sent to a designated email address. You will then have to manually take the contact information and enter it into your house email list. Once you get the contact info, manually send out the "Thank You for Subscribing to Our Secure Zone eNewsletter" email to these folks. Also, you should be categorizing these new contacts within your house list as "Prospects" and "eNewsletter Subscribers" so you know who they are and can market to them accordingly.
2. Content Routed To CRM (Customer Relationship Management) Database
The best way to handle the content is to have it transfer into a CRM database, like Constant Contact, which is basically a database containing the contact information of all your prospects and clients. We use Infusionsoft, but for those of you just starting out, Constant Contact or MailChimp would be the way to go.
You can have the form fields from your ads integrate into Constant Contact so when someone fills out a form for your eNewsletter, the contact information (i.e.the first name and email) will transfer into Constant Contact. And because Constant Contact has automatic features, you can set it up to automatically send out the "Thank You for Subscribing to Our Secure Zone eNewsletter" email to anyone that fills in a form. To help designated the folks coming into Constant Contact from the eNewsletter ads, have the new contacts be categorized as "Prospects" and "eNewsletter Subscribers" within Constant Contact.
How To Get Started Using Pop Ups & Stationery Ads To Build Your Email List
If you want to get going and start collecting email addresses on your website and need a little help, we can certainly design stationery ads and/or pop up ads for you and get them up and running on your site. Just send a quick email to: Support@SecurityMarketingGuru.com or Call the office at 508-835-1123.