Let me ask you a few questions before we get started: Are your prospects tuning you out and not accepting your security recommendations? Have you been commoditized as JUST another security company – even though you have thousands upon thousands of hours of real world security knowledge that has battle tested knowledge for stopping thieves dead in their tracks? Doesn't it really piss you off when you lose a security install to a lesser competitor?
If you've answered "Yes" to my questions, then maybe it's because, even with all your worldly security knowledge, your prospects still see you as a generalist instead of the highly coveted expert, celebrity, authority, or specialist in your field.
Doctor Phil
There's a whole heck of a lot of psychologists out there watching Doctor Phil on TV and saying, I'm a whole lot better looking, I give better advice, I even talk better then Doctor Phil, and I don't give the aw shucks counsel Dr. Phil gives. But, you know what Doc Phil knows? That what these cry-babies don't know is the "Trust Pyramid," how you can build yourself from a general psychologist into a venerated expert, authority, specialist, celebrity – all under one roof.
Inside This Month's Smokin' Security Newsletter is…
Put Yourself At The Top Of The Pyramid 12 Ways Of Building Yourself Into A Recognized Expert In Your Market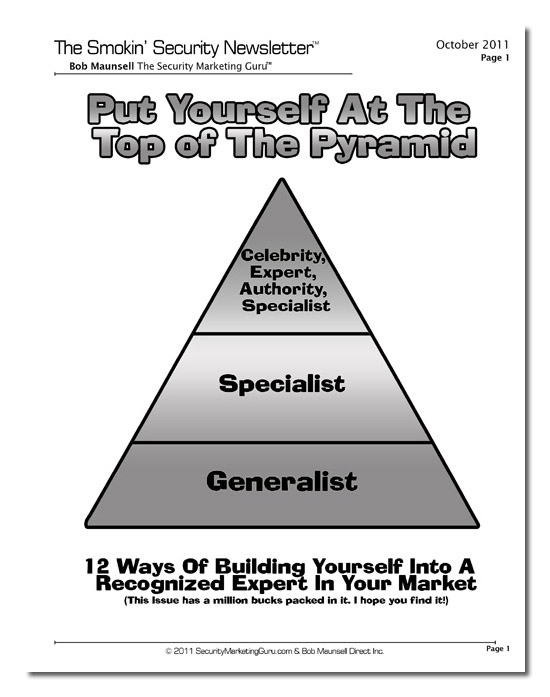 1: Demonstration – Not many security dealers have a shocking demonstration of their products or services. I'm gonna show you how to do that in this bad-ass issues.
2: Your Associations – How to leverage the PEOPLE & COMPANIES that you secure as "proof positive" of your expertise.
3: Affinity – Having an affinity with with a niche (real estate agents, electricians, IT pros) can be used as a short-cut to your success.
4: Expert, Awards, Honors – How to use your accolades to an unfair advantage.
5: Safety In Numbers – How many people do you protect, years in business, I can show you how to use these stats to your benefit, and also how to drive a stake through your competitor's heart with this incredible stat… Wouldn't you like to know what that is?
6: Pictures – Photos CAN trump a thousand words, but there is one thing that you need to do to make your photos sell for you. Do you wanna know what that is?
7: MATH – The business you want to be in the arithmetic business. Americans suck at math (we have the lowest scores than in any other civilized country) and this is why you need simple math formulas for showing an ROI on your security systems.
8: Invitation – I hand you on a silver platter 447 words that you can use in your marketing literature and on your website for copy to get folks to swing by your office and check it out. Heck, if you don't have an office you can use your home. With so many truck slammers doing Craiglist advertising and living in there Mommy's basement watching online porn and eating Tombstone pizza, that they don't actually have to make money cuz they live at home and snatching install right out from under your feet. This is a must read!
9: The Miracle Of The FREE Recorded Message –The 3 most powerful words in advertising are Free Recorded Message. Having a message that shares VALUABLE security information with consumers, attracts those who are interested in what you have to offer, and gives them a way to LEARN without fear of being pressured by a live salesperson is an extremely powerful security marketing tool. Let me show you how to create a Robotic Security Sales Rep that works tirelessly for you all day long, one that doesn't come in hung-over or looking for a bigger split on commission.
10: Guarantees And Warranties – Most security dealers/integrators rely on guarantees and warranties to carry the water, but fail to "connect the dots" for the customer so that they serve as "the proof is in the pudding." I hand deliver you 230 words that you can use to create the sweetest "Golden Guarantee" ever! If you're an ethical security professional, you shouldn't be hiding your guarantee in your desk draw. I know for a fact that a brass balls guarantee will give you a preeminent advantage in your marketplace.
11: Compelling Personal Story – People switch "BRANDS" all the time, but one that is way harder for folks to get rid of is a "PERSONALITY." How to connect with people using my "Jedi Mind Trick" principle so you can have folks super glued to you for life.
Whoa Nelly… Halloween Is 3 night away, and I want to stuff your trick or treat bag even more.
Also Included In This Month's Issue of The Smokin' Security Newsletter is…
12: The quarterly client newsletter – Service That Soars™.
If you want to be considered a legitimate security expert/celebrity/advisor then you NEED to be showing up in your clients' mailbox on a regular basis. Service That Soars™ will do this for you.
A client newsletter is a cornerstone piece of having a Robotic Security Selling™ system in place. Utilizing a client newsletter, in your security business, will help lead you an E.S.P style business – on that is Easy, Successful and Profitable!
Go back and read bullets # 8 and # 10. If I had to personally sit down and write those two pages of copy for you, you'd be charged $750 per page.
Happy Halloween!
Come and Get Your Issue of This Month's Smokin' Security Newsletter!
Now Go Smoke Your Competition! –  Bob Maunsell
Former Sgt U.S. Air Force
Have an E.S.P style day, Easy, Successful, Profitable.
**Hey, Do you want to post my articles up on your blog? Go right ahead! Just kindly cite your source and give a link back to my page.Thanks!**