Yippee Ki-Yay it's Friday!
Here's a quick post for you to read either today or over the weekend. I had this "Leadership vs Being A Boss" given to me by a very successful electrical contractor way back in the day. And I thought it would be appropriate to send it to you with all the craziness that's going in the world right now. Your team is looking for a Leader, your clients are looking for a Leader – because Leaders are the catalyst that makes all other elements work together. In today's competitive world, leadership skills are crucial to any successful business.
When good leadership is in place in a company, it can be felt in every facet of the business. Employees feel that they are an important part of the whole and that every job matters within the company. With good leadership everyone understands the vision and goals of the company. The result of good leadership is high morale, good employee retention, and sustainable long-term success. So, become the "Beacon Of Hope" for your team.
Without any further adieu, here you go!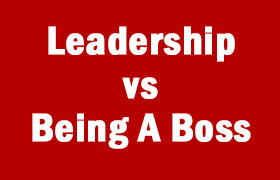 Leadership VS Being A Boss, Which One Are You?
The Principle of Leadership
Know yourself and seek self-improvement.

Be technically and tactically proficient.

Seek responsibility and take responsibility for your actions.

Make a sound and timely decision.

Set the example.

Know your employees and look out for their well being.

Keep your employees informed.

Develop a sense of responsibility in your employees.

Build your team.

Employ your team in accordance with its capabilities (in other words, don't give them more than they can chew).
The Leader
The boss drives group members; the leader coaches them.

The boss depends upon authority; the leader on good will.

The boss inspires fear; the leader inspires enthusiasm

The boss says, "I" the leader says "we."

The boss assigns the task; the leader sets the pace.

The boss says, "Get there on time;" the leader gets there ahead of time.

The boss fixes the blame for the breakdown; the leader fixes the breakdown.

The boss knows how it's done; the leader shows how.

The boss makes it drudgery; the leader makes it a game.

The boss says, "Go;" the leader says, "Let's go."
Have a cracker weekend!
Bob
P.S. I'd love to give credit to whoever came up with the Principles of Leadership, but, unfortunately, the author is unknown :(
P.S.S. I've also included a pdf to tack up on your wall, so you can remind yourself everyday of how important and special a Leader is! ☺
Please Click On Link Below To Download A Printable PDF Copy Of "Leadership VS Being A Boss, Which One Are You? "