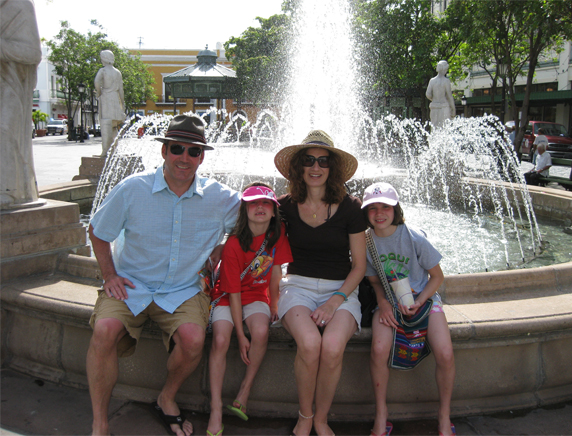 The whole family taking a break at Plaza de Armas in Old San Juan, Puerto Rico
I know one of the easiest ways to make an impact in your marketing campaign, is to SELL the visible aspect of your security company or low voltage installation company, this is what I call "onstage" when your out in the public eyes and your techs are on display for the whole world to see. Here are 6 quick ways to sell the visible of security business (your retirement assets!)
1-First and foremost, clean service vehicles and equipment. Make sure you wash your trucks frequently to make sure they always look their best when they're rolling around town. Your service vehicles should  have special offers on them and tout your USP to encourage folks to call your office, that's what I call a DRSV direct response service vehicle, instead of just a plain Jane name and phone number. Give'em a reason to call you versus the other 50 security dealers in town!
2- If your vehicle signage is down correctly you should  frequently receive telephone inquires from people who say they saw one of your service vehicles and it reminded them how they have been wanting to install a security system or have a little preventive maintenance work done to there security system. A great benchmark to go by is if you are frequently receiving inquiries such as: "One of your vans is next door at my neighbor's house. Can they come see me about a security system when they get done? Or I just saw your van on the highway can one of your techs swing by.
3- Professional, clean uniforms are very important if you want to sell at prices higher then your competition. Your tech's need to look their best… If you go to the Ritz Carlton do you see their staff dressed like the Beverly HillBillies.  No Sir Ree..… they're dressed to the 9's! If you want to sell high-end security systems then you can't look like a low end dealer. It may cost you a little bit to get your tech's outfitted with  khaki pants, and polo shirts with a company logo but it is far outweighed by the risk of the jobs you are potentially losing because your image is lacking professionalism.
4- Also your service techs should be silently conveying expertise when out in public eye or when at the front door of a potential client's home or business. Just think how many conversations have been started and business cards given out at coffee shops, gas stations or restaurants because of the service tech LOOKED liked a knowledgeable guy and acted like a skilled professional in his trade.
5- Have security marketing material that is education based with free reports on home/business security and attention grabbing headlines that draw people to read your soft-selling EBSM sales copy
6- Make sure that you invest time in making sure that  your market – to-message-media is congruent with the security markets you are selling in to, whether on our website, in the Yellow Pages, direct mail, business cards or brochures, accurately project your expertise, workmanship and upscale clientele in look as well as word,"
Also check out this post about the 10 Security Business Owners Commandments, and see how you can apply these babies to your own business. I wrote those 10 commandments way back when in 1996 when the "Smashing Pumpkins" came out with that amazing alternative rock album 1979!