Below are my Pearls of Business-Building Wisdom for 2013 and beyond. Read and enjoy. If you have a comment(s), I'd love to hear what you have to say, so comment on my blog (you can link to the blog at the bottom of this page.) Let's make 2013 you best year yet! Cheerio!!
1 – Dropping An Atom-Bomb
It has never been easier to do Direct Mail than with Every Door Direct Mail (EEDM), a new service offered by the good ol' United States Postal Service. By utilizing this new service, you can inexpensively carpet-bomb an entire neighborhood with a mailer that lets residents know why they should contact YOUR security company immediately for a FREE 32 Point Security Inspection. This mailing can be done in "micro" batches of 200 postcards for .15 cents each, or you can drop an Atom-Bomb on the neighborhood with up to 5,000 postcards to educate and lure in prospects. Let me tell you this Opie, there is no freakin' way SEO (Search Engine Optimization) can compete with a delivery system from the USPS for new client acquisition. With SEO, you're waiting for people to search you out. With Direct Mail, you're taking the "Crossfire Hurricane" approach right to the streets and to their front doors to attract these potential prospects to your website or to call you directly for your special offer – in this case, the security audit.
2 – Homeowners Installing DIY Alarms Systems
If you're worried about people buying online alarm systems and doing the installs themselves, you've got problems. The folks who are buying these system are not your prospects (At least I hope not!) What I mean by that is that if they don't want a professionally installed security system that is serviced and monitored by a licensed and legitimate security company with a local presence, then they are not your customer. Would you give yourself a root canal at home in your bathroom if you could DIY?  Why of course not! You would contact and consult with a local, competent, experienced and knowledgeable dentist. Oh, and by the way, if people in your local market are buying security systems from fly-by-nights on the internet, it means you aren't **OMNIPRESENT** in your local market with online & offline marketing strategies where they can see you everywhere.
3 – The Higher Taxes Cartel
No matter what your political affiliation is, starting January 1, 2013 you'll have a sizable tax increase. Understand this: you now have a new piece of overhead to consider that you haven't had in recent years. This means if you don't GROW your business, and your overhead remains identical in 2013 as it was in 2012, you're going to have a lower income. I don't know about you, but that's not why I'm in business – to lose money. Here's the plan, and from my point of view, I can't see any other way out: Make more money. Period. Plain and simple. Your security business can't stagnate. It can't flatline. It cannot be the same business with the same rates as it exists today.
4 – Why You Should Be Selling At Higher Prices
One of the best reasons to raise your prices and raise your rates is that it allows you to AFFORD to create and deliver a wicked killer client experience for your client base. You can also afford to pay better wages and bennies to attract premier employees for your business. An even more audacious reason to sell at "Higher Prices Than Your Competition" is that you can afford to spend more to get your customers' attention than anyone else competing in your marketplace. Most business owners don't get this cuz they think they have to keep paying less and less to acquire a new client. You can't be a **POWER PLAYER** in the marketplace if you're gonna be a cheapskate.
5 – Shameless Self-Promotion Of Your Security Services
Security entrepreneurs should do more of this for themselves. Whether you sell residential or commercial alarm systems, CCTV Systems, Guard Services, Locksmithing, Low-Voltage Electrical Contractor, you'll prosper by promoting YOURSELF, as much or more then your product or service. It's personality marketing and it's way more attractive and effective than corporate marketing. You're also doing your prospects and clients a major disservice by not educating them on the products and services you have available to them and how your products and service come together to meet their exact needs.
6 – Iron Clad Alarm Monitoring Contracts = Ken Kirschenbaum
If you're not using Ol' Ken's contracts for alarm monitoring, you're leaving a truckload of money on the table. When you go to sell your accounts down the road, your accounts will be worth more if you are using Ken's legal tender for new clients.
7 – Cash Is King
The larger your cash reserves the greater your ability to withstand seismic activity in the marketplace. Money affords you the luxury to operate from a position of strength.
8 – Websites & Generating Leads Online
If you only want to generate leads then you can remove the sales component of your website, but you never want to have a website that only sells and does not generate leads. The web is a great place to make money for your security business, but it is also a place where planning, testing and good written copy will outperform and outpace the rest of the local competition.
If you can put the primary focus on generating the lead and then following up with your prospect, your odds for making a sale and getting a customer will increase dramatically. Most security entrepreneurs think the only job their security dealer website has is to sell their product or service. A belief system such as that will leave you holding up a sign at your local mall saying "I'm Homeless And Will Work For Food." (BTW, the main reason security dealers struggle is that they can't generate leads and then nurture and follow up with the prospect until they are ready to buy.) You have a much better shot at generating a lead then immediately converting a visitor into a sale. Do you know how hard it is to get someone to buy anything from you just by looking at your website?
9 – You Can't Pay Someone To Do Your Pushups –
You can outsource everything else, security installs, sales, office staff, virtual assistants, answering service, telemarketing, bookkeeping, but you can't outsource your own your health. To keep your energy level high, make sure you carve out 30 minutes a day to getting "Tarzan Strong", and make a point to eating healthy. You are the ASSET that produces the sales results, so the more energy and focus you bring to work, the more desirable the results will be.
10 – Building Trusting Relationships
Establishing high-level, high-quality relationships takes more time than does a quick sale to a lower-level buyer. Also, forging strong relationships and delivering world-class services with your client base builds enduring loyalty and will help sustain your business during hard times.
11 – Virtual Security Sales Reps
Having only ONE security sales rep to drum up business for you is like being a dead man walking to the electric chair. What happens if he/she flees for a slightly more generous commission plan. This is why it's so dang important to have a 24/7/365 Robotic Security Selling System™ with multiple VSSR (Virtual Security Sales Reps) in place that work for you 'round-the-clock to drive home pre-qualified sales leads.  Some of the basic components of a VSSR are:
1) Education Based Website
2) Monthly Email
3) Client Newsletter
4) PPC Ads
5) Free Recorded Messages
6) YouTube Videos
7) Direct Mail Sales Letter
8) Consumer Awareness Guides
9) Referral System
10) Google + page
11) FaceBook Fan Page
12) Yellow Page Ad
13) Autoresponders
14) Blogging
15) Published Book
16) Voice Broadcasting
Sales reps basically work 9-5, whereas anyone of the 16 marketing strategies I listed above work 24/7/365, without requiring a single day off or vacation pay or benefits or bonuses. The success of your security business depends on how well you seek out new marketing avenues.
12 – The Lazy Man Lobster & Managed Service Contracts
Managed service contracts will continue to be a boon for security integrators as a business model to build RMR. Your clients are way too busy to learn how to set out the lobster pot to catch lobsters for the nights dinner (i.e. program access cards & levels, add & delete names to the intercom system, burn video clips, etc.) Folks want to have their lobster caught, steamed, taken apart, dipped in butter with fresh lemon squeezed on it and have the lobster bib placed around their necks. This is where you should be steering your companies boat – towards a managed concierge service system for your clients. Folks will always pay top-dinero to have the messy-work done for them.
13 – 6th Round Draft Picks
Joe Montana and Tom Brady, two all-time favorite quarterbacks, were both 6th round picks out of college and they both went on to become the greatest QBs of all time. All the football gurus didn't think they could hack it in the NFL. Do you have a recruiting/scouting system in place where you're always on the lookout for the next Tom Brady as an installation tech, or the next Joe Montana as a sales rep? You should because you never know when your key tech or golden goose sales rep is going to walk out the door and leave you in a lurch.  You need to have a PLAN B in place in case this happens, make sure you have a 6th rounder on the bench in case the 1st rounder goes down. Enuff said!
Final Thoughts & Analysis
The good news is that anyone can become a Security Entrepreneur Millionaire. The bad news is that you had better be able to market your business effectively, establish a market need for your security services, develop the competency to becoming a Security Expert, and have the passion to deliver World Class service to your clients.  Two outta three ain't good enough.
I'll leave you with a quote by the famous Hollywood mega-movie producer, James Cameron. This quote was silk screened onto t-shirts and given to every person working on the movie Avatar.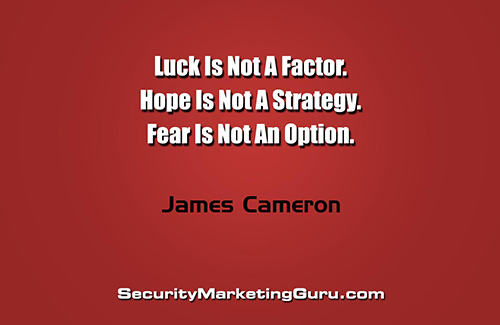 Be bold and fearless in 2013!
Bob