I hope you had a splendid Christmas & New Years. We had quite a time here in Central Mass. For New Year's Eve, we went over our good friend's house and had some takeout chinese food to usher in the New Year. As I'm putting the finishing touches on my Semi-Famous Predictions For 2014 and Beyond, it's snowing like a banshee outside. In business, you have to be ready for the unexpected and be ready for everything being thrown at you, including the kitchen sink.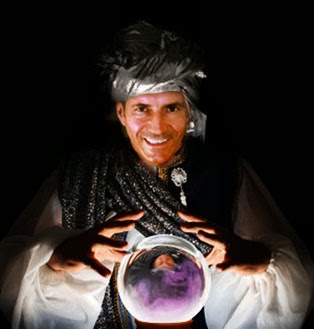 So without further ado, here ya' go…
My Semi-Famous Predictions For 2014 and Beyond…
1- Selling Your Soul To The Devil: By Ken Kirshenbaum
Try to pay down debt. Manage your business to operate within its means. That's sound advice for your personal finances as well. Working harder and making better sales decisions is a better way to raise money. Selling your subscriber accounts and contracts is like selling your soul to the devil. If you belong to a dealer program or group that encourage you to sell your subscriber accounts then get out and pick another dealer program. If you sell your accounts to your dealer program you may as well get a job with benefits, you'll probably end up with more money, vacation time, health benefits retirement plan and less headache.
2- Just Grow A Pair
The single biggest characteristic of highly successful security entrepreneurs is "BRASS BALLS." So if you want to take your security business to the next level in 2014, you're gonna have to grow a pair.
3- Making More Dinero, Ka-Ching, Shekels & Euros
If you want to increase your personal income and net worth and make bushels of cash in 2014, then the answer is, and always will be, FOCUS on becoming a better security marketeer. The ***success*** of your business can be directly related to how much time, money and effort is directly put into marketing. With that being said, you must become a serious student in the marketing of your business if you want to make more dinero.
4- Repositioning Yourself As The Obvious Security Expert
Here's the marketing niche that's crying to be filled. Reposition your security company as the source for insider information when it comes to everything security in your local market, and by doing so you automatically become the local security expert by default.
5- All Successful People Have a To-Do-List
If you want to be a highly successful security entrepreneur, you've gotta get organized AFAP (As Fast As Possible.) Spend a few minutes each night organizing your to–do list for the next day. Make an outline of what you want to accomplish the next day and develop a short list of the most important items for you to accomplish, and then strive to crossing those tasks off your list.
My top SMG coaching club members are all working off of a To-Do-List. If you're not crossing off action items on your own To-Do-List, then you'll be crossing them off for another security owners to do list. Wealthy people have To-Do-Lists… Poor people don't have To-Do-Lists. Want a good tip, aye? Try an old-fashioned yellow legal pad of paper. Crossing stuff off with a pen just feels damn good.
6 – Hey, You On Google+ Yet?
Will continue to grow in size and stature. Google said that Google+ now has 300 million monthly active users. To put this in perspective, Facebook and Twitter have about 1.2 billion and 232 million monthly active users respectively. Not only has Google+ become a popular social platform, but its integration with Google search results and Google Authorship makes it a no-brainer in 2014. This means that being active on Google+, even a little bit, should improve the search engine optimization (SEO) for your security business. Google+ is only going to become more mainstream in the 2014.
7- Visual Storytelling Online
We will be seeing a shift toward visual storytelling through short-form video. In my Smokin' Security Newsletter, I talk a lot about telling the story about your business, in print ads and web pages. Now there is a major fluctuation through social media. It started toward the end of this year, but a shift toward short, concise videos that tell a deeper story than pictures will only become more important in 2014.
Deep down no one really gives a hoot about your logo, the fake stock images of happy families on your website. What is imperative is why "I" the prospect should allow you or your technicians into my home or place of business, and a compelling heart-felt video will go a long way with addressing these needs. Platforms like Twitter's Vine app and Instagram's 15-second video make it incredibly easy to create and share this short-form content, so take the time to not only understand how to use these platforms but also how users consume content on them.
8- Riches In Niches
Specialization can turn an ordinary security business into an extraordinary security business. Which will allow you to boost prices and margins, provide you with a competitive differentiation, and allow you to be a big fish in a little pond. Don't be a me 2 security company.
9- Live By Price, Die By Price
A low-ball scrounge competitor need only to alter one factor – PRICE – to steal your clients from a cheapskate price shopping vendor. But a competitor must alter a number of factors to steal a client from Nordies (aka Nordstroms).
10 – ABL = Always Be Learning
What did you know this week, that you didn't know last week about. Here are six (6) facets of your business that you should no cold every week. If you don't, you aint serious about your business…
1) – Your Own Business
2) – Your Competitors
3) – Relevant Security Trends
4) – Your Clients or Niche Markets you serve.
5) – Success Topics
6) – Marketing Topics
11 – Attracting The Best & Brightest in 2014 and Beyond.
Attracting the best and the brightest security technicians on the planet is the foundation of having an "ESP" (Easy – Successful & Profitable) Style Security Business. The "E" in ESP stands for "EASY." Having long-term "Employees" will make your business life extremely EASY.
Here are the seven (7) Tenets to attracting the best and brightest Security Techs.
1) – Leadership Development
2) – Challenging Assignments
3) – Technical Skill Training.
4) – Casual & Friendly Work Environment.
5) – Performance Evaluations.
6) – Innovative Work-Life Program.
7) – Competitive Compensation & Respect and Recognition
12 – Change Is Gonna Constant In 2014
It aint getting any easier out there for the weak-kneed willies of the world. You must learn to become more agile, adaptive, better coping skills, become more flexible and foster a positive mental attitude amidst life's ups and downs. So I'm going to leave you with a proverb on squeezing the most of your day and your life.
Look to this Day
Look to this day,
The very life of life,
In its brief course lies all,
The realities and verities of existence,
The bliss of growth,
The splendor of action,
The glory of power.
For yesterday is but a dream,
And tomorrow is only a vision.
But today well lived,
Makes every yesterday
A dream of happiness
And every tomorrow
A vision of hope.
Look well, therefore,
To this day.
~ Sanskrit Proverb
Leave a comment on my blog, and let me know what you liked or didn't like.
Have a Smokin' Good Year in 2014!