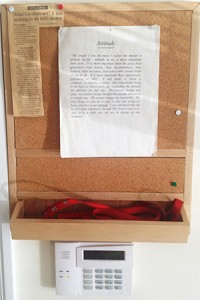 Below (and attached in PDF) is one of my favorite poems. It's been hanging on a sheet of white paper in my office for the past 17 years, right above our security keypad. It was written by Charles Swindoll and is titled "ATTITUDE." Give it a quick read and hang it over your keypad. Every time you walk in/out of your home or office, you need to arm/disarm your intrusion system and, therefore, will see it. I say this because when you walk out the door you need to ARM your "ATTITUDE", against all the Negative Ned's and Debbie Downers, who are trying to break-in and wreck your day and bring you doom. It's up to you to have a positive and illuminating "ATTITUDE" with everyone you come in contact with.
Your only GUARANTEED today, who knows about tomorrow, next week, next month, or next year. A lot of folks wake up pissed off at the world, miserable, cantankerous, annoyed, depressed, and stressed the hell out at the entire world. I have news for you, if you start you day off that way it's never going to improve.
So, without further ado, I give you….
ATTITUDE
by: Charles Swindoll
The longer I live, the more I realize the impact of attitude on life.
Attitude, to me, is more important than facts. It is more important than the past, than education, than money, than circumstances, than failures, than successes, than what other people think or say or do. It is more important than appearance, giftedness or skill. It will make or break a company… a church… a home.
The remarkable thing is we have a choice everyday regarding the attitude we will embrace for that day. We cannot change our past… we cannot change the fact that people will act in a certain way. We cannot change the inevitable. The only thing we can do is play on the one string we have, and that is our attitude… I am convinced that life is 10% what happens to me and 90% how I react to it.
And so it is with you… we are in charge of our attitudes.
Stay Awesome!
Bob
Click Here To Download PDF Attachment – Attitude by Charles Swindoll