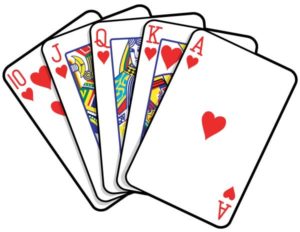 To be a really successful & profitable security dealer today, you gotta be playing with a full deck of cards. By full deck of cards, I mean having all the necessary security sales & marketing "cards" in your deck to help increase your customer base, your referrals, your repeat business, your RMR, and your sales and profit margin.
So to start successfully playing the security sales & marketing game, you need to get the right security marketing strategies and business-building techniques in your hand that will stack the deck in your favor and win you the game (i.e. more bids, customers, referrals, RMR & repeat business.)
How can you do that?
Easy…
Join my Smokin' Security Newsletter Coaching Club.
This coaching club is only for serious-minded Security Dealers who want to learn how to:
Develop a Continuous Stream of New Security Prospects

Convert Prospects Into Clients That "Pay, Stay and Refer"

Maintain A Relationship With Your Clientbase For RMR, Referrals & Future Sales

Position Yourself As The Security Expert & Dominate Your Local Security Market

Increase Recurring Monthly Revenue (Monitoring, Service Contracts, Maintenance Contracts)
In this coaching club, you'll get "road-tested" online and offline security marketing strategies & techniques, plus done-for-you marketing materials that will teach you how to position yourself as the Security Expert in your local area, and effectively communicate and persuade your prospects and customers with the right kinds of security marketing messaging.
Also, as a member of this elite coaching club, you'll have the opportunity to join other Security Dealers (from all over the USA & Canada, and from around the globe) on webinars and group coaching calls to discover what marketing methods & business-building techniques these fellow security dealers are using to increase their sales and profit margins.
First Month FREE!
For those of you who want to take your security business to the next level, get your hands on "road-tested" and proven marketing methods & materials, and stop wasting your money on sales and marketing efforts that do not work, then join my Smokin' Security Newsletter Coaching Club today and get your first month free!
Cheers!
Bob Maunsell
The Security Marketing Guru
SecurityMarketingGuru.com
508-835-1123
Support@SecurityMarketingGuru.com