Last weekend I took the family up to the beautiful historic seaport town of Newburyport, Massachusetts. It's one of my fave towns in Mass. If you ever drop by the Bay State, it's a town I'd highly recommend you check out.
The Shopping Spree Begins
As we were walking out of an ice cream store, my littlest daughter saw a sign for a pet store across the street (as the saying goes a buyer, is a buyer, is a buyer.) She wanted to get our little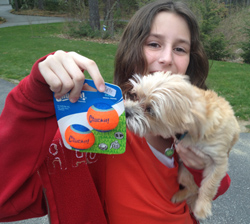 doggie, Maeve, a new ball that she could throw to her in the yard. So the Maunsell family promptly marched across the street in hot pursuit of a ball for Maeve.
When we got inside the store, it was stocked to the historic rafters with very distinctive dog and cat merchandise. After perusing the store for a few minutes, my daughter, Kiera, found a very small ball – the ChuckIt Tennis Ball Dog Toy for $4.99. So Kiera and I took the ball to the cash register to cash out and a huge smile came across my face when I looked down and saw that the savvy store owner had a nice looking notebook for collecting email address of all the patrons that come into her store. I complimented the store owner on her guerilla marketing efforts for collecting email addresses and she told me it's the cheapest and easiest way for communicating with her prospects and clients.
The First Sales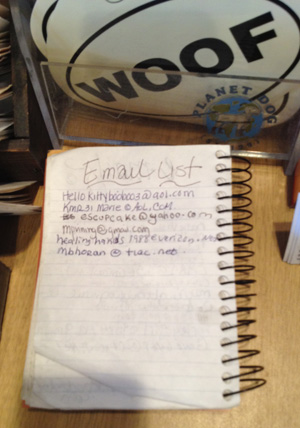 The first purchase is always the hardest, the second purchase is always the easiest – if you provide world class service, and you FOLLOW UP AFTER THE SALE. What I noticed when I was in the pet store was that the products ranged in price from a couple of pennies on up to several hundreds of dollars. The pet store owner does not have a recurring revenue business model built into her business (i.e. monitoring, service or maintenance contracts) or doesn't have the potential for a big pay-day selling and installing $20,000.00 video surveillance systems. But what she is doing to attract clients that Pay, Stay and Refer is to follow up after the sale with her email list. She sends out monthly, pet-friendly (her words, not mine) client newsletters and other emails touting sales and store events. Her ongoing email campaigns keep nurturing her list of prospect and clients until they're ready to make their next purchase or forward her emails along to others that may need her products (a dog-gone-easy way for people to refer others.)
Consistency Builds Trust
Let me ask you this…If you have the the ability to sell intrusion systems and have the good fortune to make RMR on the back-end of each system you install, and you also have the ability to sell high ticket electronic security systems, along with doing the maintenance and repair work on these sophisticated systems, don't you think you should be maintaining an impregnable firewall around your installed base of clients?
Shucks, just imagine what this pet store owner would do if she had all the money-making revenue streams that the security industry has to offer. She knows that you have to educate and nurture prospects and clients to keep them coming back and referring. I know she would have a system in place to do so and would make a killing in the security industry. And so, too, could you!
The Secure Zone e-Newsletter
I have made it very simple and easy and inexpensive for you to nurture and educate your prospects and clients, keep them coming back to you for all things security and refer you when family, friends and colleagues are in need of security. I have created a monthly email newsletter system that is very easy to send out. All you have to do is edit it with your company info and press the send button on your email program. To check it out, go to CLICK HERE.
Musta Got Lost Somewhere Down The Line ~ J. Geils Band
Somewhere down the line the sales get lost by not having a robotic delivery system in place to educate and nourish your clients and prospects. Don't cha think it's time you had one in place?
Now Go Smoke Your Competition! –  Bob Maunsell
Former Sgt U.S. Air Force
Have an E.S.P style day, Easy, Successful, Profitable.
**Hey, Do you want to post my articles up on your blog? Go right ahead! Just kindly cite your source and give a link back to my page.Thanks!**