I just interviewed Tim Creenan President of Amherst Alarm, and he is a Top 100 Security Dealer in the good ol' U.S.A, BTW Tim is also a Smokin' Security Newsletter Coaching Club Member.
The audio success interview was so friggin' good, and I took 3.5 pages of notes myself while I was interviewing with Tim.
Right The Ship
If you're looking to break out of a self-imposed sales slump, or you're looking for elegant, richer concepts, strategies, tactics, and techniques to skyrocket to your income and business, and maybe even turn your life around then you gotta get your greedy little mitts on this interview. There are at least 7 elegant ideas that Tim spills his guts on. All you really need to do is execute just "1" of Tim's ideas and you can right the ship, and still make 2013 your best year ever.
Smokin' Hot Audio Success CD – Interview with Tim Creenan, President of Amherst Alarm, Buffalo, NY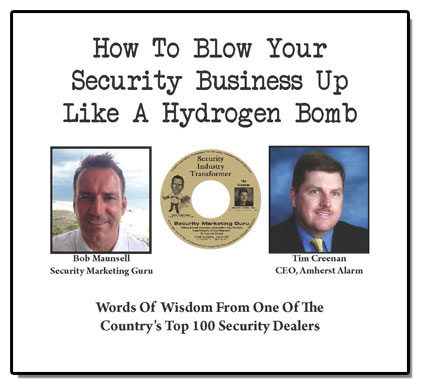 Hot Off The Presses
A Complete Audio Transcripts – How To Blow Your Security Business Up Like A Hydrogen Bomb – Words Of Wisdom From From Of The Countrys Top 100 Security Dealers.
A 17 Page Audio Transcript of the call that you can go back to time and time again, and that you can highlight with a green highlighter (cuz that's the color of money,) and take MASSIVE action on the best ideas you uncover. You'll be able to devour and savor this transcription for years to come.
Special Report # 1 – What All Security Dealers | Integrators & Low Voltage Installers Need To Know About Security & Finances To Survive and Thrive In 2013 and Beyond
I'm not through with you just yet, You think you got enuff… I'm still gonna pile it on higher.
– How to "Create A Virtual Online Trust Triangle."
– How To Use Social Media To Capture Your Local Audience.
– Swipe & Deploy Ad – For New Tech & Sales Rep Hires.
– Swipe & Deploy Ad – For Fire Alarm Maintenance Programs.
– Swipe & Deploy Ad – A Killer Business Card For Your Sales Reps.
– Swipe & Deploy Ad – We Aim To Make You Happy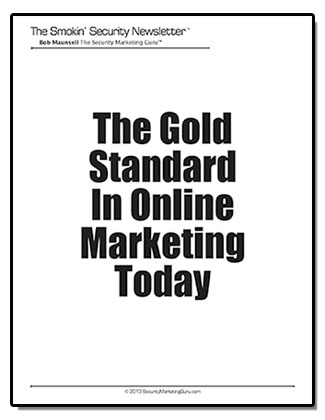 Special Report # 2 – The Gold Standard In Online Marketing Today.
The Gold Standard today in online marketing for your security or low-voltage business is your Google + Page. This is wicked important to have. Your Google + Page should be fully optimised, meaning if someone is seeking out security services (alarm, burglar, CCTV, electrical, guard services, home automation, locksmith, sound, private detective) in your local market, your Google + Page will be first on the list.
Here Are 7 Reasons Why Google + Pages Are Wicked Important!
– Google + Reviews give your security company incredible credibility.
– Google + Reviews ***BOOST*** your LOCAL SEO!!!
– Google uses a highly secret algorithm within your Google + page, that calibrates the "QUALITY & QUANTITY" of your reviews to optimise your Google + page.
– Google gives precedence to Google + pages for local search.
– Google + 3rd Party reviews are highly believable.
– Google + page gives your clients an interactive experience.
– 89% of the importance of your Google + Page are the Reviews. People seek them out and read them before making a buying decision because that's the kinda culture we live in today.
Most of you reading this probably reading this and don't have a robotic and systematic process for asking for Google + Reviews and generating these reviews for your business. I recently wrote a 463 word email for a private client of mine that generated 10 Killer Google + Reviews for her business. She scored 29 out of 30 points. She does fabulous installs and her clients love her.
But she didn't know what to WRITE or how to ASK her clients to review her Google + Page. So she turned to little ol' me and I wrote 463 compelling word email as to why her clients should take the time out of the their busy day and away from their families to write her a review…and I did it without breaking a sweat.
I figure those 10 reviews will be worth at least $50,000.00 this year because she's in a highly searched area for "Home Alarms." A couple of her competitors have Google + Pages, but with ZERO reviews. This Google + Review email is now set up on an auto-responder for her and automatically goes out after a predetermined time when a new client comes onboard. It systematically and robotically solicits client reviews for her while she's out spending quality time with her family. Now, that's a Robotic Security Selling Strategy!
Why am I telling you all this? Because This Google + Review Email is a Super Special Bonus I'll GIVE YOU if you give my Smokin' Security Newsletter a college try.
But before we go any further, I want you to read this next paragraph with care because it ain't getting any easier out there for you.
Delusional Money Chants Syndrome
Look, you can deny it if you want, recite delusional "money chants" and hope for the best… but the economy has changed the way money is moving. And I don't think it's EVER going back to how it was just a few years ago.
We're at a precarious time when what works and what doesn't work to make money has changed dramatically. Nowadays, you have to be totally in tune and up to date with the changes in buyer motivations and spending habits.
If you don't know how to strategically react to these constant changes…
… In your advertising copy…
… Customer acquisition programs…
… "Reason to buy" presentations…
… And customer retention programs…
…Systematically get Google + reviews…
… You're going to lose out on at least HALF of your potential sales and income.
Maybe more.
Or worse, you may not even BE in business next year. The choice is yours. If you want to swing for the fences and hit the big home runs in 2013 and beyond, you need to know the most advanced and cutting-edge strategies, techniques, tactics, tricks, secrets and successful sales models that are working right NOW. Six years ago, you probably could have coasted along with a firm handshake and a big toothy smile without all this stuff and done OK. But not anymore…
Start kickin' ass, my friend, by joining myself and other security dealers who are kickin' ass in the Smokin' Security Newsletter Coaching Club today!
Oh, Before I forget, here's one more reason to take me up on this month's issue…
Special Bonus # 3
Private Only Smokin' Security Newsletter Coaching Club Members' 90 Minute Coaching Webinar –
I'm throwing in the 90 minute coaching club on how to implement the July issue as an added extra super special bonus to you.
Divine Truth
The only thing standing between you and adding a couple extra zero, to the end of your paycheck and bank account is YOU! Nobody else…Just YOU! So what's it gonna be, more excuses, more heartache…? Stop the pain and suffering, and start more forward with massive action, and fearlessness. Obey that inner voice, and click here to take me up on this very important issue
See You On The Other Side!
Stay Frosty!
Bob