I just finished an awesome group weekend at Stratton Mountain, Vermont, where we had a friggin blast with our family and friends. We did a boatload of skiing, eating, and watching some hilarious movies with the kids.
While I was carving it up on the slopes, I came across a sign that said to me: it's time to take a #Selfie for a teaching moment. You and I both know that I would never ever shamelessly take a #Selfie of myself…wink, wink.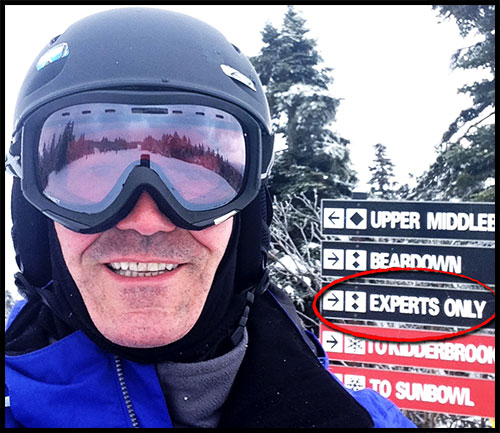 Double Back Diamonds
The trail sign was in all black which means "DANGER." The ski slope with a black diamond rating is said to be one of the more difficult slopes relative to others around it, and the double black diamond is even more difficult and treacherous than the black diamond. I choose to go down the double black diamond "Experts Only," cuz heck I'm not Bode Miller (Winningest US Olympic Team Skier) by any stretch of the imagination, but I've been skiing for years in the US and Europe so can maneuver treacherous slopes and can get down them with agility and ease.
Experts Only
Back to that teaching moment and the double black diamond ski trail sign that said "EXPERTS ONLY." We are all living in "dangerous times" and it's getting harder and harder to attract and retain clients that can do the Big 3: Pay, Stay, and Refer!
Your ability to be agile, fearless and nimble in your acquisition of clientele that will allow you to build an asset and a lifestyle that is second-to-none is why you need to become an "EXPERT." This expert status is mandatory if you want to ski through this turbulent Obama-economy. If you're sitting around waiting for the GOP to take office, your sh*t out of luck my dear friend cuz were living in the personal economy. It's your ability to become a Security Guru/marketeer that will turn you into a Rainmaker.
Join Me In The Desert & Learn How To Become A Security "Expert"
If you're going to ISC West, join me on a free Zappos Culture Tour followed by a free Security Marketing & Business Building Training Seminar, at the Learning Village in Las Vegas, where I'll spill the beans on how to become a Security Expert.
The one-hour Zappos Culture Tour is set for Thursday, April 3rd at 9am and will be followed up with the training session at the Learning Village. Transportation will be provided. You should be back in time to spend the afternoon at ISC West. For those of you who just want to go to the Security Marketing & Business Building Training Seminar at the Learning Village, just let me know when you reply.
Attendance Is Limited…
Attendance is limited for these events, so those of you who are REALLY interested in joining me for an incredible, fun and educational time, reply to this email NOW.
Hope to see you in the desert!