The 3 Minute Marketing Lesson
How To Create A Referral Tsunami For Your Security Business
By now you know that I'm a wicked big fan of Robotic Security Marketing Strategies™ that attract and retain clients for life. One of the RSMS that everyone should have in place is a client referral system. As we all know the best and easiest folks that we can sell to are folks that are referred to our security businesses by existing clients who love the hell out of us.
In this 3 Minute Marketing Report I'm going to deliver you the "Lazy Man's Lobster" (no cracking the lobster, all the succulent lobster meat is taken out of the shell for you, so all you have to do is eat it) version of a perfect 3 Step Referral Campaign that will create an endless stream of referrals for your security business.
Step # 1 – The Text Referral Gift Coupon
Here is a referral strategy that will cost you next to nothing to implement. After you or your technicians are done with the (Burg, CCTV, Gate System, Lock Re-Key, Guarding, P.I. Work, etc) install/service work, just ask the new client or existing client if they are happy with the new service work or installation, and they better be happy and ecstatic with the work in order for this referral system to work! If your clients aren't floored with the services from your team, you have some operational and management issue to deal with, first and fore most.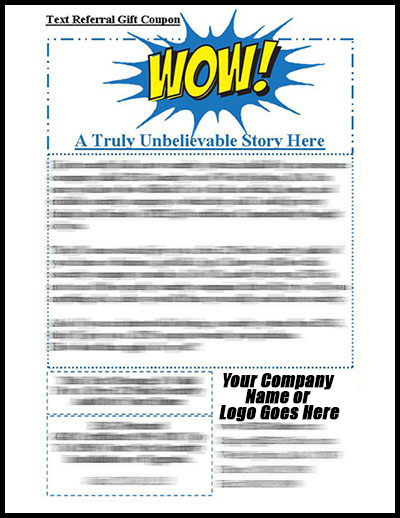 Ask them if you could text them a FREE gift certificate that they can text to 5 friends or family members who are in need of a security system or other low-voltage services that you might provide.
Special Offer Here Boys & Girls…
If you would like to get your little paws on this month's Smokin" Security Newsletter, all you have to do is join the worlds largest coaching program for security entrepreneurs. Its a mere pittance for the VALUE that we deliver every month to your doorstep.
I urge to look around and see if you can find another source for such money-making and client attraction strategies on a monthly basis.
Click Here To Sign Up For My Smokin Security Newsletter, And Get The Full "Tsunami Referral Strategies" At Your Disposal!
Stay Frosty!
Bob