If you send out weekly emails the way I do, you are occasionally going to get people who complain, whine and moan about spam. Just the other day, some dude emailed me complaining that I never give out any security sales and marketing "tips" and everything I send out is just a sales pitch.

Now, if you are receiving my weekly emails, you know that I DO plug my Smokin' Security Newsletter™ Club a few times before the end of the month (I gotta pitch|sell|educate cuz I got two girls going to private schools and I do need my fancy cigars) But I do give value to make it worth your reading. That's the point – to want people coming back and to keep reading my emails and not delete them on sight. But this dude definitely didn't see it that way so he sent me an email asking where the tips are. So I went ahead and emailed him back with a list of the last 5 "tips" I sent out and links to more helpful "tips" on my website. That shut the complainer up lickety split!
Below is the dude's email and my response:
Bob,
When I signed up for your emails I thought I was going to get marketing tips. I haven't seen any tips, just a pitch for your smoking newsletter club. Am I missing emails or did I sign up for the wrong emails?
Hmmm.
I wonder if he has a point…I pondered for about 1.5 seconds.
So, what I did was look up the last couple of weeks of tasty emails that your's truly sent out. Here they are:
Website Death March [Video]
(The tip: Powerful website strategies on Google)
Crazy Commercial Security Marketing Strategies [Video]
(The tip: Absolutely Killer Direct Mail strategy for commercial security)
5 Luckey Traits Of A Successful Security Entrepreneur
(The tip: Why some security entrepreneurs are lucky, and others are not)
21 Business-Building Reasons To Meet Up At ISC West
(The Tip: This was a completely FREE all expenses paid trip to my Sales & Marketing Summit , Zappos Cultural Tour, and the ability to pick my brain out in Las Vegas.
The 3 Laws of Security Sales Success
(The tip: To have more in life, you must become more)
Anyway, smells like an awful lot of FREE tips to me.
Thats just a couple of weeks worth of FREEBIES, going out the door by little ol' me, just look at my www.SecurityMarketingGuru.com, and you'll find even more FREE valuable stuff, like …
– FREE 7 Point Strategic Business Building Audit To Get Your Phone Ringing Off The Hook.
– FREE 5 Day Video eCourse "10 Steps To Selling At Higher Prices Than Your Competition."
In fact, methinks the REAL question isn't "where's the tips?" it's "how are these NOT meaty, FREE marketing Tips?"
Inspirational Testimonial From My Smokin' Security Newsletter Members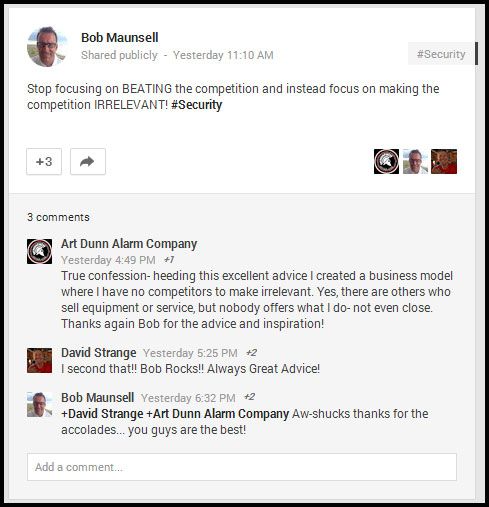 Have a smokin' week!
Bob