I'm sitting on the back deck and the birds are chirping up a storm. I've got a mighty stiff espresso going and Neil Young "Live Rust" playing on my MacBook Pro. I'm taking in the beautiful spring flowers that are starting to pop in the backyard, after such a brutal winter, when I start thinking about the life cycle of these flowers and how they have to start over new each year. I look around and notice many plants that have made it through the harsh winter with all their leaves intact. These are the evergreen plants, like the juniper, spruce, boxwood, azaleas and rhododendron. In Botany terms "EVERGREEN" means a plant that has leaves in all four seasons; it's my kinda plant, the kind you set (or plant) and forget, and it produces & rewards you all year long. But, of course, you need some perennials and annuals to make your yard pop with smashing colors throughout the spring, summer and fall seasons.
Evergreen Security Marketing Strategies
Let me show you four (4) EVERGREEN security marketing strategies that are not DEAD or going by the wayside anytime soon, but are money-makers all year round.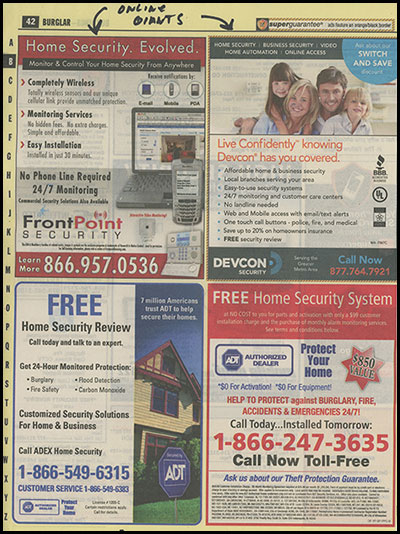 1) The Yellow Pages
Look at the new breed of security companies advertising in the Yellow Pages. That's right, they're all ONLINE GIANTS that see the Yellow Pages as a good source for getting more leads. Plus the Yellow Pages advertising prices are way down all across the country. So they're gobbling up valuable real estate in your local market at rock-bottom prices.  While most people say the Yellow Pages are DEAD (I'm sure you even think the same way) these online security giants are swooping into your local markets like vultures and placing ads in the Y.P. books. You do not give up a marketing medium unless it's not producing results in your market. Obviously these giants are getting results or they wouldn't be investing in the Yellow Pages.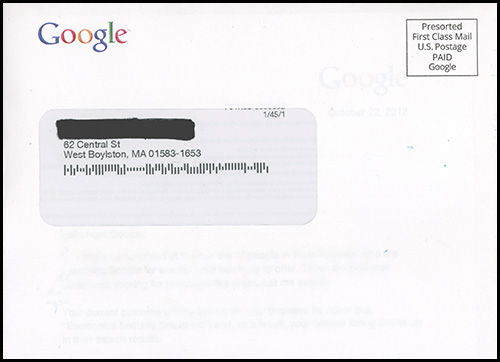 2) Direct Mail
If offline advertising ain't so great why on earth would the online Hulk Hogan, Google, be sending out direct mail pieces? Because there's so much clutter online that this online giant needs to go offline to attract new customers for their PPC (Pay Per Clicks) advertising. Google makes the majority of it's revenue through PPC advertising. Google also has to keep their shareholders happy, so they need to utilize results-producing methods (like the direct mail piece) to acquire new clients and feed to beast!
I was at ISC West 2013 over 4 weeks ago and most of the exotic security technologies that were being shown are technologies your clients wouldn't even be searching for online. These high-margin, profit-producing security products require direct mailings and follow up with a sales rep to start an education-based sales cycle.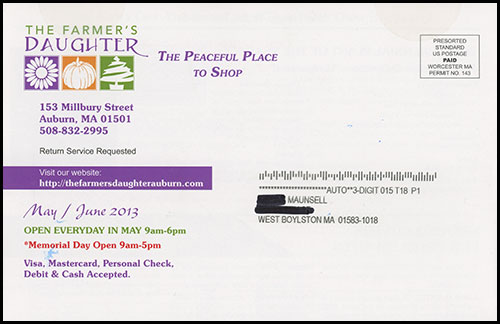 3) Client Newsletters
I moved into West Boylston over 10 years ago and, in this time, have received a quarterly client newsletter from The Farmer's Daughter. We purchased our first Christmas tree there and, because they send us these very informative and educational newsletters, we go out of our way to stop by there (they are 20 minutes away) and pick up plants and shrubs. If you're not regularly in touch, as in monthly/quarterly, with your clients to keep the relationship alive, you will not retain them. They are easily seduced by other "shiny objects," like Monitronics or Vivint door-knockers banging on your clients door and up-selling them a complete home automation package. A client newsletter is one of the fiercest marketing weapons to have in your arsenal for "softening the beachhead" for future sales, and to attract and retain clients that Pay, Stay, and Refer! I'll be interviewing one of my Smokin' Security Newsletters members, that's in a small rural area, and he says this is his BEST tool for selling and stimulating referrals. Some parts of the country, and even the world, are very limited on the amount of SEO keyword searches people are doing for "security" and "burglar."
4) FSI (Free Standing Inserts)
Free Standing Inserts (FSI) is one of the most underutilized strategies out there for security dealers. PPC advertising is wicked expensive and you're up against all the online giants (ADT, Devcon, FrontPoint, Monitronics, and VIVINT) who have the obscene wealth of a Royal Saudi family. You can't outspend these guys cuz you don't have an oil well spouting 24/7/365 in your backyard. I love PPC, but the average Joe security dealer is gonna get his clock cleaned on this one, if it's not setup properly. If the average keyword: "Home Security Alarm System" goes for $15-$20 PPC to be on the front page of Google, that can get very expensive fast. Especially if you are paying for a click through and don't have a compelling offer and a robotic system in place to capture the prospect's name that's searching for a security system.
Whereas, you can insert 18,000 FSI in to your local newspaper and drop an A-Bomb on your local market, for around $800-$1,100.00. Now that's making an impression. Just do the math, if someone clicked on your PPC ad at $15.00 per click X 18,000 = $270,000.00 vs an FSI advertisement at .4¢ per exposure.
Rust Never Sleeps
The meaning of the phrase "Rust Never Sleeps" is quite ambiguous. Some consider the term to be a metaphor for business vitality. In other words, by staying the same one is vulnerable to the corrosive effects of doing nothing and sitting still; this strategy is a straight-edge razor suicide to going out of business. By moving forward and innovating and mastering the art of client attraction & retention, you can stay ahead of the relentless onslaught of time, remain vital and lucrative and "rust free".
As I'm writing this post, I'm listening to Neil Young "Live Rust" album that came out in 1979. This is what I call EVERGREEN music; Neil's still making money off of this album that's 34 years old!
Look how many artist have gone by the wayside and Neil is quietly getting richer. The same can be true for security entrepreneurs that implement EVERGREEN security marketing strategies; they quietly get richer and gobble-up all the flash-in-the-pan security companies.
P.S. Become a Security Marketing Player (With a capital P) cuz that's where the $$$$ is at!
P.S.S.  If you want success, do the opposite of what everyone else is doing!
Peace,
Bob