School Is Never Out For The Pro
Can you believe that summer is just about over? It always goes by way too fast. My girls are heading back to school today and of one my all-time favorite quotes is by Cavett Roberts, who was founder of the National Speaker Association. "School is never out for the pro." I think it's a good thing. I'm amazed by how many technicians, sales reps, business owners and the like just don't get this and are of the mindset that "you can't teach me anything new." Phooey! That's the mindset of the working class Joe. Your philosophy for life should be CANI (Constant And Never Ending Improvement.) So what I've done here is created my back to school issue of the Smokin' Security Newsletter for you that includes a 25 page book I've put together that will teach you how to effectively write seductive security copy that will sell, sell, sell!
Here's what you'll get in the August issue of the Smokin' Security Newsletter:
Security Words And Sentences That Sell, Sell, Sell
Six seconds. That's about all the time you've got to grab your security prospect's attention and make a sale. Use the right sentence or slogan and you've done it! Use the wrong one, and you've lost your opportunity.
Choosing the right words and sentences to convey your message is vital to your success. And so is my book, How To Write Seductive Security Sentences That Sell, Sell, Sell. It's the ultimate resource for security entrepreneurs needing hands-on instant access to key words, sentences, slogans and attention grabbers that will command attention and sell more security products and services.
Rock Star Customer Service – Rock stars don't have customers. They have raving fans. Customers are transactional… they come and go based on prices and sales. Fans are relationship-based… they have an emotional investment in you. Learn from rock legends how to engage your customers, create an experience for them, and turn them into raving fans!
Brand Like A Rock Star
I conducted an interview (and recorded it for you on CD) with Steve Jones, author of Brand Like A Rock Star. Steve reveals the secrets behind the Grateful Dead, The Sex Pistols, Green Day, U2, Bob Marley, Led Zeppelin and The Who and how they used marketing and branding strategies to attract raving fans. This is a rock n' roll CD that you must listen to. Are you in the transaction business or relationship-building business? I hope the latter.
But Wait – There's More…
Also included in this month's issue of the Smokin' Security Newsletter is:
– The Seven Critical Aspects Of Building A Powerful Security Business.
– Why Trying To Ride Out An Economic Recession Is Such A Stupid Idea.
– How To Sell Service Contracts In Your Local Paper.
– An 18 Point Template For Service Contract Maintenance.
– A 26 Point Template For Creating An Inspection Checklist.
Sign Up For This Month's Smokin' Security Newsletter, and you'll also get a…
– A Free 90 Minute Webinar on How to Optimize Your Website on Google and Identify The Juiciest Keywords For Your Business
Here's My Back To School Message That's Written On My SMG Chalkboard: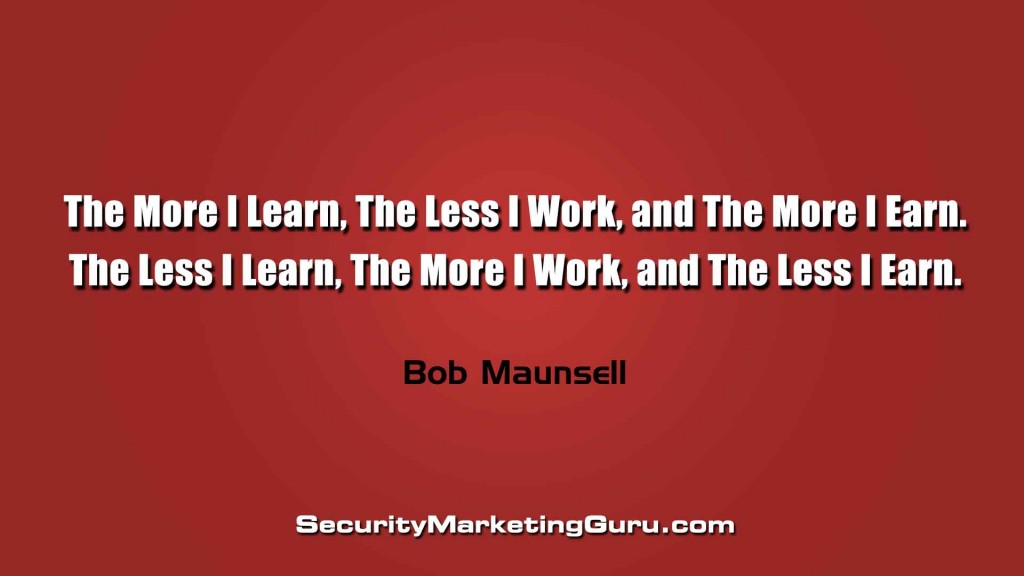 Adios!
Bob