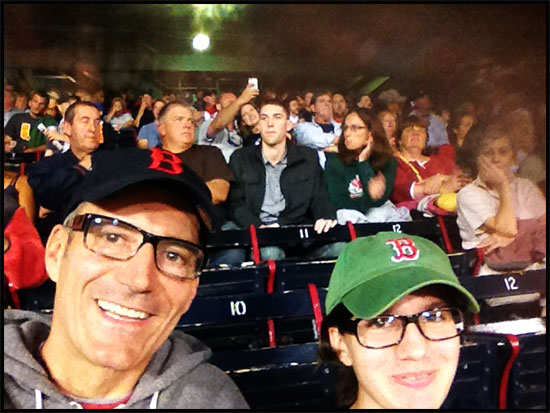 On Sunday, I took my oldest daughter, Bridget, to Fenway Park to see the Boston Red Soxs take on the New York Yankees. We had a blast together on a "daddy date night." We made a pit-stop before the game at Tasty Burger and had "The Big Tasty Burger." Oh, was it good! During the game, we polished off a couple of delicious Fenway Franks.
As we were driving into Boston, I pointed out where the old Virgin Records Megastore used to be at the end of swanky Newbury Street. This was one of my favorite places to go and pick up CD's and find out what the hippest music was.
I told Bridget the store's been long-gone for at least 10 years because of Apple Itunes, Satellite Radio, PANDORA, and other influences that made the Virgin Megastores (and lots or other music stores) irrelevant.
The loss of the Music store isn't so bad in the grand scheme of things. There's a "NEW ECONOMY," one which is called The Subscription-Based Economy.
The Cliff-Note Version Of The Subscription-Based Economy Model
The subscription business model is a business model where a customer must pay a subscription price to have access to the product/service. The model was pioneered by magazines and newspapers, but is now used by many businesses and websites. Rather than selling products individually, a subscription sells periodic (monthly or yearly or seasonal) use or access to a product or service, or, in the case of such non-profit organizations as opera companies or symphony orchestras, it sells tickets to the entire run of five to fifteen scheduled performances for an entire season.
Thus, a one-time sale of a product can become a recurring sale and can build brand loyalty. It is used for anything where a user is tracked in both a subscribed and unsubscribed status. Membership fees to some types of organizations, such as trade unions, are also known as subscriptions.
Industries that use this model include mail order alarm companies, book sales clubs and music sales clubs, cable television, satellite television providers with pay-TV channels, satellite radio, telephone companies, cell phone companies, internet providers, software providers, security companies, business solutions providers, financial services firms, fitness clubs, and pharmaceuticals, as well as the traditional newspapers, magazines and academic journals. The razor and blades business is a subscription based model as well.
New Business Models Are Literally Being Created Overnight: Check out a few of these subscription based services below.
– NESPRESSO – Here is fave coffee subscription service, it's like have "crack-rock" grade espresso, shipped to my house every month. :) I love my Nespresso coffee…
– APPIA – A killer subscription-base VOIP phone system that allows me to run a world-wide marketing empire from anywhere in the world.
– Dollar Shave Club – Instead of going to a local CVS, TARGET, or WALMART to buy razor blades, 200,000 + gents now subscribe to Dollar Shave Club and get razor blades sent to their mailbox each and every month.
– Handyman Maintenance Services – Hank The Handyman promises to keep an eye on things for you and fix stuff when it breaks, he proactively maintains your house (change the CO2 and smoke alarm batteries, furnace filter and light bulbs) in return for his annual home subscription-based maintenance service.
– IT Services – Provide backups, remote service and maintenance, monitor health status of your network in return for an annual subscription services.
– Security Services – The security industry has the "Grand Canyon" wide chasm of unadulterated potential for subscription based services: alarm monitoring, video monitoring, cloud-based, GPS monitoring, energy management, service contracts, security companies, IT services providers, fire alarm maintenance services, access control managed systems, subscription based key-cutting, intercoms database maintenance.
In the security industry, you're only limited by the creativity and the fertility of your minds resource for creating new subscription based services out of thin air.
Covering Your Nut
If you do your subscription based business (RMR) right you can sleep at night knowing what your revenue is gonna be (plus or minus 5%), and that your nut is covered for the month and, more importantly, that you are building a highly valuable and lucrative business that an investor/acquirer can see a river of gold coming in for the foreseeable future.
Pioneers Of The Industry & The 80/20 Principle On Roids
The subscription based model was pioneered by magazines and newspapers, which was then adopted by a whole host of industries for selling continuity or Recurring Monthly Revenue (RMR)services.
What the magazines and newspapers were able to do was not only sell the book of the month to members for $9.95 a month, but also create a "SLACK ADJUSTER" by making offers to its client base with regular mailings and offers (pitches, if you will.) They would send their members a special offer for $2,500.00 for an A-Z Encyclopedia Britannica. They would use the 80/20 Principle, a percentage of the top tier 20% clients would buy the $2,500.00 A-Z Encyclopedia Britannica, and ka-ching they would make millions overnight. Now that's what I call a slack adjuster. They would cover their monthly nut with the $9.95 subscription model, but they would make hay when they sold 1000 encyclopedias at $2,500.00 per pop = $2,500,000.00
The Back-End Is Where The Money's At
That's where the subscription based models really makes there money in "back-end." Getting a client | customer into the funnel at $19.00, $35.00, $57.00 per month and then selling them a whole boatload of products that complimented their original purchase.
If you're selling alarm monitoring contracts to your clients, don't you owe it to yourself to learn this model for selling?
So that you can sell more of the following:
– GSM Monitoring
– Pers Monitoring
– Video Verifications
– Service Contracts
– Fire Alarm Service Contracts
– Alarm Monitoring
– Video Monitoring
– Cloud-Based Managed Services
– Home Automation Service Contracts
– IT Services
– Database Management
– Create Referrals
The basis for soft-selling your subscription-based services is a Client Newsletter, which can be found in this month's Smokin' Security Newsletter. Don'tcha think you owe it to yourself, to become a much feared master marketeer?
Boo…On Halloween Day
If you want to check out my World-Famous Smokin' Security Newsletter for only $5.95, you better do so soon. Because the initial Free-Trial offer is going to be upped from $5.95 to $19.97 on Halloween! So, if you snooze, you lose!
Remember, you are a sales and marketing company FIRST and and installation company SECOND.
Peace,
Bob