Check out this picture I snapped, with my Blackberry Storm, on the way to Logan Airport before I jumped on a plane and flew down to Miami-South Beach. This picture is of a HomeServe service vehicle that does HVAC (Heating, Ventilating, and Air Conditioning) installations and maintenance. If you look at the back end of the service vehicle, you'll see the saying: "Home Emergency Repairs And Protection Plans" (i.e. service contracts, which equals more RMR.)
I love how HomeServe uses it's service vehicles to tout their service contracts (protection plans) to generate more sales/money for their business. However, I do think the slogan on the back of the van could be a bit more compelling, like… "Affordable HVAC Protection Plans Help You Never Worry About Your Heating & Cooling System Ever Again… Guaranteed!"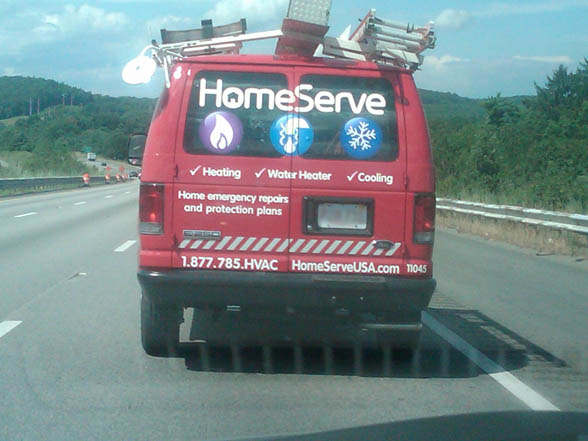 Turning Your Van Into A Robotic Sales Rep
One thing I noticed right off is that this van doesn't have a card pocket on the outside that holds business cards/sales info. With card pockets, your service vehicles become moving sales reps that provide easy access to your company info, anywhere your vans travel. This is a cheap and brain-dead easy way to turn your service vehicles into a robotic 24/7/365 sales rep for you!
Security Marketing Delivery Systems
When you're selling service contracts or preventive maintenance programs, you can't rely on one delivery system for sales. You need to notify your prospects/clients in several different ways. To deliver the sales message you should include it in…
1- Client Newsletters
2- Email Campaigns
3- Direct Mail Campaigns
4- Web-pages
5- Service Vehicles
6- Send Out in Your Invoice Envelopes
7- Call Up Campaigns To Let Your Clients Know The Warranty Is Expiring.
8- Testimonial Campaigns From Other Happy Clients Who Purchased Your Service Contracts.
9- Youtube Videos – Creating An Irresistible Offer For Your Service Contracts.
10 – On Your Business Cards
Iron Clad Service Contracts
Do you offer service contracts in your security business? If not, that's a shame because you're short-changing yourself out of a lot of dinero, each and every month. If so, kudos to you! But I do have one question? Is your service contract program appealing to all levels of buyers? If not, then I guarantee you're not selling half as many protection plans as you could be and, therefore, are loosing out on a TON of money!
I developed a unique service contract program several years ago that offers a "Goldilocks" pricing scheme that makes it possible for all clients to afford service contracts and provides a huge reoccurring revenue stream! Check out my Iron Clad Service Contracts.
HillBilly Marketeers
Hillbilly marketeers is what I call the folks who are always copying other ideas from other security dealers or low-voltage installer. After a while, it all looks, talks and acts the same. Instead, they should be creatively looking to other industries for new ideas that are working and then applying them in their own business. Take, for example, the Home Improvement industry where home improvement contractors are creating service contracts for homeowners. For a small monthly stipend, contractors will come over and change a light bulb, or fix the leaking faucet out in the garage, or put in window screens in the spring.
The BIG question for you is how can you create another revenue stream out of scratch by apply this blog post to your business? Like I always say, your Reoccurring Monthly Revenue will only grow to the extent that you grow as a business person.
Have a Great Weekend!
Bob