"You've been hit by, you've been hit by, a smooth criminal…"
Last night, I kicked back and watched the Michael Jackson rockumentary "This Is It" with my wife, Natasha, and the kids.  One of my all-time favorite MJ songs came on, "Smooth Criminal."  I think it would be apropos for a background song to be running through your head as I discuss the recent robbery that took place down in Enfield, CT at the Eli Lilly warehouse.
What happened at the Eli Lily Warehouse could happen anywhere. I've included the full story of the heist at the bottom of this email, but to recap, a group of military-like criminals broke into Eli Lilly's pharmaceutical warehouse, in Hartford, CT, and made off with $75 million in loot (antidepressant and other prescription drugs)!  Here is my take on this robbery from a security marketing angle and selling the most advanced electronic security equipment to your market place.
It's Friday, so let's roll…
Military-Style Heists
This is about the 20th or 30th story that I've heard, from security dealers and security integrators around the world, about these "Military-Style Heists" where groups of criminals enter the building with Special-Forces-like stealth.
Many of these criminals enter through the rooftop and rappel in. They wear masks, military-style uniforms and, once inside, communicate via hand-signals.  They even walk in cadence…very paramilitary like.  They have no regard or fear for the installed electronic security systems, they just take them down!
The Criminal Prospecting Mindset
Within these criminal groups there are usually two people that are doing the market research and looking for high value targets.  These thieves actively target certain products. They find out where they are, they go there, they conduct surveillance on the target site for days, if not weeks, before the theft occurs. They want to understand their target market and hone their skill before making a move.
These criminals are not committing "slow-motion suicide" by mass marketing their skill out (like most security installers do by thinking EVERYONE is their prospect!)  No, these guys  pick a niche market (e.g. pharmaceutical sales, tobacco sales, car dealerships) and go after it…they are really niche marketers!
The Fishing Tackle Box and Your Security Marketing Message
Today, security dealers and security integrators can't rely on one vague message, like "we're # 1" or "A Name that you can trust" or "Security is my Passion" to drum up business. These brand-canned slogans are not relative to any of the crimes that take place in your marketplaces! I think you would agree with me on this one?
Today's criminals are very good and very creative at committing crimes, so why hasn't your brand-canned slogan changed since 1979 to match the robberies, break-ins, thefts, and home invasions of the wealthy, the cargo thefts at port authorities, the bank robberies, etc?
You should have an Emotional – Direct – Response message that attracts clients to you like moths to a flame.  Think of how many different kinds of fish are swimming around in a pond or lake. A fisherman can't catch all of them with one type of hook.  He needs a tackle box with different types of lures and hooks to catch different kinds of fish.  This is also true for your marketing message….you can't catch every prospect in your pond/lake (area) with one, generic message because no single generic message will capture all the prospects in your market.  This mindset is the premise of my Smokin' Security Newsletter.
There's a whole bunch of opportunity out there for you security dealers/integrators.  What you need is a tool that can take your business and sales to the next level…That's what my Smokin' Security Newsletter will do for you.   You can read all the FREE security trade magazines that you like, but they aren't going to give you real-world solutions for target marketing your security/low voltage business and creating a stampede of clients that PAY, STAY, and REFER!    www.securitymarketingguru.com
March Madness Issue of SSN
In this month's Smokin' Security Newsletter, I'm gonna give you a tool that'll make it so easy for you to close.  It's a killer marketing piece…that my wife thinks I'm MAD for giving away for free.  So, pull up a chair and let me explain it to you:
Get the Money….You DESERVE!
Just a bit over five years ago I created a marketing piece, for a private client of mine, who was really struggling.  The client specialized in high-security perimeter fencing and gate access control and he did great work.  One of his biggest problems was closing sales and getting his money's worth for his work.  He was constantly low-balling to get the jobs because he thought that's what people wanted and that's all he knew how to do.  I told him this method was a big, NO-NO.  I told him he could stay in that mind-set for the rest of his life or start working smarter to make more money.
The marketing piece I created for him helped him close sales, on the spot, and took out the price     discounters.  He went from clients asking, "Is that your best price?" to "When can you start?"
Now, ask yourself, which one of you could use this security marketing piece…because you know I've tweaked it for you!  I'll tell you who could use it:
Alarm Installers
Burglar Alarm Dealers
CCTV Installers
Low Voltage Installers
Locksmiths
Home Theater/Automation Installers
Security Integrators
Fire Alarm Dealers
Video Surveillance Installers
Access Control Installers
Satellite Installers
Private Guard Services
Yes, all of you could use this kick-ass marketing piece to boost your closing techniques and increase sales…which is a good thing, no?
Well Fed
If you want to see the "wall of clients" my marketing piece helped generate for my high-security perimeter fencing client, then check out the pic below.  He's definitely well-fed these days!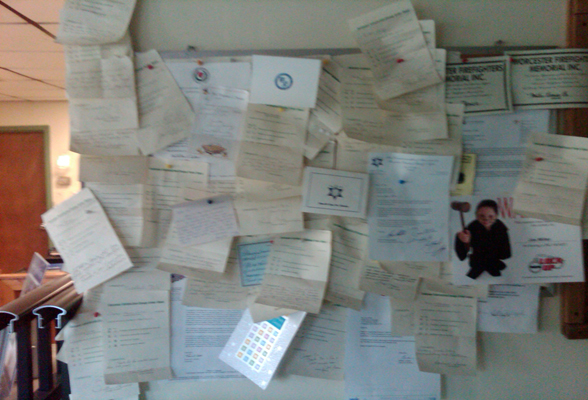 Here's the story of the Eli Lilly heist:
Theft nets $75 million in drugs
Lilly Caper was stuff of legend
By Stephanie Reitz THE ASSOCIATED PRESS
Hartford – In a Hollywood-style heist, thieves cut a hole in the roof of a warehouse, rappelled inside and scored one of the biggest hauls of its kind — not diamonds, gold bullion or Old World art, but about $75 million in antidepressants and other prescription drugs.
The pills — stolen from the pharmaceutical giant Eli Lilly & Co. in quantities big enough to fill a tractor-trailer — are believed to be destined for the black market, perhaps overseas.
"This is like the Brink's pill heist," said Erik Gordon, a University of Michigan business professor who studies the health care industry. "This one will enter the folklore."
The thieves apparently scaled the brick exterior of the warehouse in an industrial park in Enfield, a town about midway between Hartford and Springfield, Mass., during a blustery rainstorm before daybreak Sunday.
After lowering themselves to the floor, they disabled the alarms and spent at least an hour loading pallets of drugs into a vehicle at the loading dock, authorities said.
"Just by the way it occurred, it appears that there were several individuals involved and that it was a very well planned-out and orchestrated operation," Enfield Police Chief Carl Sferrazza said. "It's not your run-of-the-mill home burglary, that's for sure."
Experts described it as one of the biggest pharmaceutical heists in history.
Edward Sagebiel, a spokesman for Indianapolis-based Eli Lilly, put the wholesale value of the drugs at $75 million and said they included the antidepressants Prozac and Cymbalta and the anti-psychotic Zyprexa. No narcotics or other painkillers were in the warehouse, he said.
Other pharmaceutical warehouses have been hit with similar burglaries in recent years, but experts said the value of the Eli Lilly heist far eclipses any other prescription-drug thefts they have tracked.
The thieves could easily net $20 million to $25 million, Gordon said.
Enfield police would not say whether the building had surveillance video or whether employees are being investigated. The building is unmarked and unprotected by fences.
The FBI was called in.
Experts said the heist shared many traits with warehouse thefts of pharmaceuticals last year near Richmond, Va., Memphis, Tenn., and Olive Branch, Miss.
Those thieves also cut through ceilings and sometimes used trapeze-style rigging to get inside and disable the main and backup alarms. In some cases, they sprayed dark paint on the lenses of security cameras; in others, they stole disks in the security recording devices.
Enfield police and the FBI would not comment on whether some of those techniques were also used in the Eli Lilly theft.
"The level of sophistication in these thefts is very high," said Dan Burges, director of intelligence at FreightWatch International, a Texas-based security company. "These thieves actively target certain products. They find out where they are, they go there, they come looking for it. They probably were conducting surveillance on that warehouse for days, if not weeks, before that theft occurred."
Burges and Gordon said the thieves probably already had a buyer lined up, possibly an online pharmacy or someone in South America or Asia, where drug regulations are lax. Gordon said it is unlikely the drugs would end up at a local hospital or drugstore chain.
"The people with a reputation to protect, a CVS or a Target or a Kroger or most hospitals, they don't want to take any chances," he said. "It's too big a risk. You're talking about people's health."
However, stolen drugs have made it into the U.S. health care system, often through Internet suppliers or crooked wholesalers.
Last June, thieves stole 129,000 vials of insulin in North Carolina. The drugs were not properly refrigerated, and later surfaced at a medical center in Houston. The Food and Drug Administration said in August that some patients suffered unsafe blood sugar levels after using them and that it had recovered just 2 percent of the stolen insulin.
Pharmaceuticals made up 5 percent of the thefts of commodities in 2009 in the U.S. The average such heist was worth about $2.5 million, according to FreightWatch. Pharmaceuticals are usually stolen from trucks or cargo containers — there were a few dozen such thefts last year — though Burges said warehouse break-ins are on the rise as thieves become more sophisticated.
"They're very creative, they're very good at what they do, and catching them is a very difficult thing," he said.
Zyprexa and Cymbalta were Eli Lilly's two best-selling drugs last year. Prozac was Lilly's first billion-dollar drug and the company's top seller before it lost patent protection several years ago. The thefts will not cause any national shortages of the products, Sagebiel said.