My good friends at ASP Summit, Alexander Quirin and Dave Pagano, have put together a one-of-a-kind, exclusive boutique event for the security industry.
Your hotel, airfare, and food is totally COMPED! Nothing out of your pocket. This will be an awesome networking and business-building event. You are able to take yourself and one team member with you to beautiful South Beach, the second person has to be an integral part of your business (office manager, sales rep, purchasing agent, estimator, etc) though.
Be A Fly On The Wall
I interviewed Dave Pagano from ASP the other day to give a blow-by-blow account of what's going to go down at his event in South Florida. This interview was recorded and an audio is available for you to listen to below.


Click On The Image For More Information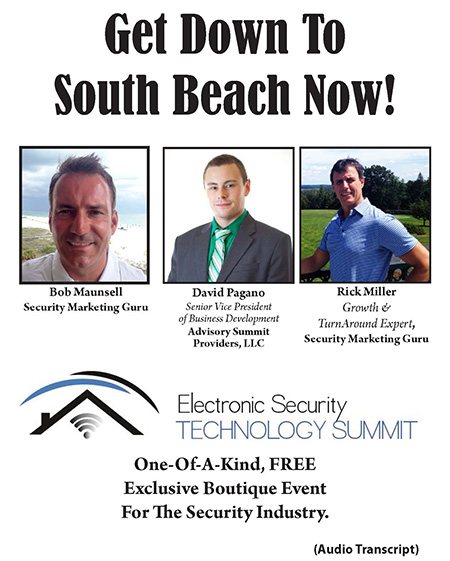 Listen To Audio Interview Below By Clicking Play.
[audio: http://securitymarketingguru.com/wp-content/uploads/2013/08/ASP-South-Beach-October-2013-Audio-Interview.mp3]
Download Audio Transcript By Clicking Link Below.
Dave Pagano – Get Down To South Beach Now
It wasn't easy to get Dave P. on the phone because he's from Buffalo, NY and is a Miami Dolphins fan (go figure that one out,) and I'm a die-hard New England Patriots fan, so there is some animosity between us when it comes to football teams. But after some serious arm twisting and a small football wager, Dave agreed to do this interview. Also on the call was my online & offline business-building strategist Rick Miller.
So if you want to "Be a Fly On The Wall" and hear some of the rich seminar topics that will be discussed down in South Beach, you gotta listen to the audio, plus I've included a transcript of the call for your convenience.
If you snooze you lose…
As in life and in business, the early bird really does get the worm! So if you want "IN," on this FREE seminar in gorgeous South Beach, Miami, respond to this email and Dave and his team from ASP will be in touch with you.
Check out the event here http://www.electronicsecuritysummit.com/index.html