Steve Jobs has commercialized the most addictive products in the history of man—surpassing even cigarettes, heroin and crack – the iPhone and the iPad. There are more iPhone and iPad users in the world than there are crackheads. I must confess to being one of them (iPhone & iPad user – not a crackhead.) Apple has millions of customers who, in theory, could not possibly afford an $800 phone, but, yet, still own one. The demand for these products is overwhelming. Just look at the mad rush that occurs whenever a new iPhone or iPad is released.
Steve Jobs has folks who are strung-out all-day long on their mobile phones, searching Facebook, Twitter, Instagram, SnapChat, Fox News, CNN. These peeps also search on their phones for everything else under the sun – including burglar alarm systems, CCTV systems, intercoms, gate access, etc. However, one BIG caveat with using mobile phones to search the internet is that people's patient for complexity or bureaucracy has been drastically reduced. So, if your website is not easy to navigate or access the information your visitors are looking for, with the flick of a back button, they're quickly gone.
The point I'm making here is that with all these folks using their Smartphones to search the internet, are you (i.e. your website) best poised and positioned for mobile searches?
Below is a postcard that we just mailed out for our Security Selling Websites. These sites are designed with marketing & sales funnels that attract the two types of visitors going to any site – (1) those looking for MORE INFO and (2) those looking to BUY NOW. These websites are also designed for ease of use by mobile devices.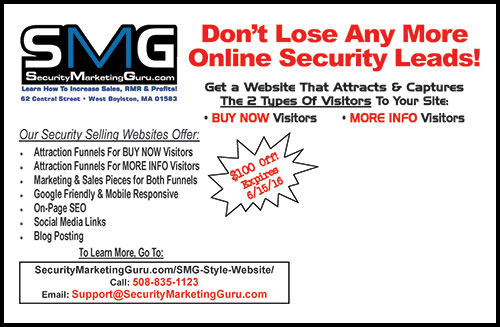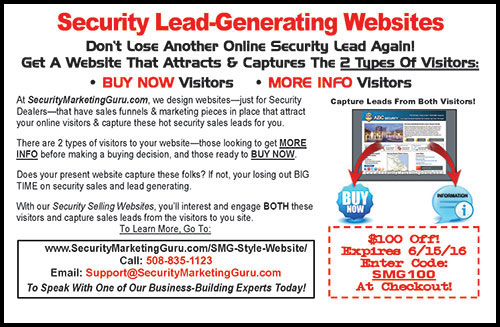 So, if you're interested in a website designed to attract and capturing online security leads, check out our Security Selling Websites today, at:
http://securitymarketingguru.com/smg-style-website/
You can also call us at 508-835-1123 or email us at: Support@SecurityMarketingGuru.com for more information.
Stay Frosty!
Bob
A copy of the postcard in PDF format for you to print out
Security Website Postcard.pdf