Hey guys, Rob here and I'm running the show here today. Just working on my lunch, an awesome grilled chicken salad from Uncle Sam's Pizza here in Worcester, and I came across this crazy ad that 3M did with their "money security glass." I figured Bob would love to write about this and how it would be an amazing ad for any security dealer, so allow me to do it for him…
What I've learned most here in my first few months is that to be successful in the Security business, you need to put yourself out there and be a little less "play-it-safe" and a little more "daredevil" when it comes to generating leads.
Take 3M's Safety and Security Window Films marketing technique.This product is amazing by the way…  protecting from solar glare, cutting down ultraviolet rays, and providing energy savings. The window film as a whole, can withstand severe weather changes, as well as explosive "attacks" on it and burgalary attempts on it.
To prove their points, 3M began a campaign in which they stacked "1 million dollars in cash" (except it was really $500) inside a display case encased in their 'security glass'. The deal was, if you could kick in the glass, you'd get the money inside. This is a great example of 'guerilla marketing', and it got great results. Just Google this ad and you'll see a ton of positive feedback about it. People loved it! Who knew a security ad could be so compelling?!
Make your ad bold; make a promise. If your promise stands out, and strikes a chord with the market, you'll see great results from the ground up and increase your market share. Talking about service and peace of mind doesn't is great, but it doesn't quite get the job done. A great USP will repel the people who are just out to waste your time. Instead, you'll be attracting more legitimate security clients your way. Remember, selling is all about making a promise. Make your promise standout, spontaneous even, as long as it is something you can keep. That's a USP – the promise no one else can make…or has the guts to make (like tempting people to break into a glass street display for cash).
Here's Bob's 3M ad for you, and his own "Ballsey Guarantee!"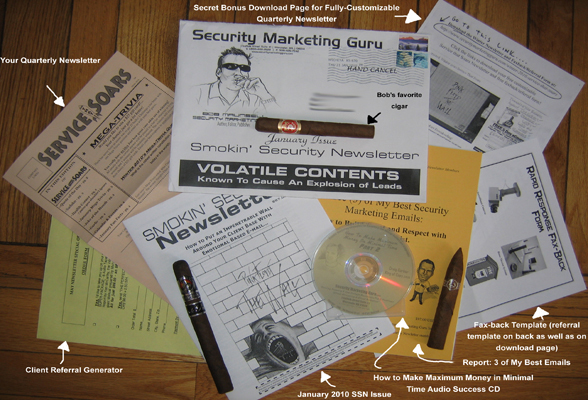 Don't you think this security marketing information could get your 2010 jump-started in a hurry?
The security marketing ideas and information in the January 2010 issue is bigger than three of Bob's favorite cigars!
The Best Thing I Did in 2009 That You Can Do in 2010
How to create a Long Lasting Relationship with Your Client Base, it's easier than you think!
How to create a secret link of communication to your client base
How to write persuasive emails that sell
The 4 little-known secrets on how to write emails that sell
How to create personal and business momentum that will make it hard for your competitors to keep up
How to make emotional deposits with your client base
10 little known secrets to turn your home sound system into a Vanician concert hall
31 questions to kick start your brain for writing emotionally based emails
How to write like you're talking face-to-face
The #1 reason you need to communicate more often with your client-base
My #1 secret weapon for building a trust tunnel
Bonus #1: Your quarterly client-retention newsletter is ready for download – This is the Holy Grail for building a Firewall around your Security Business, and for getting clients to pay, stay and refer!
Bonus #2: Your new referral generator is also ready for download to stimulate more business. You can attach this to your invoices for the next 10 years and become a silent sales rep.
Bonus #3: Your client fax-back form is ready for download, to attach with your invoices
Part 2 of the Audio Success CD – How to Make Maximum Money in Minimal Time
This link will explain all the security marketing pieces you get inside the Smokin' Security Newsletter!
You don't want to miss this issue!
So obey that inner voice, follow this link to the Smokin' Security Newsletter page, and signup today!