My wife surprised me with a nice little pre-winter gift the other day.
Can you believe it, she's already thinking winter, when it's 95 degrees out and 70% humidity.
Gotta looove someone looking out for your A$$. :)
Horny Toad Activewear
She bought me a beautiful black wool sweater jacket, to parade around in during the chilly fall and cold winter seasons that we have here in the Northeast. I love the black wool sweater she got me as a gift; it will compliment all the other nice clothes she bought me.
The Best Guarantee I've Ever Seen!
What caught my eye when I was taking the wool sweater out of the garment bag, was the Horny Toad Guarantee that was attached to the sweater.
Check it out now below.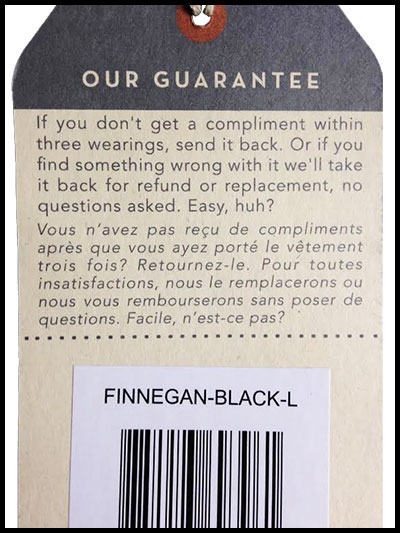 Hornytoad Activewear Guarantee
Wowzer… That's a pretty dang ballsy guarantee that Horny Toad is throwing out there.
Question For You: Do you have a clearly visible guarantee for your potential prospects and clients…or is it hidden in your desk drawer, and you're hopin' and a prayin' that no one calls you out on the carpet on your guarantee?
The Security Dealer With A Peasant Mentality Mindset
The struggling paycheck to paycheck, hand to mouth, woe is me, down on his luck struggling security dealer will say… "but I can't guarantee my system cuz everybody will take advantage of me, then I'll really be out of business."
The Security Entrepreneur With A Wealth Building Mindset
Will stand firmly behind his products and services, and have a written guarantee in place that will set his prospects and clients at ease. The security entrepreneur understands that a "Rock Solid Guarantee Will Boost Sales And Increase Profits" and Drive Your Competition Absolutely Freakin' Nuts."
Here's a couple of things I came up with in under 30 seconds that you can guarantee within your security business:
– Your response time to an after hours emergency.
– The cleanliness of the job site after the install.
– That your techs will be onsite within a 2 hour window.
– That there will be no foul language uttered from any of your installation team.
– That you as a client of XYZ Security Company will be treated with the utmost respect and care, and never be left in the dark about the status of your service call.
– There will be no loud Heavy-Metal or Gangsta Rap music blaring from your job site radios.
– None of our technicians will show up hungover or drugged up (believe me this really happens).
– We guarantee that we will be back on site a year from now for your annual fire alarm inspection, and that you will be notified two weeks in advance of your inspection by text and email.
In a Nutshell
If you can't ethically guarantee your products and services, or any part of the delivery system within your business, then what you sell, service, and install must flat-out stink to all high hell, and you should look to sell something else.
Don't think about slashing your rates… any nincompoop can do that! Always work harder on becoming the best security marketers, cuz that is where the only true competitive advantage resides today in business, and it's the only way to pump up your margins and profits.
Stay Awesome!
Bob