I got a question for you… Are you in the security business or the education business?
If you answered "the security business," I understand why you'd say that because that's what you do. But if you truly want to take your business to the next level, you need to get into the education business… cuz that's where the money's at.
When you're educating, you're not selling…
More folks are more apt to believe what you're saying when you're educating and not selling them stuff, yah know what I mean?

Pre-eminent Positioning of Your Security Company
The pre-eminent positioning strategy for your security company is EBSM (Education-Based Security Marketing) The very best and easiest way to sell security systems is to educate prospects on how you're different from the competition. Be an a teacher & educator of what you do. Which we'll talk about next.
The Best Retail Theft Package Ever
What are you doing to robotically educate your clients and prospects on the cutting-edge video surveillance products out there in the market today?
Why are you spending so much time and energy cold-calling, and dealing with dead-beat prospects when the easiest folks to sell to are your existing clients that you have already sold CCTV/ Surveillance systems to.
In this month's Smokin' Security Newsletter is the "mother of all mothers" direct marketing package called The Best Retail Theft Package Ever.
I want your clients and prospects thinking that your security firm is always cutting-edge when it comes to their video surveillance products & services, and that your security firm is in the business of constantly educating clients and prospects about how the security industry and video surveillance markets are continually advancing. And that your security firm is always evolving and changing to meet new security threats and needs.
We also want to get them thinking that their existing CCTV/Video Surveillance system is inadequate and perhaps it's time for an upgrade, and to plant a seed with analog users that it's about time they upgrade/convert to an HD Mega-Pixel system….Ka-Ching!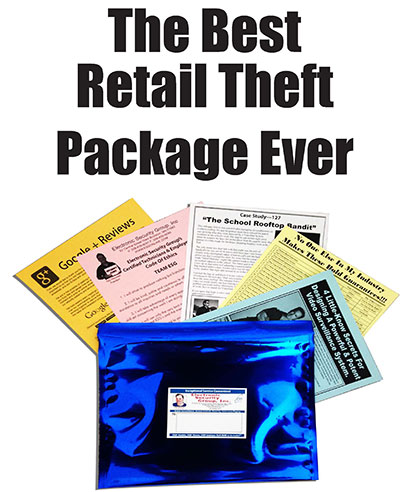 Implementation Of This Package For A Direct Marketing Strategy
Here's how we are planning on using the above package. I want you to send or give the package to any client that bought or showed some interest in a retail CCTV/Video Surveillance system from you. You'll include a short letter from YOU (I already wrote this letter for you) that will include some powerful subliminal messaging, such as:
– Thank You – Thanking them for being a client or potential client.
– Announcement – New technologies… keeping your clients addicted to cutting-edge technologies. Don't ever let another security dealer or integrator educate them first, before you do. This happens all the dang time – some other security dealer shows up with a new & exciting technology and your client goes with the new dealer. How many times have you heard them say, "The security company I've had for years never told me about that technology." Keep on educating your clients and prospects!
– Good News – New technology that can save them pallets of Mr. Green by utilizing the new technology. What business owner doesn't love ways to save their backside from getting ripped off and save money at the same time?
BTW, this letter can be tweaked for any niche security market that you might serve.
Here's a Sample Letter:
_________________________________________________________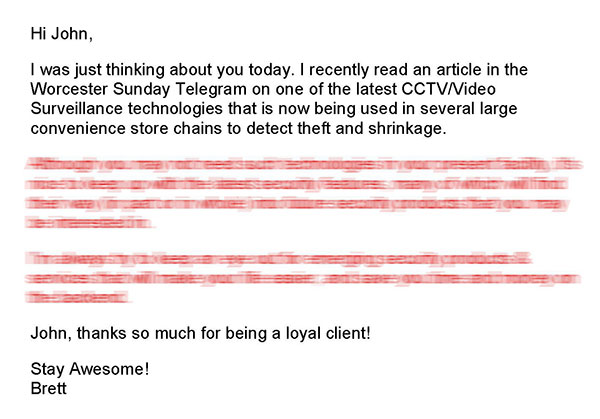 _________________________________________________________
Here's All The Pieces I Will Include In The Direct Marketing Package
1- A big shiny "Silver Envelope," these can be purchased at www.XXXX-SSSS.com under "XXXX Envelopes."
2- A copy of the above sample letter
3- A photo-copy of the article that was featured in the Sunday Worcester Telegram.
4- A 3M Sticky Post-It-Note, stuck to the article that says:

Shameless Preponderance of Proof
Not only do you want to send the article, but you want to drop the gauntlet that you're the best CCTV | Video Installer on the the planet. How are we gonna do that, you may ask?
Thats freakin' easy as saying 1-2-3… If you been a SSN member over the past year you've seen some killer CCTV | Video Surveillance ads in this world-class newsletter. Here are the piece that I would include:
5- We Catch Bad Guys Ad – I would include the www.WeCatchXXX.com handout from Art XXXX, that was featured in SSN – Dec – 2013. Tweak this to fit a bad guy in your own area. I do hope your surveillance equipment has caught some bad-guys by now.
6- You Against The Other Guys Comparison Chart – Included in the Jan-2013 SSN. I don't know about you, but don't you think it's slightly painful to have to "convince" a prospect to go with your company over the competition? So what I did was created a brilliant service matrix sheet. I developed this gem about 6-7 years ago.
What the matrix does is it breaks down everything you do and the competition doesn't. It shows the HUGE benefits the consumer gains by choosing your company for their security needs.
One of my favorite quotes is: "Stop focusing on BEATING the competition & instead focus on making the competition IRRELEVANT!" This matrix sheet is an awesome reminder that lets your clients know that your security company is better than anyone else out there.
7- Four Little-Know Secrets For Designing A Powerful & Potent CCTV/Video Surveillance System Ad
I have been using these 4 little-know secrets for designing Video Surveillance Systems for years now. If you can enlighten and educate your prospect on how to design a successful surveillance system, you'll be perceived as the expert, go-to security guy and have a huge leg-up on your competition. Most sales reps are equipment salesmen, and they don't bother to understand the theory and philosophy behind how to install and design a potent surveillance system.
So I took it a step further and created a Bad-A$$ ad that was featured in January 2013 SSN. This handout sets YOU up as the "obvious video surveillance expert." All you have to do is insert your pretty face and company logo or, if you have a stable of sales reps, take a quick photo of each rep and customize it to them. When you read the copy that goes along with this handout, it's education-based about surveillance systems, and also provides a nice little compelling monologue from YOU as to why they should "trust" YOU over any other security company out there.
8 – Google + Reviews Insert
Use the Google + Reviews from SSN-Oct-2013, show your clients and potential prospects how much you clients say you kick ass. Nothing is more persuasive than a truckload of testimonials from happy clients. Nobody ever has enough testimonials to prove their cause.
9 – Code of Ethics Insert
Use the Code of Ethics insert from the SSN-Jan-2013 to show that you are a top-notch, ethical security company and that your entire team has signed off and committed themselves to the company code of ethics.
Where To Get These Pieces?
Most of the above referenced pieces can be obtained on the Security Marketing Guru membership site that is available to all subscribers that have been a member for 2+ months.
What I just showed is a "shameless preponderance of proof." Not only are you educating your clients and potential prospects about new technologies, but you are also letting them know how successful you are with all the shameless articles that you are stuffing into the envelope.
As you can see, this is an easy package to whip up and even easier to get out the door. This strategy can be reworked over and over again for multiple niche security markets.
Never forget you're in the farming business… Always be feeding your herd killer content! Without killer marketing, there will not be a killer security business. Where can you get this killer content? In my Smokin' Security Newsletter.
You need The Smokin' Security Newsletter every single month to stay in the loop for these powerful security marketing models and money-making strategies that you won't get from any other newsletter on the planet.
Here's what you need to do right now: CLICK HERE and sign up for only $19.97!
If you don't take me up on this offer… There's something serious wrong with you cuz…
Your Very Survival
Depends On It!
So what are you waiting for?
Let me hear from you TODAY!
Until next time, my friend.
Bob